~Day 10~
Today, we went Hollys Coffee for a quick breakfast and coffee since we had some discount coupon.
~DongDaeMun~
| | |
| --- | --- |
| Address: | Dongdaemun Station |
| Website: | [View Website] |
| Quick Review: | Dongdaemun has a great variety of retail shops and wholesale shops. There are fashion mall like Doota, APM Mall and Migliore Mall. We went Doota and the clothes there in the shops are pretty expensive. We went lunch at the Doota foodcourt. The clothes at APM Mall and Migliore Mall are more affordable. |
We went back to our hotel to rest our legs and relief ourselves from the shopping bags. We took our hotel shuttle service to Seoul station to check out the Lotte Outlets and Lotte Mart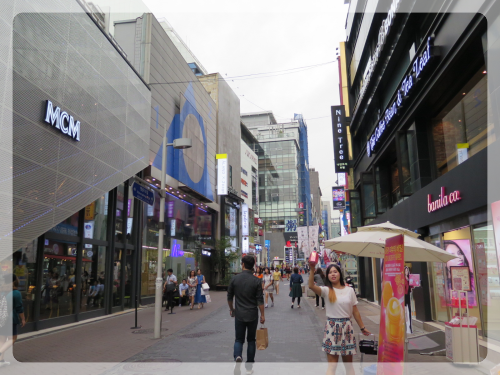 ~Lotte Outlets and Lotte Mart~
| | |
| --- | --- |
| Address: | Seoul Station |
| Website: | [View Website] |
| Quick Review: | We went Lotte Outlet and bought some clothes from Zara. After that, we bought so much snacks (biscuits, brownies, sunflower chocolate seeds) and kimchi as souvenirs. There are no plastic bags provided. Do remember to bring recycle bags. You can also pack the goodies in the free boxes provided. |
After buying so much goodies from Lotte Mart and packed them into boxes, we didn't want to go too far to get dinner. We passed by Bennigan's and it seem great to have a change from the Korean Cuisine.
~Bennigan's~
| | |
| --- | --- |
| Address: | Seoul Station |
| Website: | [View Website] |
| Quick Review: | Feel like trying a different cuisine. We saw Bennigan's beside the lotte mart. We ordered a family set which consists of a steak, ribs and pasta with salad and 3 drinks. Wow awesome. So filling and satisfying. |
What an awesome great day! Finally see the famous Dongdaemun and so much fun with shopping. Tomorrow we going to Lotte World. Another famous theme park which is often seen in Korean Dramas.
~Day 11~
We went to our usual Paris Baguette cafe for our quick breakfast before making our way to Lotte World Themepark.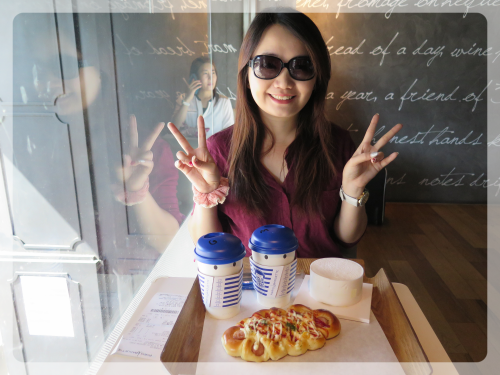 ~Lotte World (롯데월드)~
| | |
| --- | --- |
| Address: | 240, Olympic-ro, Songpa-gu, Seoul (Jamsil-dong) |
| Website: | [View Website] |
| Price: | Adults (48,000 won), Youth (42,000 won), Children (38,000 won), Infants (12,000 won) |
| Quick Review: | We took the train to Jamsil Station Exit 4. The Lotte World is directly connected to the station and there are signboard that leads all the way to the Lotte World. Wow! Finally, I get to see the Lotte World in real. Been seeing it in so many Korean Drama. The carousel, ice skating rink, the castle, the "hot air balloon"…so so familiar. It is as if I already been in the place before. We had lots of fun taking pictures. Lotte World is divided into a indoor "Adventure" and a outdoor "Magic Island" theme. There are thrilling rides like the Gyro Drop and Gyro Swing. I took all of them. Cheers to myself. I also enjoy myself taking the "hot air balloon" ride. Not thrilling but it is nice to have a tour around the indoor theme park. We had a simple kimchi fried rice. Not really tasty. But I usually don't have high expectation for food served in theme parks. |
After a fun-filled and thrilling day, we are famished. We decided to go back to Myeong Dong and try our Korean Beef BBQ meat restaurant again. Since it is our last night here in Korea, we must try it again before we go back to Singapore.
~Korean Beef BBQ Restaurant~
| | |
| --- | --- |
| Tel: | 02) 319-1007 |
| Quick Review: | The Korean Beef is so tender and juicy. We went back again to this restaurant which we went on our first night of seoul in my part 2 of korea trip. It was recommended by some Korea Travel Guide Book. We love it so much that we decided to come back for it again. We ordered korean beef for bbq, steamed egg and bibimbap. They were all so delicious. |
After a great dinner, we went to check out another dessert place.
~Mango Haha~
| | |
| --- | --- |
| Address: | Myeong Dong |
| Quick Review: | We were one of the last customers. The Mango was sweet and juicy. The ice was very smooth. Great way to end the night with a nice dessert. So satisfying. |
So sad that it was our last night here in Korea. Time to pack up all the shoppings and stuff them all in the luggage bags. Thanks goodness we managed to squeeze all them in to the bags. We had to balance the weight across the bags to ensure we don't end up had to pay more for the baggage.
~Day 12~
We woke up and head over to the BeansBins for breakfast.
~BeansBins (Myeong Dong)~
| | |
| --- | --- |
| Website: | [Visit Website] |
| Quick Review: | We were early. The air con was not even cold yet. The service was a bit slow. The crispy waffles with sugar lightly powdered on it. The strawberry ice cream was perfect to go with the waffles. |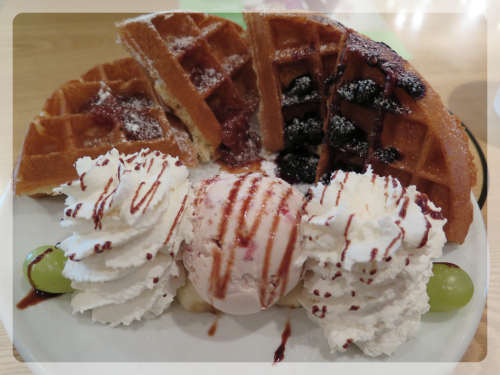 ~Namdaemun Market~
| | |
| --- | --- |
| Address: | 21 Namdaemunsijang 4-gil, Jung-gu, Seoul |
| Website: | [Visit Website] |
| Quick Review: | We took the train to Hoehyeon Station, Exit 5. Namdaemun Market is the biggest traditional market in Korea. We did not had a chance to go in the night. It is more happening at night and a lot of the products are sold at affordable prices. Some are wholesalers. There are shops that sell ladies wear, children wear and etc. We passed by a shop that sell buns. It is so popular with long queue. The buns are piping hot. The bun skin were thin and filled with juicy pork meat. |
We went for Kyochon Fried Chicken for our last meal in Seoul city. There is a branch at Dongdaemun. We passed by the Cheonggyecheon river while we were looking for the Kyochon outlet.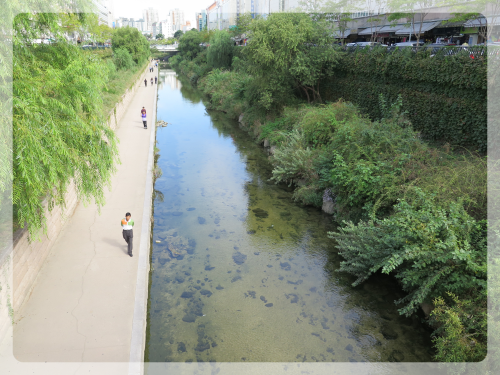 ~Kyochon Fried Chicken (Dongdaemun)~
| | |
| --- | --- |
| Address: | 217-105, Sindang-dong, Jung-gu, Dongdaemun, Seoul, Korea |
| Quick Review: | The branch was pretty secluded. We had a hard time looking for it but thank goodness that we found it. Kyochon Fried Chicken is the best fried chicken drumsticks that I have. It is so juicy and tender. The skin is so crispy. I can feel my sore throat is sneaking back. But the chicken is definitely worth it. |
We went back to our hotel and get our luggage bags. We took a bus to Incheon Airport. So sad to leave the place.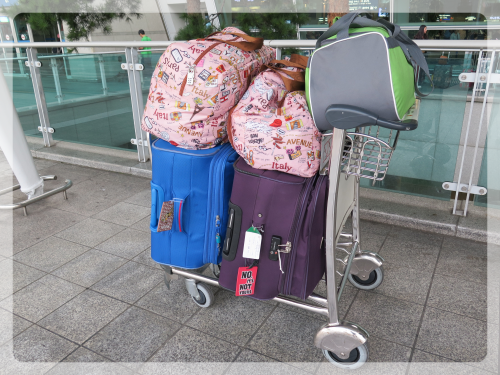 ~Airport Food Court~
| | |
| --- | --- |
| Address: | Incheon International Airport |
| Quick Review: | I started to feel the sore throat. We ordered ginseng chicken soup and cold noodles. The food was so-so. The cold noodles do feel soothing to my throat. |
Annyong hee kye seyo South Korea! Time flies. It is time to say bye bye to South Korea, BBQ Beef, Ginseng Chicken Soup, Gyeongbokgung Palace and all the shopping streets! I will be back! Home Sweet Home back to my Lovely Sunny Island – Singapore!
Quick Links