Tiffany Cafe (Furama City Centre) ~ It was my colleague birthday celebration. My colleague suggested to try Tiffany Cafe. I have never been to Tiffany Cafe. There is also credit card promotion 1 for 1. Cool. Value for Money~ International Buffets are always great for gatherings as there will be something for everyone.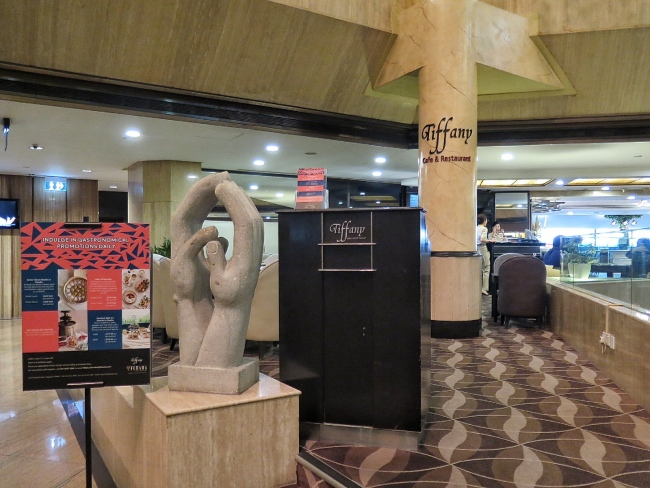 Ambience
They use a nice blue theme with a long stretch of windows with greenery. Naturally Lit up the place. The place is spacious. Soon the lunch crowd starts and the whole place was quite crowded. It is good to make reservations.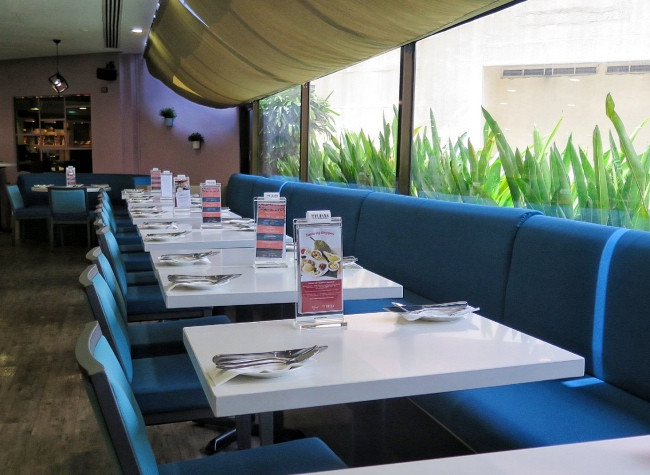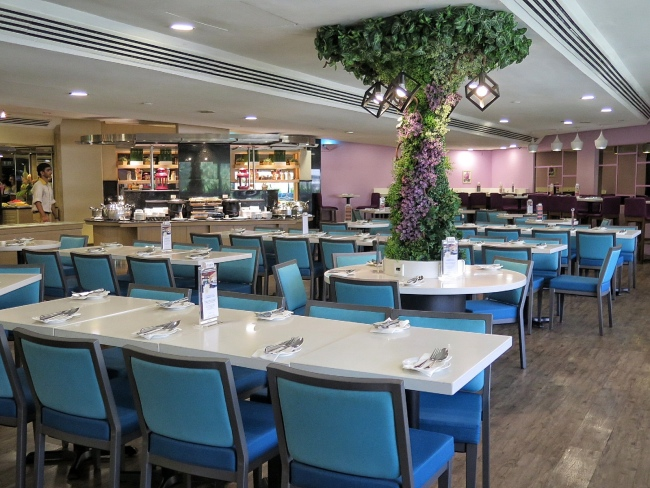 Service
We were a bit early about 5 mins before 12pm. Their food look to be about ready but they didn't let us in yet. They clear our plates swiftly. You can also make online reservation. They also have some food stations where they prepare the dishes (Eg. Waffles and Chicken Rice) when you order.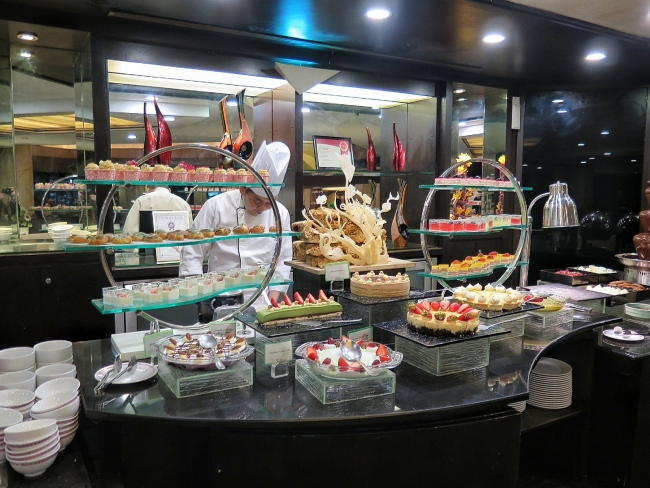 Food
Bread and Soup and Salads ~
They offer different types of bread. I love slightly salted butter! Best combination with Bread! I didn't try the salads. Leaving space for the other dishes. I like the cheery colourful presentation.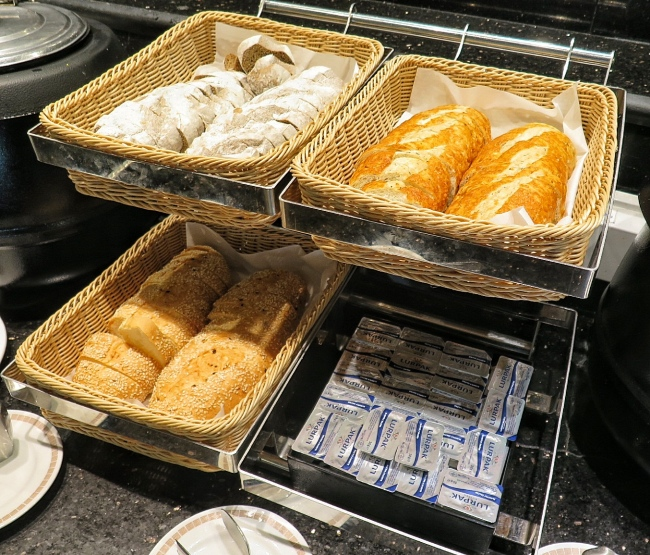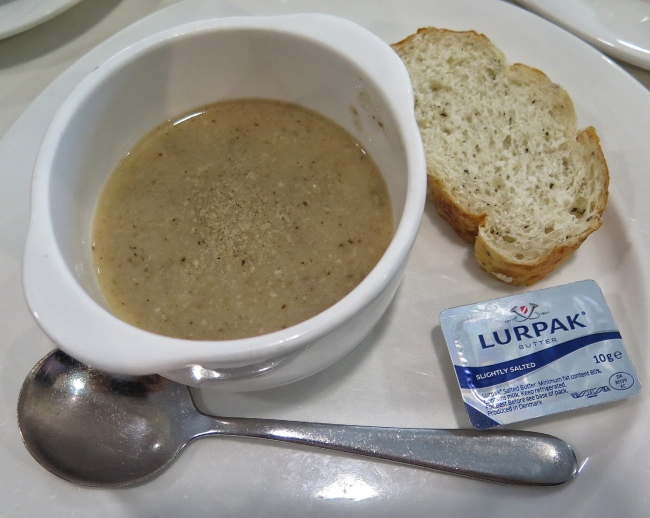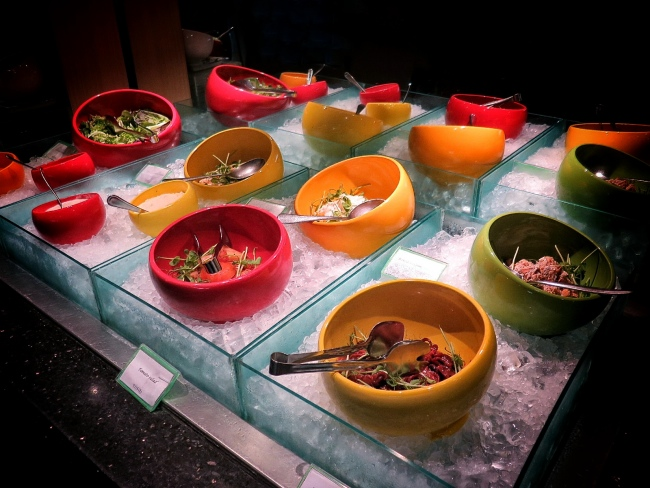 Main Dishes
They do have a good variety of main dishes (From Italian to Chinese Dishes) – Seafood Pasta, Exotic Black Ink Squid, Herbal Duck, Stir-Fried Prawns and Dim Sum. They have food stations that offer Chicken Rice and Mee Soto. You can prepare the mee soto yourself. Grateful that Uncle Chef was helpful to help us cook the noodles as I would worry I overcook or under cook the noodles.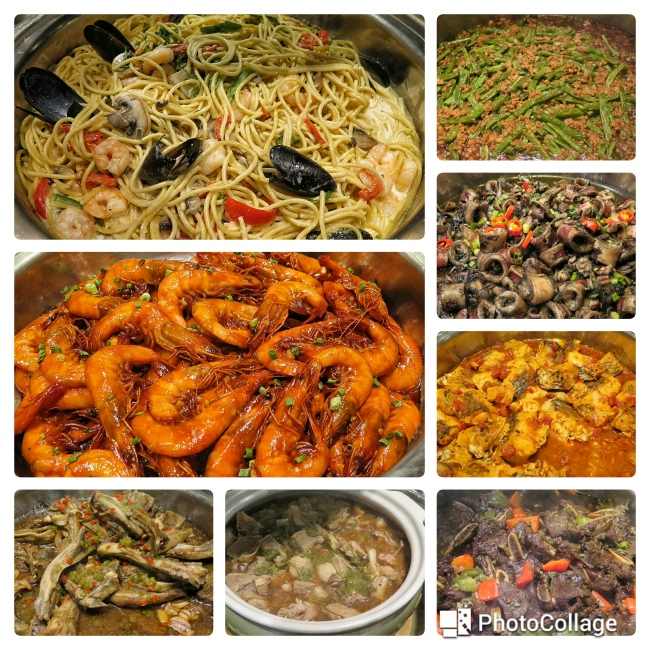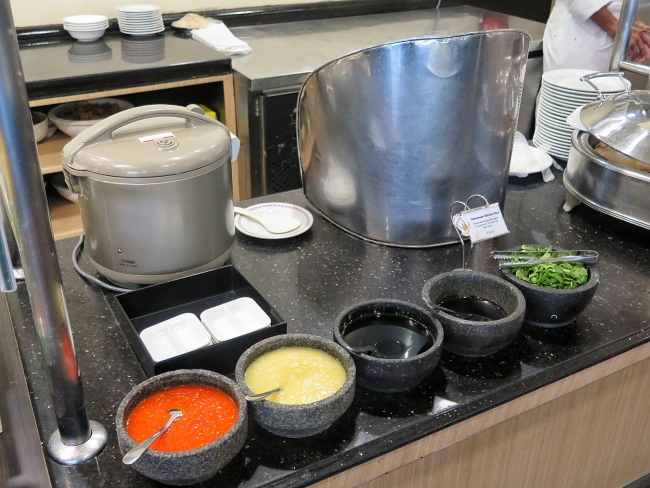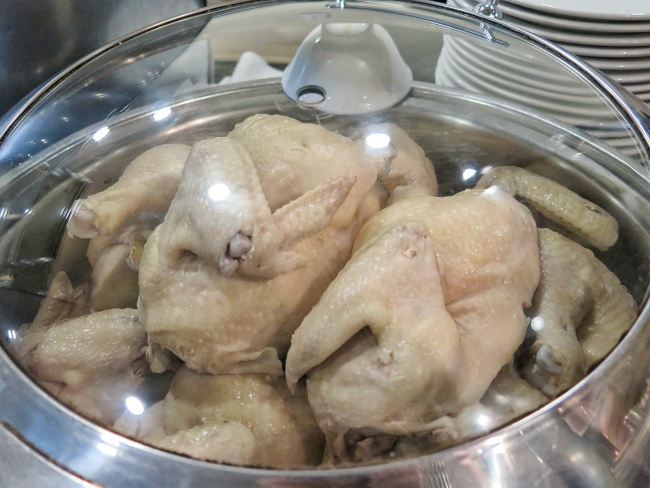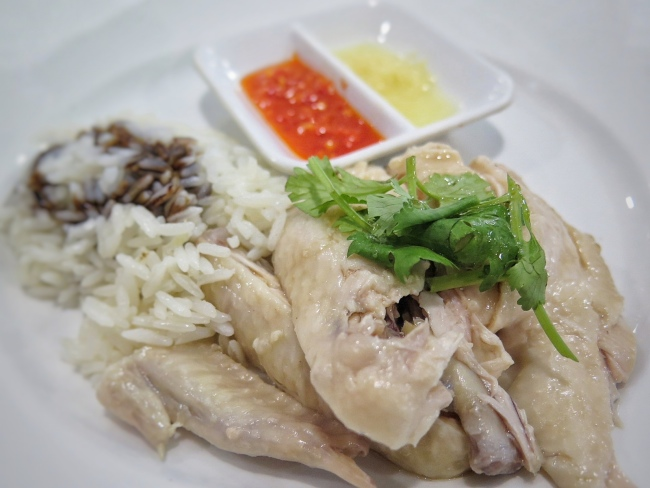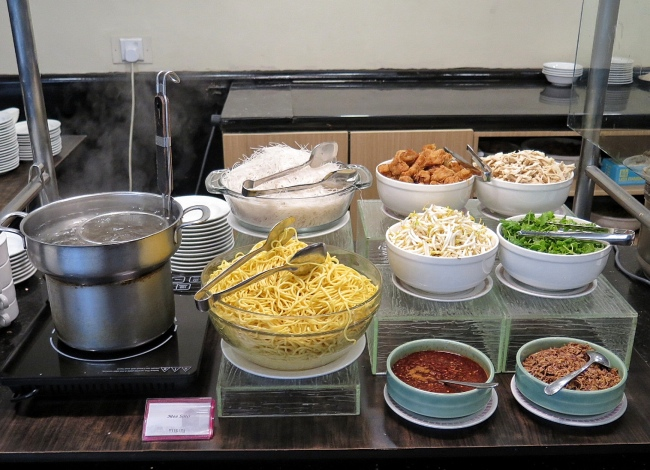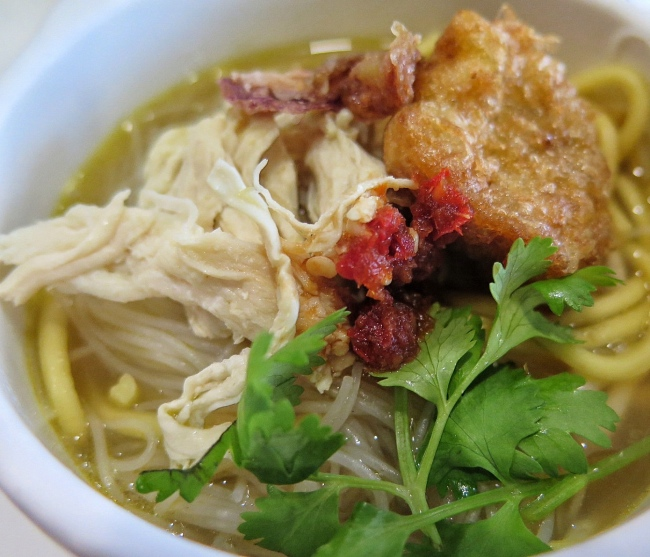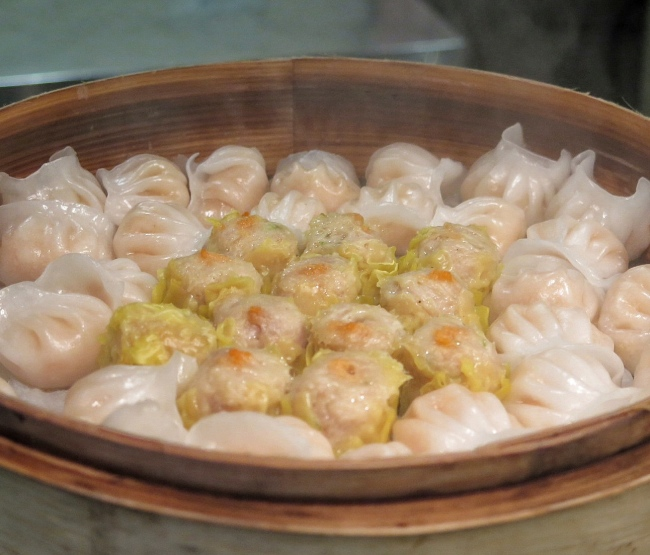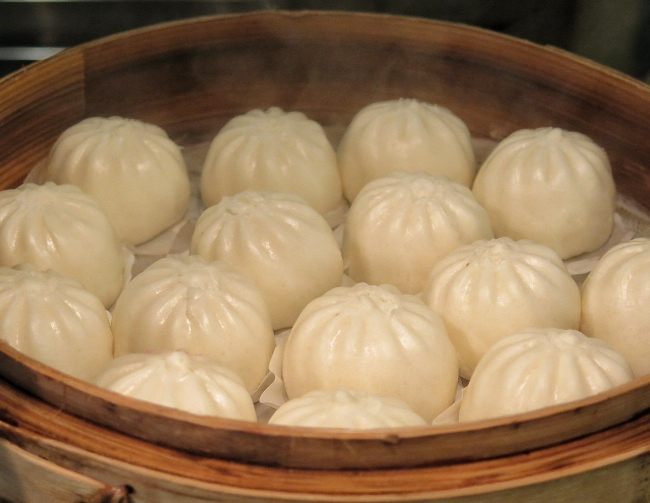 They also have a Sashimi Corner and Sushi Corner. The salmon was generously cut in thick slices!~ Wow.So tempting. Unfortunately, I can't eat raw food now. My colleagues say the salmon sashimi was very fresh and delicious.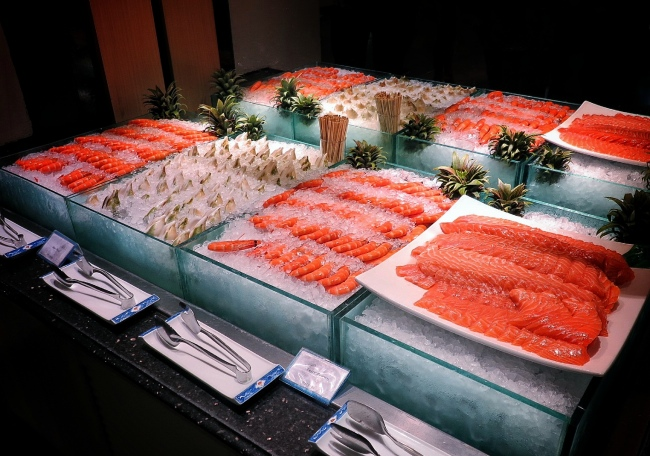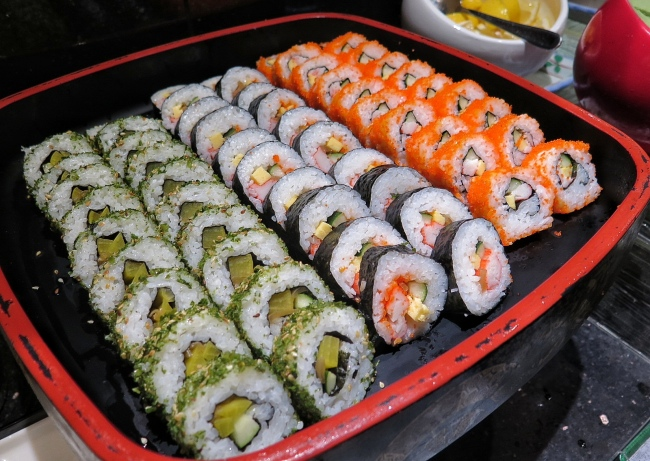 Desserts Time! When I eat buffet, my focus is always on desserts. I love desserts! They do have a good variety of desserts as well. Cakes … Ice Cream … Chocolate Fondue … Freshly Baked Waffles … Fruit Cocktail … Bread and Butter Pudding … Durian Pengat. I love Durian Pengat but I dont' fancy the crumbs that sprinkle as topping. The crumbs gave a different texture to the Durian Pengat but it kinda distract the real highlight of the dessert. We have mixed feedback among our group for the Durian Pengat. Some people love their version. Some don't.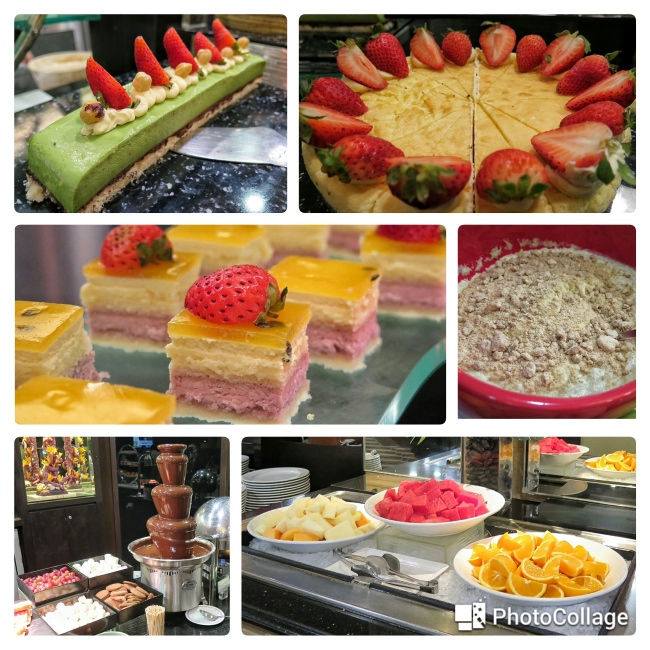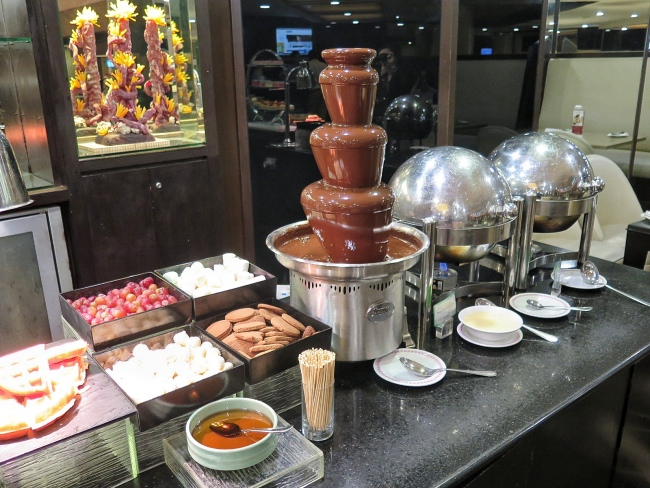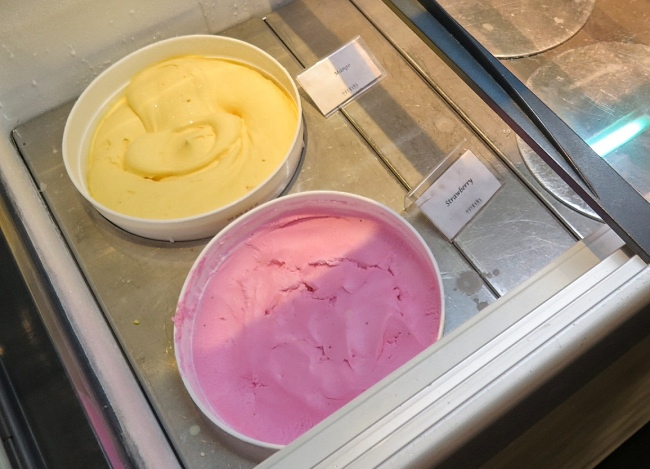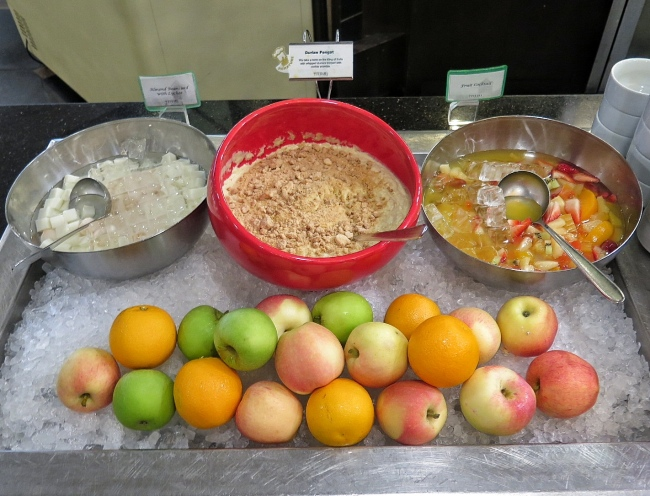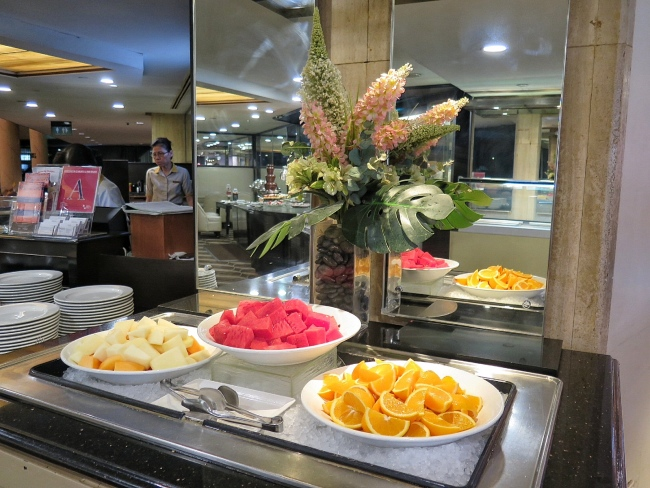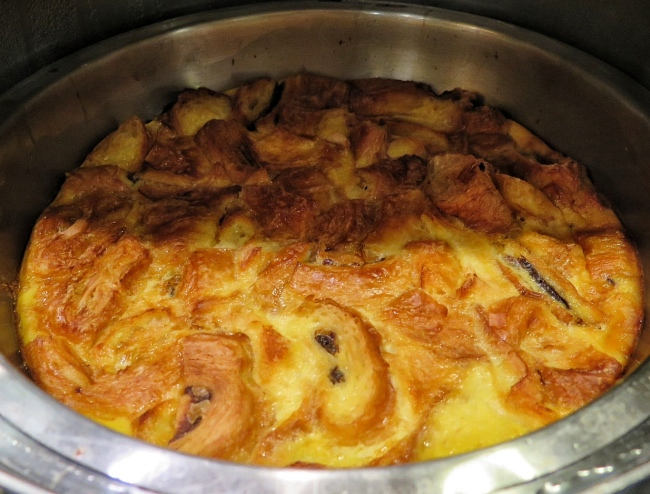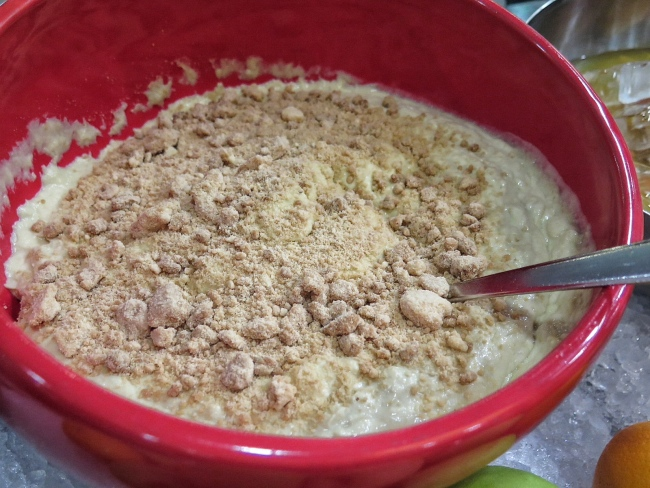 Drinks – They provide free flow of ice lemon tea and ice peach tea as well as coffee and tea.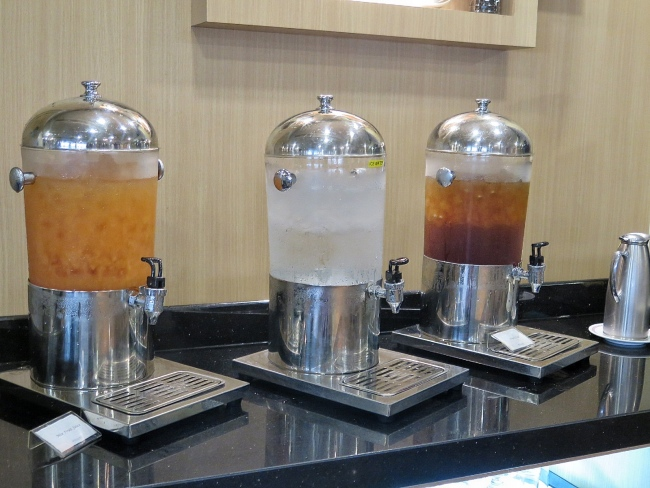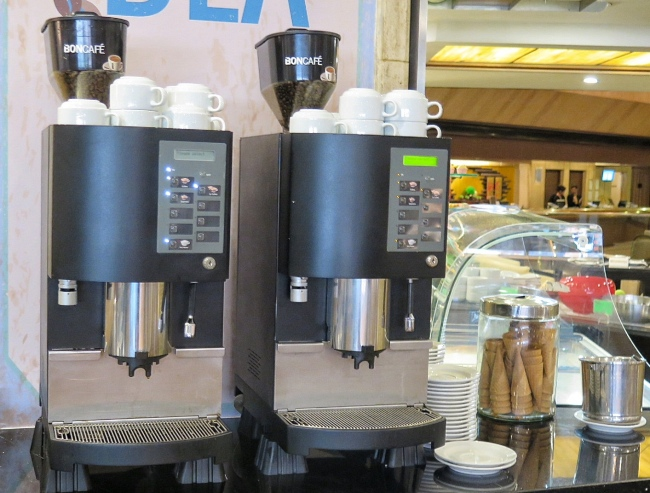 ~Conclusion~
Tiffany Cafe (Furama City Centre) ~ With the credit card 1 for 1 promotion, the lunch buffet is about S$26.90++. Value for Money!~ They offer a good variety of spread which even include salmon sashimi. Some hits and Some misses. Overall, I think still worth trying.
Furama City Cost of buffet:
Buffet Lunch: S$53.80++ (A) S$28.80++ (C)
Buffet Dinner: S$65.80++ (A) S$28.80++ (C)
*Child is from 5 to 11 years old
*Free flow of ice lemon tea and ice peach tea for both lunch and dinner
Address
60 Eu Tong Sen Street, Singapore 059804
Contact No.
+65 6531 5366
Nearest MRT Station
Clarke Quay MRT/ Chinatown MRT
Website
View Website
Facebook
View Facebook
Instagram
View Instagram
Price Range (per pax)
S$51 – S$100
Opening Hours
Daily
Breakfast: 6.00am – 10.30am
Lunch: 12.00pm – 2.30pm
Dinner:6.00pm – 10.30pm

**Weekend High Tea 2.45pm – 5.30pm
(Applicable only for Sat and Sun)
Recommended Dish(s) to try
Salmon Sashimi
Desserts