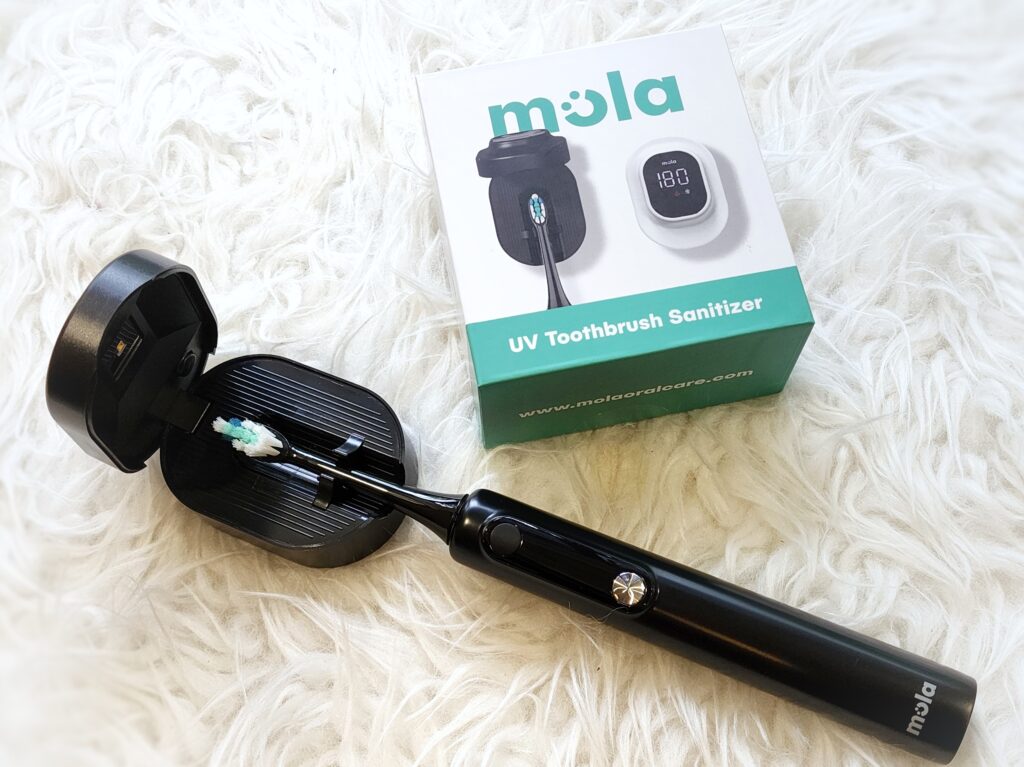 Have you heard of Mola Oral Care? It brings to us Singapore's 1st sonic toothbrush with a Custom mode function! Now we can stop wasting money and effort finding a suitable sonic toothbrush (be it if we have sensitive teeth, braces, or super bad plaque) because Mola Sonic+ Toothbrush allows customizability on the speed, pressure, and duration! Awesome!
Mola Sonic+ Toothbrush has a smart timer and reminderI this is so useful for me. I know the dentist always recommend to brush for 2 minutes. However, I will always forget about it and just brush till I feel it is good enough. Haha!. There is a 2-minute countdown timer appears on screen during each brush cycle. There is also an in-built pacer reminds us to switch quadrants every 30 seconds. This is really helpful as I sometime did not spend enough time brushing at certain area.
Not forgetting the most important feature for me is that it actually has 5 Brushing modes (Clean, Sensitive, Deep Clean, Whitening, Gum Care) and a Custom mode! I can choose sensitive mode for my sensitive gums. I can even set up my own custom mode and adjust the strength and duration of my brush cycle down to the seconds!
For example: Your teeth are more sensitive at the bottom left quad. You can set up your custom mode settings to:
30 seconds – clean mode, speed 3
30 seconds – clean mode, speed 3
30 seconds – sensitive mode, speed 1
30 seconds – clean mode, speed 3
optional: 20 seconds – deep clean mode, speed 2 (to brush your tongue!)

There is also a Low Power Prompt when the battery is less than 10% so we won't forget to charge it! It also has a Long Battery Life of 30 days on highest setting (Deep Clean)!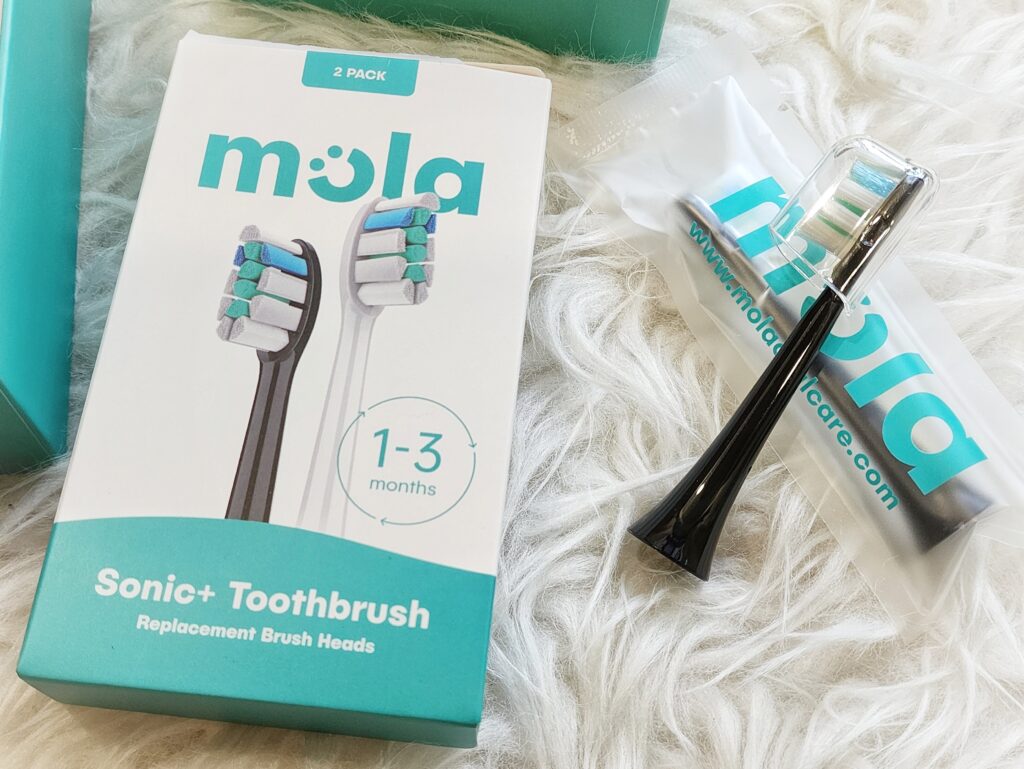 It is important to change our toothbrush head every 3 months. The bristles tufts from Ordinary Brush head is often held down with copper staples. Hence, it may rust when it get in contact with water. Mola Copper-Free Brush Head is engineered with advanced bristles planting method. The rust-proof brush heads can reduce bacteria growth. There are also the blue bristles which will fade when it is time to change the brush head. Great! Now I won't forget to change my toothbrush.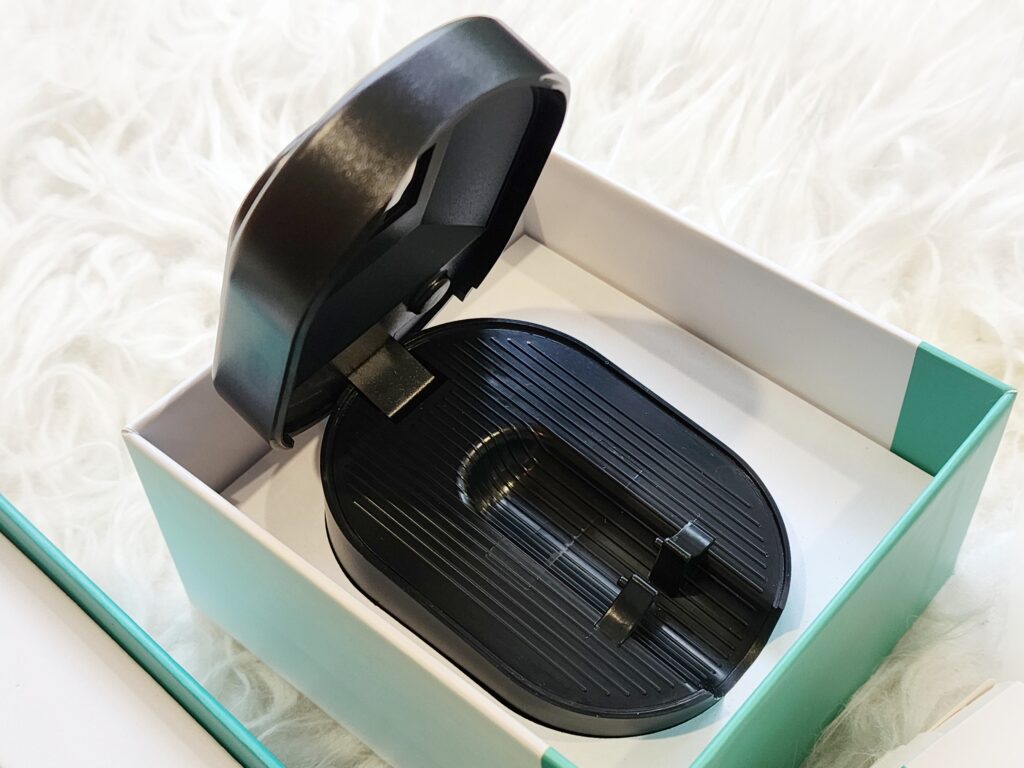 Do you know that there can be as many as 1.2 million bacteria that can be lurking on our toothbrush? Oh My! There is Airborne Bacteria in our toilet from just a single toilet flush (small aerosol droplets containing bacteria and viruses that travels up to 6 feet away. Our toilet is often wet and mold may form. Viruses can survive on a toothbrush for 24 hours. We end up unknowingly get Bad Breath, Bleeding Gums, Tonsillitis and Gastroenteritis from our unsterilized toothbrushes.
The Mola UV Toothbrush Sanitizer uses PHILIPS UV Sterilization to eliminate 99.9% of Bacteria & Viruses in just 3 Minutes! There is a built-in timer. Mola UV Toothbrush Sanitizer will automatically start up every 8 hours. We are protected for 24 hours! It also remove moisture with Heat dryer feature. It is also very portable. I can easily detach and bring it for travels. It is perfect to pair with the Mola Sonic+ Toothbrush and of course it certainly acts as an aesthetic toothbrush holder!
I took a plaque-test using my manual toothbrush and Mola Sonic+ Toothbrush. I used disclosing tablets (chewable tablets that make dental plaque visible with a harmless dye) before brushing teeth. For Night Brush Day 1, I brush my teeth using my manual toothbrush for 2 minutes (recommended by Dentist). For Night Brush Day 2, I brush my teeth using Mola Sonic+ Toothbrush with Sensitive mode. I can see that the plaque look lesser even when I only brush using Mola Sonic+ Toothbrush with Sensitive mode.
I am so impressed by the Mola Sonic+ Toothbrush as it effectively remove the plaque and it is perfect for me as I have sensitive gums.
The above information is for reference only. Hop on to Mola Oral Care for more information.
This post is brought to you by Mola Oral Care.