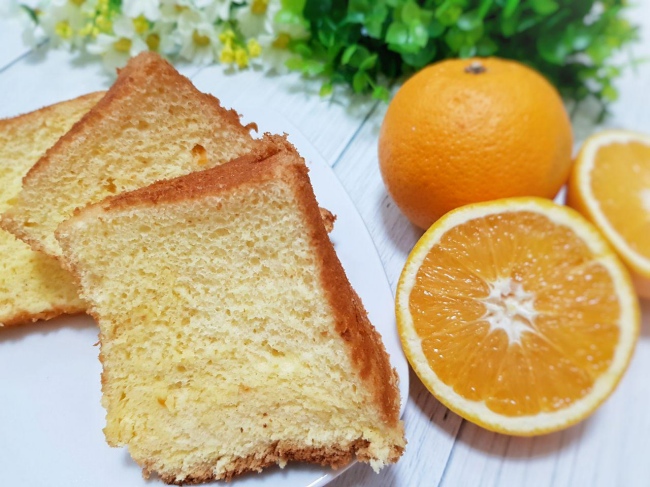 RECIPE: ORANGE CHIFFON CAKE
Shopping List (For reference)
Ingredients
5 x Eggs
70g x Plain Flour
40g x Cake Flour
170g x Sugar
150g Fresh Orange Juice
1 tbsp x Vegetable/ Corn Oil
1 tbsp x Grated Orange Peel/ Zest – Optional
Cooking Steps
Step 1: Separate the yolks from the egg white in 2 bowls
Note: Be careful not to break the yolks inside the egg whites.
Step 2: Whisk egg yolk with half of the sugar till pale yellow
Step 3: Mix in oil, Stir in orange juice, zest
Step 4: Sieve in flour and mix them together
Step 5: Beat egg whites with the remaining half of the sugar (gradually add in) till soft peak
Step 6: Take half of whipped egg white and mix in the egg yolk mixture
Step 7: Fold the mixture gently into the remaining egg white till it is smooth
Step 8: slowly pour the mixture into the tube cake pan,use a chopstick to stir the batter (remove air bubbles)
Step 9: Put in preheated oven to bake 170 degrees for 1 hr use a skewer to poke into the cake,comes out clean means already cooked
Step 10: Invert it and let it cool down. then cut out and serve
Step 11: Cut out and serve
My mum like to bake Chiffon Cake! It is easy and our family love it!