ELEMENT ON TRAS STREET ~ Located at Amara Hotel Singapore. It is just Less than 5 minutes walk from Tanjong Pagar Mrt. I often like to visit Amara Hotel as it has a great variety of dining selections like Element, Thanying Restaurant that meet the demands of all the palates. Great for family/friends gatherings, corporate events, expats and the office warriors in the bustling Central Business District. Thanks Amara Singapore and Lindy for hosting us.
AMBIENCE
It is Located along Tras Street! You can chill and dine while enjoy the alfresco style. Great place to chill after a long day at work. It is great for office warriors in the area to chill with a drink during happy hour after work. I don't like to travel too far to chill especially after a long day. Already half-dead. I just want to quickly chill Haha.
FOOD
ANGEL HAIR CAPELLINI WITH KRISTAL KAVIAR AND KOMBU
Wow this dish comes with an amazing sensory experience, it transport us out to the sea! The atmosphere is filled with smell of the sea as they place the huge bowl of seaweed with smoke! So beautiful. Pleasing to the eyes! The angel hair was simply wonderful! Wow love the Truffle fragrance and enjoy the luxurious tiny black pearls. Very Flavourful!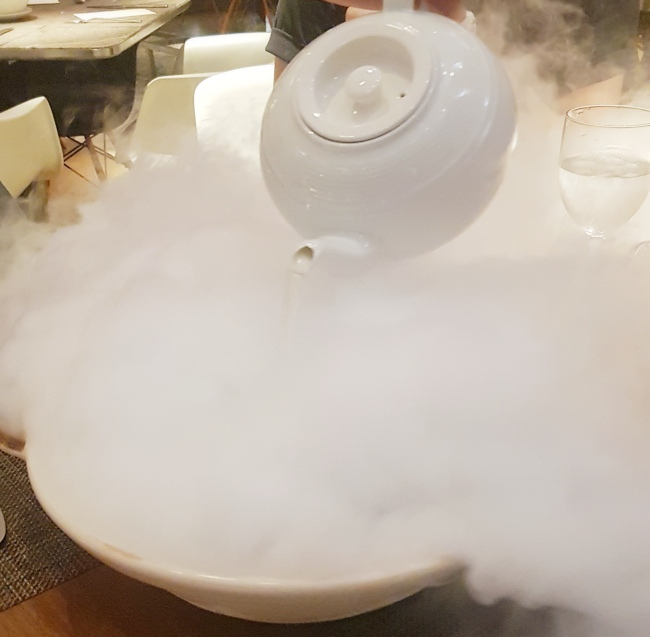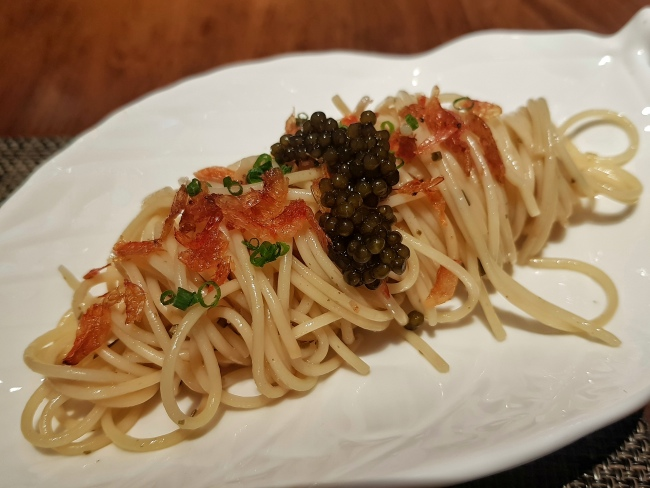 SEA OF JAPAN
Beautiful trio treasure! Shishamo, Tarabakani, Tatami Iwashi. Tatami Iwashi was an eye catcher! I understand that Tatami iwashi (タタミイワシ) is a Japanese processed food. The baby sardines or shirasu laid like a large sheet and dried. So Interesting! It was the first time I have this. It feels like a lot of small ikan billis flatten into a sheet.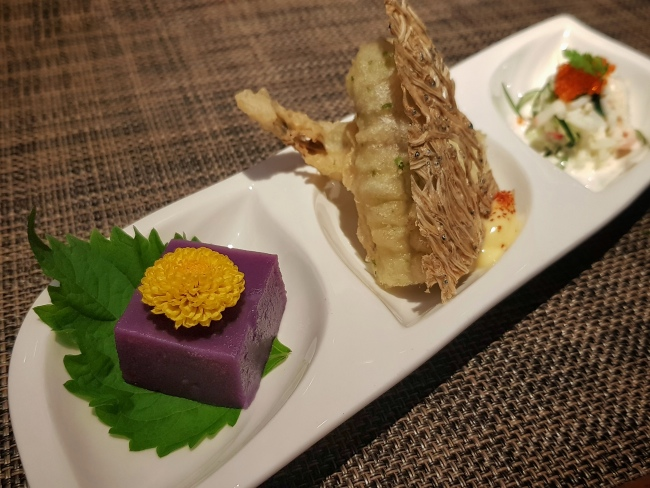 FOIE GRAS
The Foie Gras is served with Gooseberry Red Wine Jus and Chive. Very flavourful and the gooseberry red wine jus complement it very well.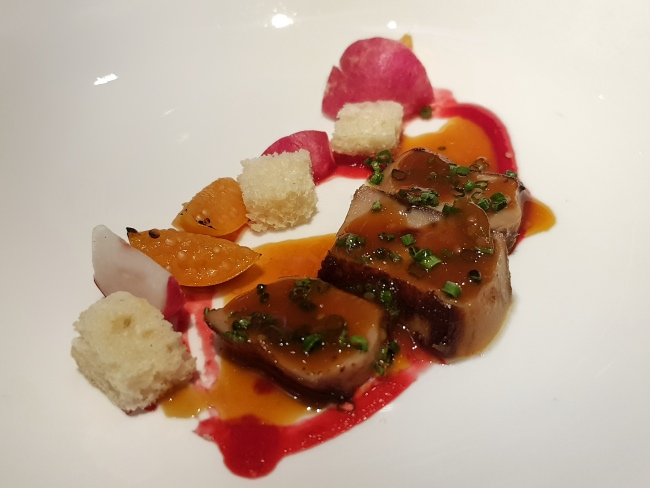 CHALLANS DUCK S$44
Plum Jus and Confit Duck
The highlight of this media tasting is finally here! It is the Award Winning Honey Roasted Challand Duck by Chef Jason Tang! Chef Jason crafted the award-winning dish for the Food and Hotel Asia 2018 Culinary Challenge. It is a biennial competition where hundreds of culinary talents from around the world showcase their finest skills! Feel so honored to get to try this amazing dish! The duck is imported from France. It was very tender and moist with hints of smoky honey sweetness. It was also seasoned with coriander, cumin seeds and exotic spices!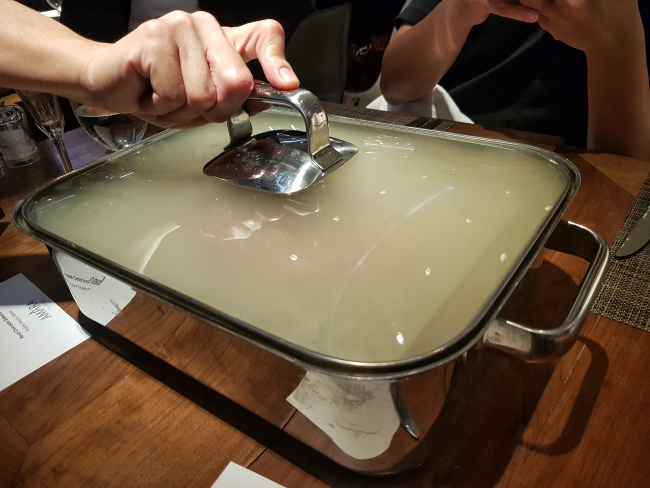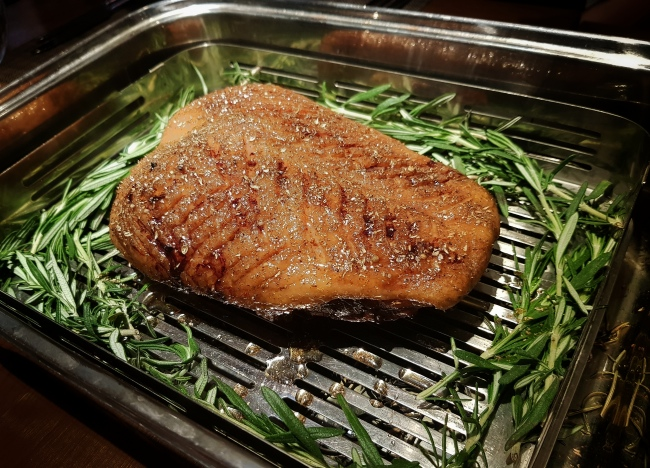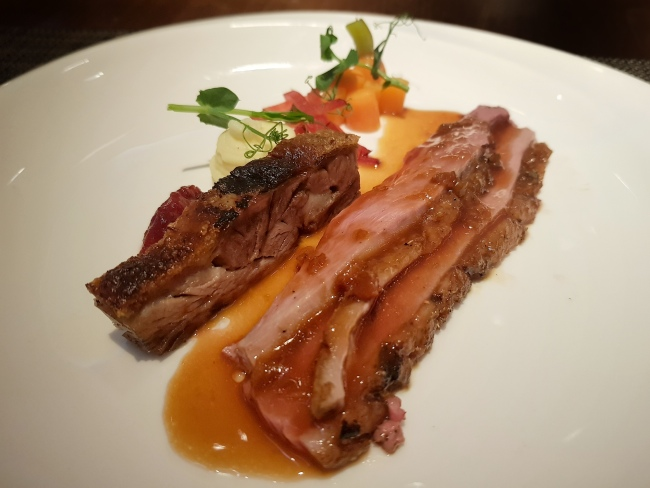 YUZU SHERBET
Another beautifully presented dish. It is a great dessert as it is very refreshing. Preparing our appetite for our next dessert.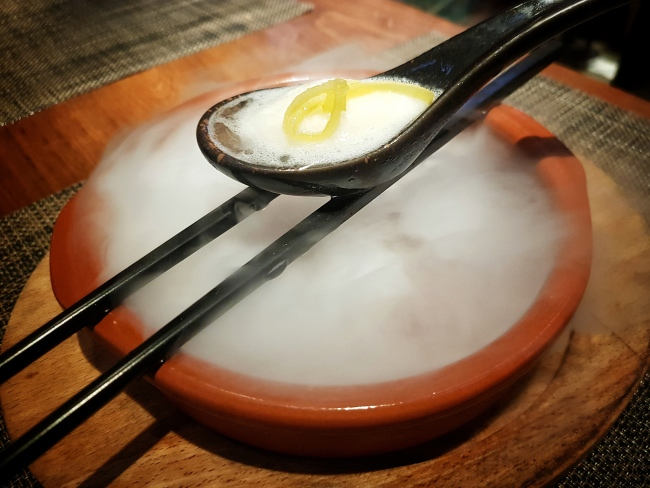 ROYAL CHOCOLATE GATEAUX It comes with Praline Sauce and Berries. Aww the chocolate is very creamy and smooth. A perfect sweet ending to a great meal.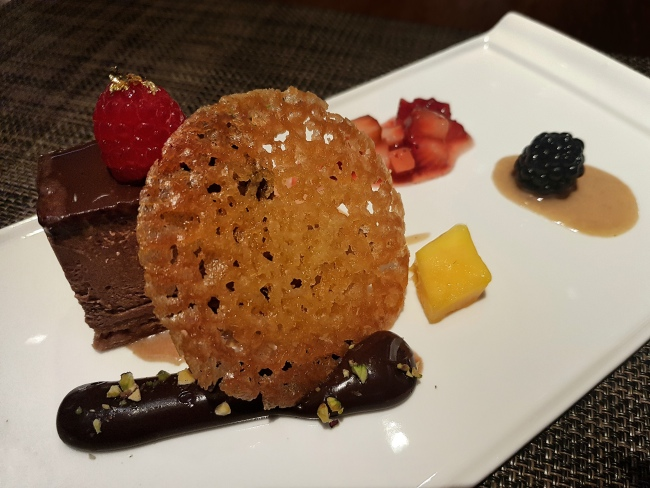 ~CONCLUSION~
ELEMENT ON TRAS STREET ~ Located at Amara Hotel Singapore. Great for family/friends gatherings, corporate events, expats and the office warriors in the bustling Central Business District. I especially enjoy Truffle Angel Hair Capellini and Award Winning Honey Roasted Challand Duck by Chef Jason Tang. Thanks Amara Singapore and Lindy for hosting us.
We tried the following:
– ANGEL HAIR CAPELLINI WITH KRISTAL KAVIAR AND KOMBU
– SEA OF JAPAN
– FOIE GRAS
– CHALLANS DUCK
– YUZU SHERBET
– ROYAL CHOCOLATE GATEAUX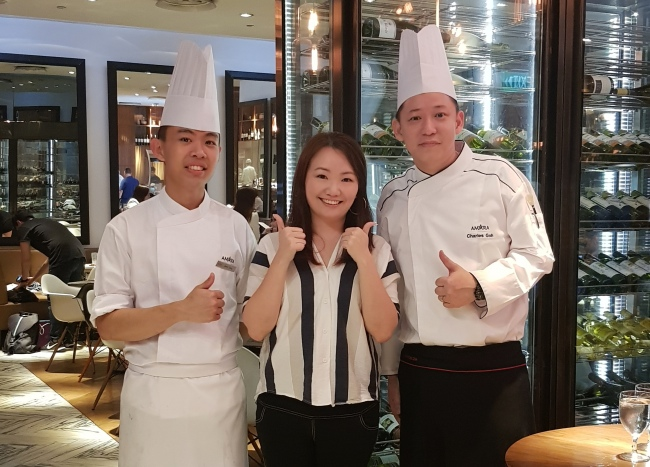 Address
165 Tanjong Pagar Road, Singapore 088539​
Contact No.
+65 6879 2608
Email Address
fnb.sg@amarahotels.com
Nearest MRT Station
Tanjong Pagar MRT
How to get there
Show Map
Website
View Website
Facebook
View Facebook
Instagram
View Instagram
Price Range (per pax)
Above S$100
Opening Hours
Restaurant
Lunch (Mon to Fri), 12pm to 2.30pm
Dinner (Mon to Sat & PH), 6pm to 10.30pm

Bar
Mon to Fri, 12pm to 1am
Sat, Sun & PH, 3pm to 2am

Note: Happy hour takes place daily from 4pm to 8pm
Recommended Dish(s) to try
Angel Hair Capellini, Krista Kaviar, Kombu
Challans Duck