Ordering Confinement Food Catering is now a popular choice among many new mummies. It is also my preferred choice! I did not want to hire a confinement lady as I heard many mummy friends who have issues with their confinement ladies. It is not about whether you are able to find a GOOD confinement lady. It is more about whether you are able to find a SUITABLE confinement lady! If you manage to find a SUITABLE confinement lady, I would think the confinement period would be even an enjoyable one. If you find a NOT SUITABLE confinement lady, you might be having a torturing confinement period. Lifestyle and beliefs might be different for both of us. It results in conflicts. For example, some confinement ladies are not keen that the mummy does breastfeeding and often gave negative remarks on it. Luckily, I have some family help during this confinement period. Hence, I decided that I won't hire a confinement lady. However, I understand this might be too taxing for my family. Ordering confinement food delivery will save my family a lot of effort of cooking and cleaning for me! My family may understand the benefits of the confinement meals but they may not be able to prepare it properly due to lack of experience and knowledge in cooking confinement meals. I ordered a 28 days (Lunch and Dinner) package from Tian Wei Signature. Many mummies often ask about traditional confinement food in Singapore. I shall share my experience with Tian Wei Signature in this Tian Wei Confinement Food Review.
Many thanks to Tian Wei Signature for the delicious and nutritious Traditional confinement food Singapore. They use ingredients like old ginger, sesame oil, rice wine, black vinegar, and red dates. According to traditional confinement food theory, these ingredients help to dispel 'wind', remove 'cold, regulate blood level and stimulate 'qi'. This is important as new mummies will be very "weak" as we have lost large amounts of "qi" and blood after delivering baby. If we did not take good care of ourselves, we are very vulnerable to falling sick and lacking in nutrients.
I also like that they deliver straight to my doorsteps and ready to eat. Tian Wei Signature published their confinement food menu. Their menu features 45 Nourishing Soups, 44 unique meat dishes, 42 unique vegetable dishes, and pro-breastfeeding. There is a good balance of meat and vegetables. The food is rich in protein and iron such as pork and fish. They also use fruits such as papaya which is popular to help in boosting breast milk supply! You can enter your Estimated Delivery Date and you can view your confinement meal menu assuming the service start date is 3 days after the EDD. This makes it so easy for us to find out the confinement food menu.
You can take a look at their menu here.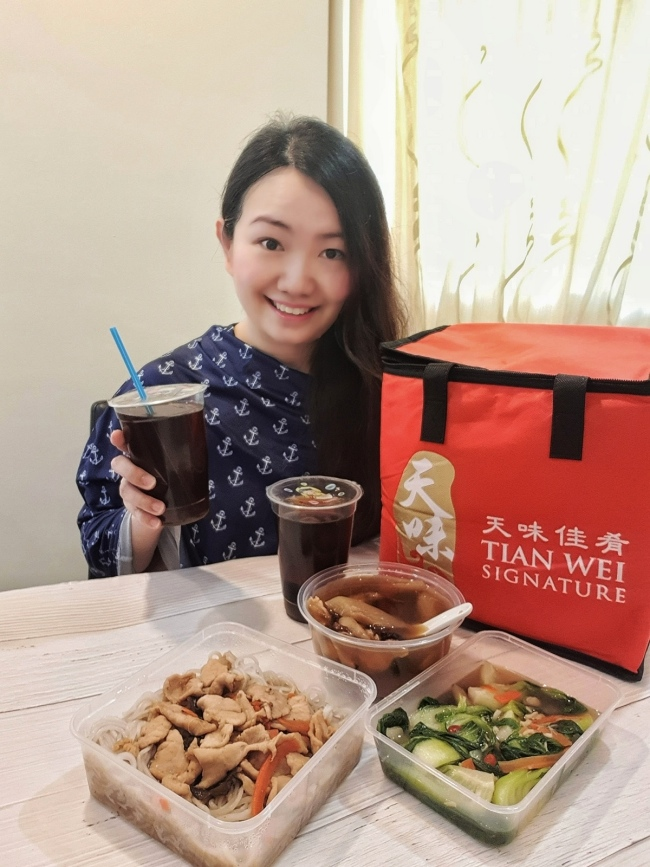 When they deliver for the first time, they will ensure that you answer the door to confirm that they deliver to the right location. They leave a hook at the door and also provide a thermal bag. Subsequently, they will just ring the door bell/ knock the door and leave the bag of food on the hook at your door. They will also call to inform you that they have delivered the confinement food. The food was well sealed to prevent leakage and was warm when they arrived. The dishes are warm in disposable microwavable containers when they arrived. If I want to eat them later, I can simply heat them up using my microwave oven. I also like that they can cater the menu to my needs or preferences. I requested not to have chicken and eggs for first 2 weeks and that I prefer all traditional dishes. The portions are also very generous. I often share the dishes with hubby too. Sometime my hubby can just cook 1 more dish E.g. Steam Fish and share the meal with me. It is already good for both of us.
They use a lot of ginger in their dishes. If your baby has jaundice, you may like to be careful not to eat the ginger in the dishes. Every meal comes with 2 big cups of longan red date tea which helps with water retention and alleviates "wind" in the body. It has hints of herbal sweetness. Not overly sweet. Just right for me!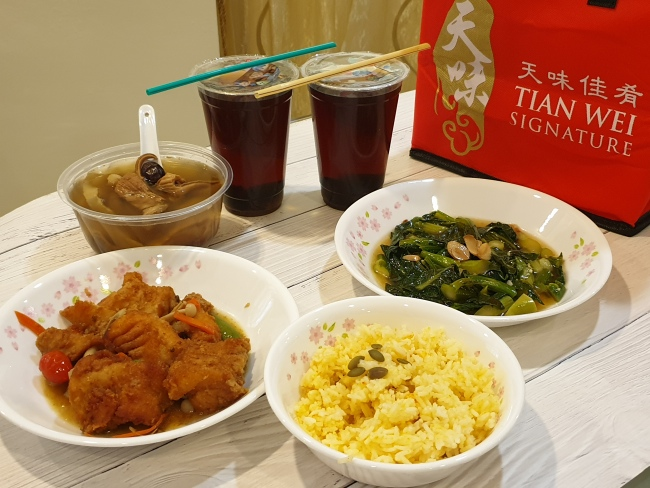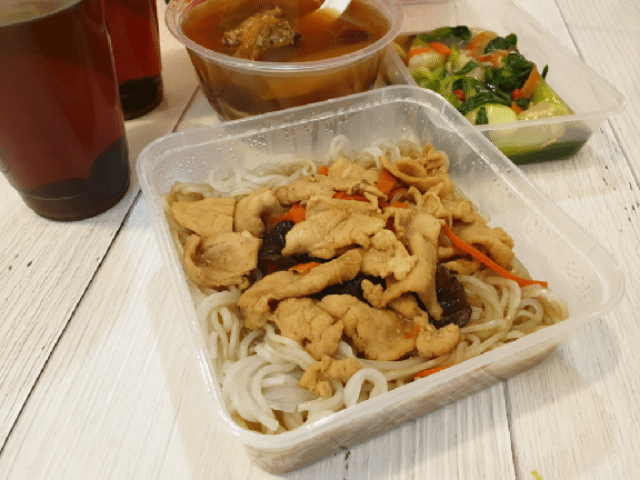 SOUP
They offer a good variety of soups. They also have the popular Sheng Hua Soup (生化汤)which is a traditional Chinese herbal formula consumed by Asian women right after delivery. Sheng Hua Tang is a classic chinese herbal formula that stimulates blood flow and relieves pain. It is believed to aid recovery by clearing blood stasis and tissues from uterus. It has to be consumed 2 hours before breastfeeding or consumed after breastfeeding. However, it is not suitable for ladies who experience excessive bleeding. I love their soups especially the fish soups. Feel very nutritious! They are brewed using ingredients like Chinese herbs (e.g. dried wolfberries and Chinese Angelica Root) and Plants (e.g. lotus roots). The soups are very beneficial in addition to your meals and are known for their blood nourishing and energising benefits.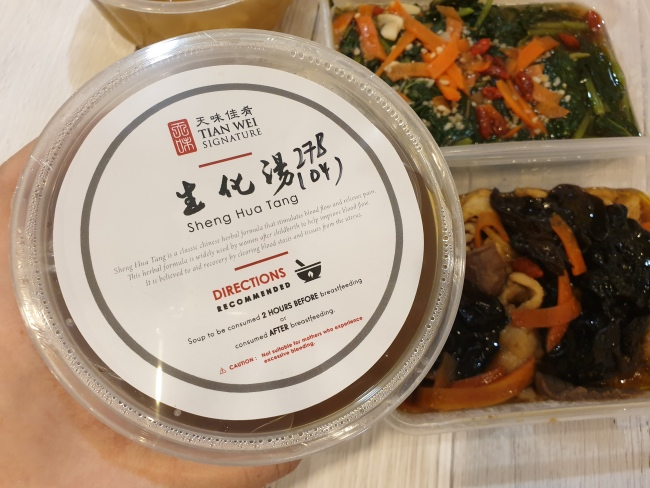 MEAT
The meat dishes are usually tender and flavorful. There is a good variety of meat dishes too. They have BRAISED PORK TROTTER IN BLACK VINEGAR (猪脚醋), RED FERMENTED WINE CHICKEN (红糟鸡), BRAISED CHICKEN WITH ANGELICA & HERBS (当归药材炖鸡), STEAMED THREADFIN FILLET WITH GINGER BROTH AND BLACK FUNGUS (姜汁清蒸午鱼黑木耳), and STIR FRIED PORK AND KIDNEY WITH D.O.M (法国郎酒炒瘦肉腰子). There are some hits and misses as everyone have their own preference. I enjoyed their BRAISED PORK TROTTER IN BLACK VINEGAR (猪脚醋). I like the black vingear gravy. It is perfect to go with rice. I will drink up all the gravy as black vinegar is good to purify the blood and cleanse the arteries, it also helps to break down the mineral content in the trotters and ensuring the resulting gravy to be rich in calcium, iron and gelatinous collagen. RED FERMENTED WINE CHICKEN (红糟鸡) contains red fermented rice wine which is good for metabolism, lowering the cholesterol level as well.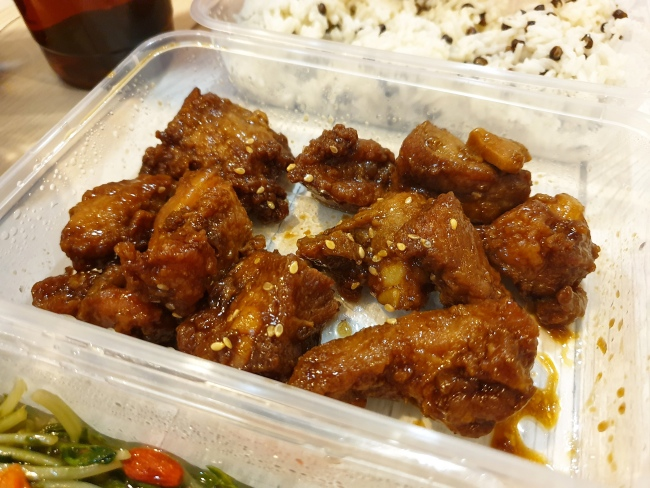 VEGETABLE
I like it that they do have a lot of green vegetables dishes. They are not oily and not overly salty. The vegetables are fresh and crunchy. They often cook the vegetables with ginger and wolfberries. Chinese Wolfberries contain more beta-carotene, a type of antioxidant, than carrots. They are also often used to improve eyesight. Ginger is used to expel "wind", reduce bloating, and improve digestion.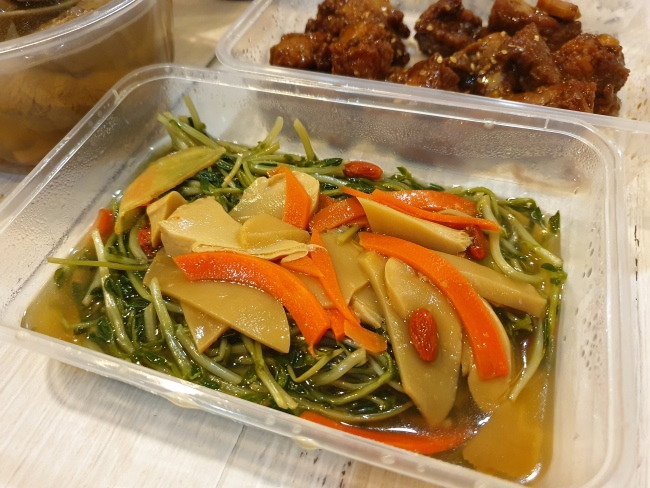 ~Rice/ Noodles~
I am impressed that they do not just serve plain rice with the dishes. They even have a good variety for their rice and noodles. They will serve brown rice, black barley rice, fried rice, ee-fu noodles, pig liver bee hoon. I love the pig liver bee hoon. The gravy is flavourful and a refreshing change from rice.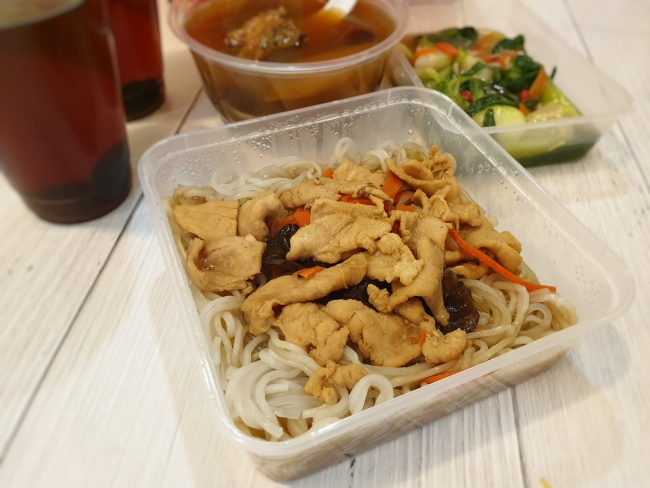 ~Desserts~
I am always looking forward to their dessert day. I enjoyed the SWEET POTATO LONGAN GINGER SOUP (番薯龙眼姜汤) as is not overly sweet. The white fungus dessert is also my favourite. White fungus is said to be able to keep our skin look younger as the collagen content is comparable to bird's nest!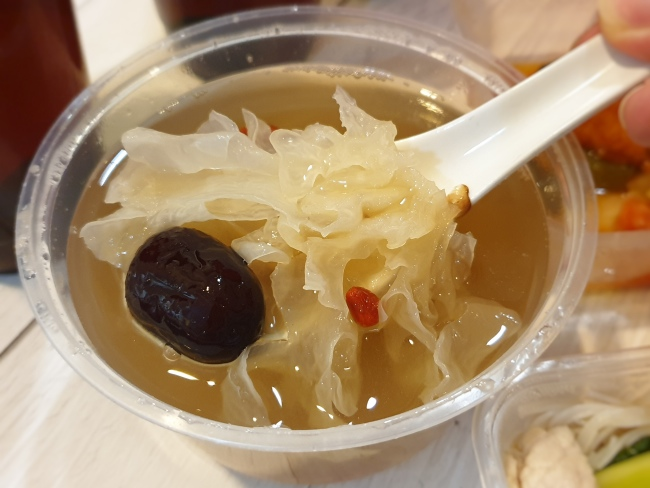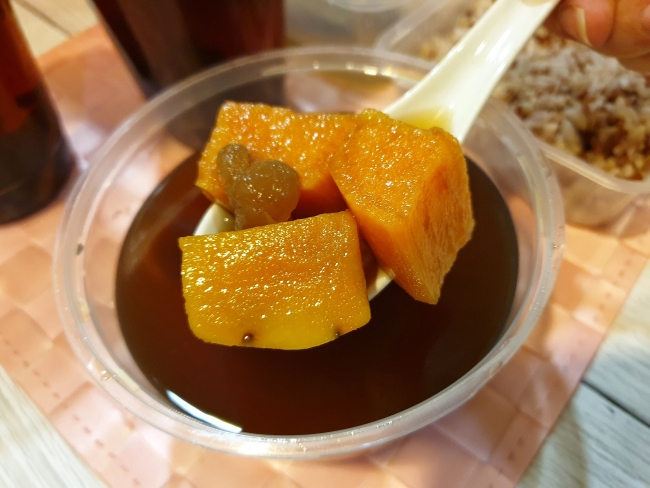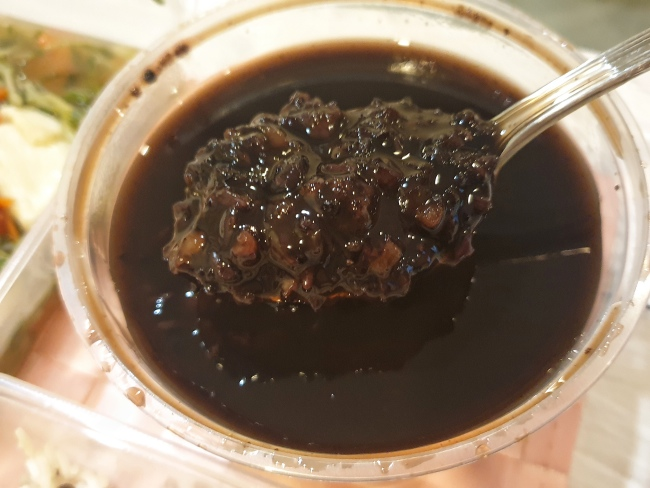 They also offer fusion confinement food! In the third and fourth weeks, Japanese, Taiwanese and Mediterranean inspired dishes like SEARED SALMON WITH CAULIFLOWER CREAM AND TRI COLOUR GRAINS using traditional confinement ingredient would be added in the menu. I requested not to have fusion style as I prefer to have just traditional style for confinement period. However, the fusion style will be great for mummies who cannot stand having traditional confinement food for the entire confinement period.
Thanks for reading my Tian Wei Confinement Food Review.
They have various confinement food package. I would recommend to go for the below packages:
28 days Double (Lunch and Dinner) | S$1688
28 days Single (Lunch or Dinner) | S$868
Book Now with Tian Wei Traditional confinement food !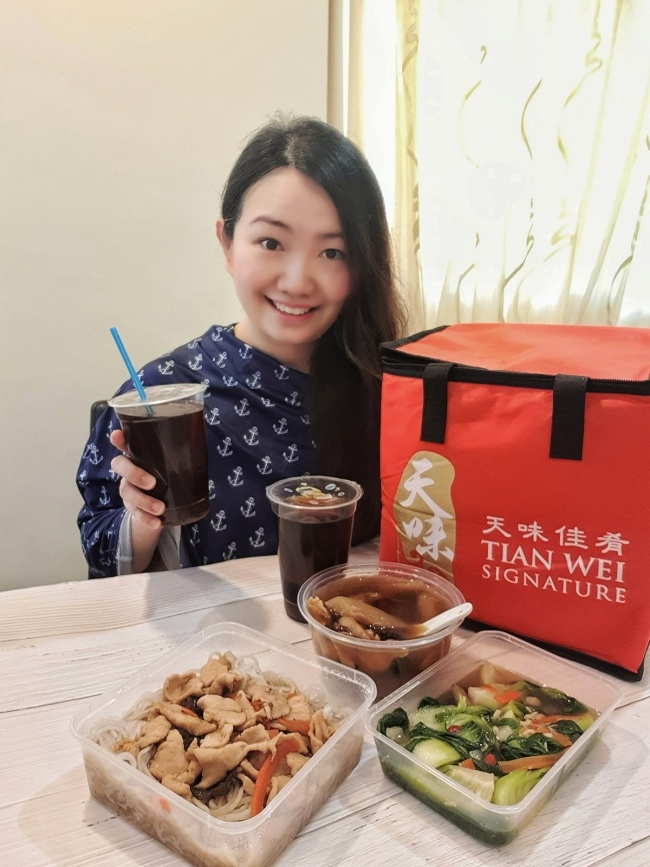 Tian Wei Signature Catering published their confinement meal menu. You can take a look at their menu here.
If you have any queries on Tian Wei Confinement Food Review, feel free to contact me.
You can learn more on other customer testimonals. You can check out at Tian Wei Confinement Food Review.