~Day 4~
We check out of our hotel as tonight we will be staying at the southern part of Jeju Island. We made a few stops along the way.
~Hyupjae Beach~
| | |
| --- | --- |
| Address: | GPS: 7283394 |
| Website: | [View Website] |
| Quick Review: | Sparkly Crystal Clear Water laying above the white sandy beach. I understand that the beach stretch out to about 20 meters long, and the water is about 1.2 meters deep. We can see the Biyangdo Island. Almost feel as if we can just walk to the island. We went to a small coffee place right by the beach. We went in for our caffeine fix and a thick toast. Yummy |
After having fun at the beach, next we dropped by the Glass Castle.
~Glass Castle~
| | |
| --- | --- |
| Address: | GPS: 7727777 |
| Website: | [Visit Website] |
| Quick Review: | It looked a bit tired. I guess the weather had stripped some of the appeal away. Nonetheless, I am still awed with how glass is mould to all the wonderful shape and sizes. There was the famous glass slippers. Every little girl's dream. So Lovely! |
We had our fun taking tonnes of pictures in the Glass Castle.
~O'Sulloc Tea Museum~
| | |
| --- | --- |
| Address: | GPS: 7945312 |
| Website: | [Visit Website] |
| Quick Review: | The cafe were very crowded. Luckily, we found a seat in no time. We ordered the Green Tea Roll Cake and the Charcoal Roll Cake. Great afternoon tea snack. Nom Nom! Delicious. |
Before the evening ends, we head out to the Jeongbang Waterfall.
~Jeongbang Waterfall~
| | |
| --- | --- |
| Address: | GPS: 7331530 |
| Website: | [Visit Website] |
| Price: | 2000 Won (Adult), 1000 (Children) |
| Quick Review: | This is one of the most beautiful waterfalls I ever seen. I like that the water falls directly into the ocean. Apparently, it is the only water fall in Asia that does that. You can also go up close to the waterfall. The area beside the waterfall is very rocky and slippery. Shoes are not recommended. You will also need to buy a ticket to get to see the waterfall. |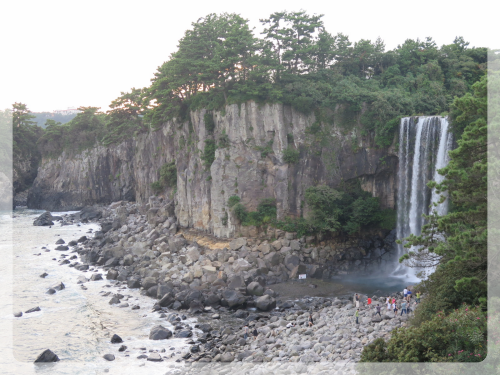 We decided to check into our new accommodation before the night falls.
~La Pause Pension~
| | |
| --- | --- |
| Address: | 155­1 Hawon­dong, Seogwipo­si, Seogwipo, Jeju­do, South Korea |
| Website: | [Visit Website] |
| Quick Review: | The road to the place is very dark. Luckily, we managed to find the place. The place is so awesome. Very spacious and clean. It look so new as well. I like it that it divided the bedroom and living room with a indoor pool. It is very swallow. Ideal for just resting yourself in it or have your kids playing with water. It can be pretty chilly at night as it is open top. We just drink soju and instant noodles beside it. Feel relaxing in it. |
There weren't any food places near by. Hence, we drove out for dinner at a place recommended by the host.
~Korean Restaurant – Deomjang 덤장~
| | |
| --- | --- |
| Address: | GPS: 7382550 |
| Quick Review: | The restaurant is huge with a few stories high. I guess it is really very popular. We went there very late so there weren't many customers around. The coolest was they serve seasoned crab sashimi. I finally get to try it in Korea. It taste great. We ordered a batter-fried seafood pancake and seafood casserole. It was a delicious and sumptuous dinner. Great way to end a day. |
~Day 5~
We woke up and had a simple modern western breakfast prepared by our host.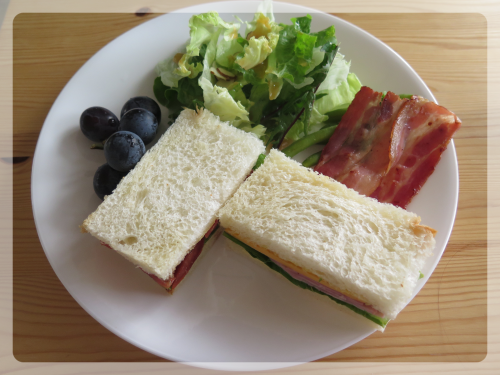 ~Cheonjiyeon Waterfall~
| | |
| --- | --- |
| Address: | GPS: 7331528 |
| Website: | [Visit Website] |
| Price: | 2000 Won (Adult), 1000 (Children) |
| Quick Review: | Cheonjiyeon means "God's pond". I understand that the name come from a legend about 7 fairies come down to the pond for a bathe in the clean waters. We slowly took a walk along the path towards the water fall and take pictures of the birds, turtles living in the water while we listen to the soothing sounds from the waterfall. The walk was easy for kids and elderly as well. |
We stopped by Dunkin Donuts to rest our legs.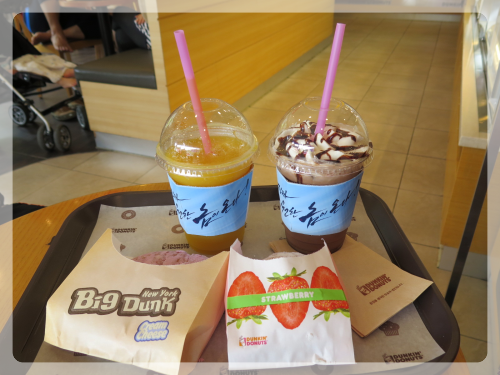 ~Cheonjeyeon Waterfalls (천제연폭포) and Seonimgyo Bridge~
| | |
| --- | --- |
| Address: | GPS: 7381529 |
| Price: | 2500 Won (Adult), 1350 (Children) |
| Website: | [View Website] |
| Quick Review: | Cheonjeyeon Waterfalls consists of 3 sections. The water from the first waterfall flows down to the second and third waters. The water then flow out to the sea. There is quite a bit of climbing up and down as we travel from one waterfall to another. There is also the Seonimgyo bridge with 7 nymphs carved on the side. |
It was so tiring after the long walk to see all 3 sections of the Cheonjeyeon Waterfalls. We decided to go and try a Ginseng Chicken Soup place recommended by some locals.
~Ginseng Chicken Soup Restaurant~
| | |
| --- | --- |
| Address: | GPS: 7397281 |
| Quick Review: | They only serve Ginseng Chicken Soup. It was my first Ginseng Chicken Soup in Korea. Feels very nutritious. The chicken is also very tender. |
Next, we drove to Manjanggul Cave. The popular tourist spot and frequently featured in the Korean Drama. I can finally see it for myself.
~Oedolgae Rock~
| | |
| --- | --- |
| Address: | GPS:7328027 |
| Website: | [View Website] |
| Quick Review: | Oedolgae rock is standing up strong on the seashore against the mother nature. It is actually 20 meters tall with 10 meters in circumference. Remind me of the rocks at stonehenge in United Kingdom. |
We had a hard time to find Jusanjeoli Cliff even with GPS. I understand that you can try to drive near to the International Convention Center and follow signboards.
~Jusanjeoli Cliff~
| | |
| --- | --- |
| Address: | GPS: 7381521 |
| Quick Review: | The Jusangjeolli cliff resembles stone pillars piled up along the coast. It was formed by the erupted lava from Hallasan Mountain when it flow into the sea of Jungmun. Amazing view as the strong waves hitting on the stone pillars threatening to break them. |
I still feel a bit full from the late lunch we had. I decided to go for something a bit light. Korean Cold Noodles. It was already dark when we reached the noodles restaurant.
~Korean Cold Noodles~
| | |
| --- | --- |
| Address: | GPS: 7399255 |
| Quick Review: | This was my first time to try Korean Cold Noodles. It taste very light and the noodles were very QQ. |
After dinner, we make our way to Alive Museum. Great that they are open till late so it is a good after-dinner activity as most other places were closed for the day.
~Alive Museum~
| | |
| --- | --- |
| Address: | 42 Jungmun Gwan-gwang-ro, Seogwipo-si, Jeju-do, Korea (GPS: 8050888) |
| Website: | [View Website] |
| Quick Review: | There were a couple of such similar museum. Some of my friends recommend Alive Museum so I decided to give it a try. There weren't many customers when we reached. We almost had the whole place to ourselves. More fun. No need to queue to take pictures. It is fascinating how the photographs taken turn out |
What a super eventful and tiring day but we had super lots of fun!
~Day 6~
We check out of our lovely place as today we are flying back to Seoul. So sad to leave the wonderful and beautiful Jeju Island. Actually lots of friends find Jeju Island but I beg to differ. It greatly depends on your likings. We drove back to KT Kumho to return the car and took their shuttle service to Jeju International Airport. We had a light early lunch at Paris Baguette. We took flight and reach Gimpo Airport.
~Hotel Skypark Myeongdong III~
| | |
| --- | --- |
| Address: | 139, Toegye­ro, Jung­gu, Myeong­dong / Namsan, Seoul, South Korea, 100­861 |
| Hotel Website: | [View Website] |
| Tripadvisor: | [Visit More Reviews] |
| Book a Room: | [Agoda Website] |
| Quick Review: | We took the Limousine Bus #6001 to Myeong Dong station and took a walk to the hotel. It was a bit small but the location is very accessible. It is right near the Myeong Dong shopping and food street. There is a Paris Baguette and convenience store right below the Hotel. |
We took a rest in the hotel and went to explore the Myeong Dong streets. I am amazed by the sales tactics from the beauty shops. So many pretty girls with lots of free samples. We met up with some friends and try the famous Korean Beef.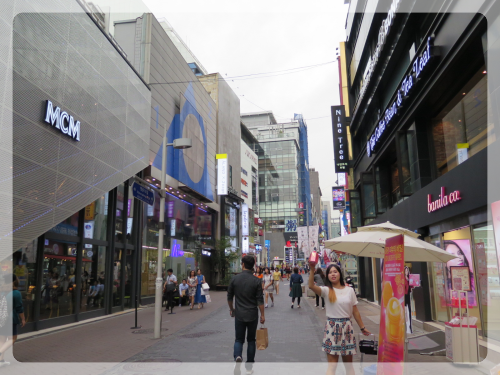 ~Korean Beef BBQ Restaurant 화로이야기~
| | |
| --- | --- |
| Tel: | 02) 319-1007 |
| Quick Review: | The Korean Beef is really very tender and juicy. No wonder it is so popular. This restaurant was recommended by some Korea Travel Guide Book. We made the right choice. I even come to this restaurant twice. We ordered raw beef as well. It is so yummy. |
After sumptuous meal, We continue our night shopping. I have a long shopping list for family and friends and of course MYSELF! We went to shops like Etude house, Tony Moly, Nature republic, Faceshop, Innisfree and Laneige. So many facial masks, hand masks, foot masks. So many types. Snail Masks, Gold Mask..There are also lots of other brands that I have never seen before. It is really like a beauty heaven here. There were also lots of street food stalls lining along with the shops. There are lots of variety to pick from. We bought some to share around.
Off to bed for a good rest and can't wait to explore Seoul.
Quick Links