South Korea. Southern half of Korea. After watching so much South Korean Drama, I have been deeply mesmerised by South Korea's beautiful ancient and modern culture. It was my first trip to South Korea. I have always resist the idea of going to South Korea as I always worry about the Language Barrier. This time I decided to embrace my adventurous side and armed ourselves with a comprehensive travel itinerary and Google Translate App. Winkz To be honest, the language barrier for Korea do pose some challenges for me to research on various places to visit or food to eat. Thankfully, there is a abundant of resources in Internet. However, it still take much more effort for me than the places I been previously. Hence, some of the areas I just prefer to go around exploring and pick and choose the food place while we are there (base on the crowd in the place). Gentle Reminder .. Always get your travel insurance once you booked your travel. It is better to be insured earlier.
~Day 1~
We took a flight out from Singapore to Seoul. It was a 12 days 11 Night trip. Day 1 was a super short day as we took up Singapore Airlines promotion tickets. We only reached Korea Incheon Airport at 1130pm. We planned to stay 1 night in a hotel near the airport and make our way to Jeju Island the following day. We bought the Korea Sim Card from Singapore Changi Airport – Changi Recommends Counter as the shops in Korea will have closed when we reached. A lot of Korea travellers rent the Korea Wifi Egg (Wifi Router) for using internet. We decided to get Korea Sim Card so that it is easier to move around separately.
~Hotel Queen Incheon Airport~
| | |
| --- | --- |
| Address: | 2801-5, Incheon Airport town square, Jung-gu, Incheon, South Korea. Postcode : 400-833 |
| Hotel Website: | [View Website] |
| Tripadvisor: | [Visit More Reviews] |
| Book a Room: | [Agoda Website] |
| Quick Review: | The room is clean and very spacious. They have a shuttle bus service to pick you up from the Incheon Airport. Unfortunately, we missed it as the last bus leave from the airport at 1130pm. We took a taxi from the Airport to the Hotel. There are several eating places around the place. It is also within walking distance to the Unseo Station which we took the train to Gimpo Airport for our flight to Jeju Island. |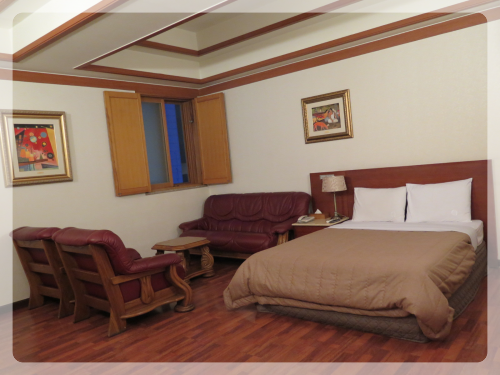 After checking into the hotel, we went to have a late night supper at a nearby restaurant. The service staff doesn't understand and the menu was also only in korean. Thankfully, there were some pictures in the menu. I just picked based on the pictures. I also use Google Translate app to translate some of the korean words on the menu. The app is a saviour.
~Hyundaiok Restaurant~
| | |
| --- | --- |
| Website: | [Visit Website] |
| Price: | ~12000 Won per pax (~S$15) |
| Quick Review: | My first meal in Korea. Luckily the shop was open till after midnight. Most of the places were already closed. I wasn't very sure what I ordered as basically it is a stone bowl of soup and Grilled meat on hot plate. I love the grilled meat. It is awesome together with Soju. Feels like in a Korean Drama. |
After having a satisfying supper, we are off to slumberland. Can't wait to set off for the romantic Jeju Island…
~Day 2~
We went to explore the area around our hotel for a breakfast place. We stumble upon Caffe Glen.
~Caffe Glen~
| | |
| --- | --- |
| Website: | [Visit Website] |
| Quick Review: | We ordered a toast and a waffle. I had sweet potato latte for the first time. It was pretty sweet but I love it. It gave me a warm and fulfilling feeling. |
After checking out from our hotel, we made our way to Unseo station. Luckily, Unseo station is within walking distance. We were pulling our luggages all the way there. We took the Incheon Airport Railroad Express (AREX) train to Gimpo Airport where we will be taking our flight to Jeju Island. Before boarding the plane, we went to get our lunch at a Japanese restaurant.
~Japanese Restaurant~
| | |
| --- | --- |
| Address: | Gimpo International Airport |
| Quick Review: | We ordered a kimchi udon and a Katsu cold soba. The dishes were nothing to shout about. |
We took a flight out of Seoul and off we land on Jeju Island – Renowned for its natural splendor.
~KT Kumho~
| | |
| --- | --- |
| Address: | 870-4 Yongdami-dong, Jeju-si, Jeju-do |
| Website: | [Visit Website] |
| Quick Review: | We rented a Mini Cooper from KT Kumho. The only drawback is you can't put luggage in the car boot. There were only 2 of us so we just store it them in the backseat. Their service is awesome. They taught us how to use the GPS and gave us an orientation us on the car. They also provide a bus shuttle service back and forth from the airport.**As of Mar 2016, I think they may just merge with Lotte and Hertz. |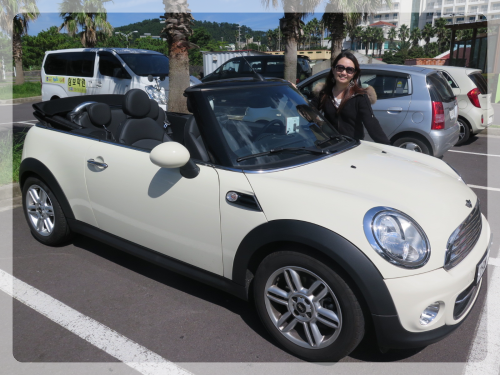 ~Baume Couture Boutique Hotel~
| | |
| --- | --- |
| Address: | 276-1, Yeon-dong, Jeju International Airport / Jeju City, Jeju-do, South Korea 95, Singwang-ro, Jeju-si, Jeju-do |
| Tel: | +82-64-798-8000 |
| Hotel Website: | [View Website] |
| Tripadvisor: | [Visit More Reviews] |
| Book a Room: | [Agoda Website] |
| Quick Review: | The room is very spacious and clean. Nicely decorated. They also provide a bathtub. It feels great to soak in it after a long tiring day. The service staff doesn't understand English. Do note that disposable toiletries are chargeable. |
After checking into the hotel, we took a walk out of our hotel and explore around. We passed by a BBQ meat restaurant. There were some customers. We decided to give it a try.
~BBQ Meat Restaurant~
| | |
| --- | --- |
| Tel: | 745-3392 |
| Quick Review: | Thank goodness! The service staff speak mandarin. I was so delighted. He is a Chinese working in Jeju for quite a few years. He immediately inform us that they do not sell Black Pork as he worry we might only want to have black pork. We were fine not to have black pork for dinner. The weather was cooling and we were seated outdoor. It feel so different from Singapore as it will be so hot. The restaurant owner who is a Korean was also serving us and teach us the way of eating their BBQ meat. Note: I am not very sure of the address. But if you are driving, you can key in the tel no. in your GPS to locate it. |
After an awesome dinner, we continue our exploration down the streets. There were cafes, beauty shops and fashion shops. We stopped at Paris Baguette Cafe for dessert.
Feels great to be back in hotel and I sleep like a log until morning.
~Day 3~
The hotel provide breakfast with great variety.
We love to visit beaches. First stop for the day is Hamdeok Beach.
~Hamdeok Beach~
| | |
| --- | --- |
| Address: | GPS: 7283394 |
| Website: | [View Website] |
| Quick Review: | Crystal Clear Blue Sea with waves lapping lazily on the beach. So Relaxing. So Soothing. Aren't it picture perfect? |
We took tonnes of pictures and stroll around the Hamdeok Beach. Breathing in the stunning diamond clear sea.
~GS 25 Seafood Restaurant~
| | |
| --- | --- |
| Address: | GPS: 7820006 |
| Quick Review: | Great! Their menu has English and Chinese translation. We ordered assorted seafood and Abalone Hot pot. The presentation look wonderful. To our dismay, the fish sashimi are not to our liking. I still prefer our usual Japanese Salmon Sashimi. The fish sashimi they served was very tough. The abalone hot pot was also so-so. |
Next, we drove to Manjanggul Cave. The popular tourist spot and frequently featured in the Korean Drama. I can finally see it for myself.
~Manjanggul Cave~
| | |
| --- | --- |
| Address: | GPS:7834818 |
| Website: | [View Website] |
| Quick Review: | Manjanggul Cave is a lava tube that is located in Jeju Island. It is one of the world's finest lava tunnel. The inside of the cave is about 11~21 degrees celsius. There are interesting structures like the stalagmites and the lava tube tunnels. Remind me of my Geography lesson. It is about 1km walk to the end of the tunnel but you will need to walk back. Hence, it was about 2km. Do equipped yourself with a pair of walking shoes and jacket. It was a relatively easy walk. There wasn't much climbing. Just a bit slippery at times. |
After such a long walk, I can't wait to sit down and have a good meal. We make our way to Black Pork Street
~Black Pork Street~
| | |
| --- | --- |
| Address: | GPS: 7217869 |
| Quick Review: | We picked the first shop from the signboard as it seems to be the most crowded shop after scouting the street. We made a right choice. Their Black Pork was so tender and juicy. AWESOME! Finally, I get to try the famous Black Pork in Korea. It is sure worth it. I like their hot metal grill. You can see the oil oozing out and dripping away into the little metal tray. Make me feel healthier by consuming less fats. Every little bits helps *Winkz* |
We decided to take a quick look at DongMun Market.
~DongMun Market~
| | |
| --- | --- |
| Address: | GPS: 7523001 |
| Website: | [View Website] |
| Quick Review: | Most of the shops were already closing but we manage to buy some local Jeju souvenirs like the rice crackers and chocolates. Heard that it is cheaper to buy over there. I also bought the Jeju Orange. |
~Jungang Underground Shopping Center~
| | |
| --- | --- |
| Address: | GPS: 7528776 |
| Website: | [View Website] |
| Quick Review: | Like the name says. It is an underground shopping center. There are a lot of shops selling accessories, beauty products, fashion, bags. The place is like a maze. It is so easy to lose your way inside. |
Such an eventful, fun, and tiring day. Can't wait for tomorrow to come…
Quick Links