~Day 7~
We went to my favourite Paris Baguette cafe for our breakfast. The cakes and sandwiches always look so appealing.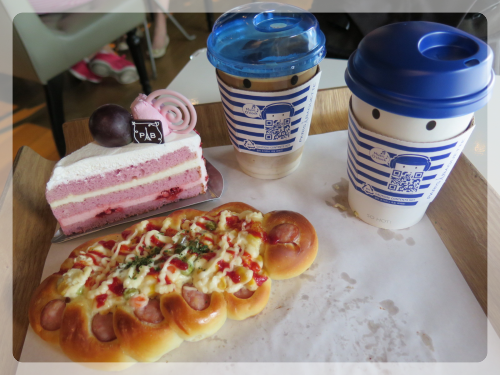 ~Gyeongbokgung Palace (경복궁)~
| | |
| --- | --- |
| Address: | 161 Sajik-ro, Jongno-gu, Seoul (Sejong-ro) |
| Website: | [View Website] |
| Price: | 3,000 won (Adult), 1500 won (Children) |
| Quick Review: | We took the train from Myeong Dong station to Chung Muro (blue line) then transit to Gyeongbokgung station (orange line) exit 5. I felt like I was walking into one of the ancient Korean drama. Gyeongbokgung Palace is so beautiful. It is great that they managed to restored the building or we would have missed the beautiful architecture. There were so many people at the palace. Pretty hard to get a good shot of the Palace. |
We heard that there is a very famous Ginseng Chicken near the palace.
~Tosokchon (토속촌)~
| | |
| --- | --- |
| Address: | 5, Jahamun-ro 5-gil, Jongno-gu, Seoul |
| Website: | [Visit Website] |
| Quick Review: | You can take the exit 2 from Gyeongbokgung Station and go straight and turn left onto Jahamun-ro 5-gil Road. We reach about 11:30am before lunch time and the queue was already pretty long. You can see how popular it is. We ordered chicken stew with ginseng, black chicken with ginseng and pancakes with spring onion. This is the first time I tried Ginseng Black Chicken Soup. The chicken meat were so tender and juicy. Delicious! Awesome! |
After being recharged by nutritious ginseng chicken soup, we continue our journey to visit Bukchon Hanok Village.
~Bukchon Hanok Village (Korean Traditional Houses)~
| | |
| --- | --- |
| Address: | 37, Gyedong-gil, Jongno-gu, Seoul |
| Website: | [Visit Website] |
| Quick Review: | Bukchon Hanok Village is pretty near to Gyeongbokgung Palace. Hence, we decided to check it out while we are in the area. Another place that remind me of all the korean drama scenes. They have done well to preserve the entire area. I feel so proud of them for preserving the place so well. There were so many tourist. Hopefully, we didn't disturb the residents there. |
Time flies and the day is almost over. Time for some shopping!~
~Samcheong-dong (Shopping Street)~
| | |
| --- | --- |
| Website: | [Visit Website] |
| Quick Review: | It is near to the Jeongdok Library. Some of the traditional houses were well preserved and convert part of the place into cafes, cultural centers and restaurants. I think it is a great idea to convert some of the places while preserving some of it as it will give opportunity to a lot of people to appreciate the traditional architecture. |
~Insadong (Shopping Street) and Ssamziegil ~
| | |
| --- | --- |
| Address: | 130-4, Insa-dong, Jongno-gu, Seoul-si |
| Website: | [Visit Website] |
| Quick Review: | The Insadong street is line with a lot of galleries. An artistic street. There are also some fashion shops. I guess the key feature here is art. There are also street performers. We saw a few singing group. A lot of people were crowding around them. Ssamziegil is inside Insadong. It is like an interesting spiral-like building. You can jus slowly walk through the little cozy shops and make your way slowly to the top without needing to climb stairs. |
We were getting hungry.
~Two Two Fried Chicken~
| | |
| --- | --- |
| Address: | Myeongdong Station Exit 3 |
| Quick Review: | My first time try for Korean Fried Chicken. We ordered the fried chicken and fried chicken in sweet and spicy sauce. we shared among 4 people. Great that we get to try 2 different types. The chicken is pretty crispy. But I actually prefer Kyochon Fried Chicken which I tried on my last day of my trip. Anyway still yummy! Nom Nom! |
What a cultural day that bring us back to south korea history.
~Day 8~
We woke up and went direct to Ewha Women's University.
~Ewha Women's University area~
| | |
| --- | --- |
| Address: | 52, Ewhayeodae-gil, Seodaemun-gu, Seoul |
| Website: | [Visit Website] |
| Quick Review: | We took the train to Ewha Womans University Station and took a 5 mins walk from exit 2. Ewha Womans University area is highly recommended and popular shopping district in Seoul. The fashion shop are more affordable as I think they are targeted to the young women. There are many accessory shops, fashion shops and cafes. The street are also start to line with food stalls during late morning. We had our breakfast in a cafe in the area. The pancakes were wonderful. Lovely place! |
We decided to swing to another university area.
~Hongdae (Hongik University Street) (홍대)~
| | |
| --- | --- |
| Address: | Seogyo-dong, Mapo-gu, Seoul |
| Website: | [View Website] |
| Quick Review: | We took the train to Hongik University Station. We took a rest at a cafe named zoo coffee. The decor was interesting with soft toy animals. The street was very crowded. There are a lot of fashion shops, cafes, accessories shops and etc. We also saw the hello kitty cafe. |
We went back to Myeong Dong to meet up with my friends for dinner. We went to a korean bbq place. I couldn't remember the shop name. We ordered raw beef, crab sashimi and bbq beef. It was not as good as the other place that we tried on Day 6 that sells Korean Beef
What a fun day at all the university area! Perhaps the area near Singapore Universities should also try have more shopping and street food like seoul.
~Day 9~
We woke up excited to catch our Nanta show. Catch a early breakfast at my daily favourite Paris Baguette. Their cakes never fail to impress.
~NANTA show~
| | |
| --- | --- |
| Website: | [View Website] |
| Quick Review: | It is a non-verbal comedy performance. Suitable for all ages young and old. The performers are very talented. They use different kitchen props make different sound to form a great performance. Amazing! I was so impressed! It is a must-see show. Great that since it is non-verbal. You don't need to worry that you don't understand them. |
Next, after watching a kitchen drama from Nanta, we are famished. We head over to Yoogane for our lunch.
~Yoogane~
| | |
| --- | --- |
| Address: | Myeong Dong |
| Website: | [View Website] |
| Quick Review: | Yoogane is a popular galbi brands in South Korea. When we were strolling the streets in Seoul, we see Yoogane everywhere. Galbi is like a variety of grilled dishes which are made with marinated beef (or pork) short ribs in a spicy sweet korean sauce. The service was not very good. Seems a bit unfriendly. They gave us a little apron to protect our clothes from the splattering when they cook the dish in front of us. First, they fried a variety of vegetables with the korean sauce. After that, they mix in the rice and continue to fried. It present a yummy spicy sweet fried rice. Now, Yoogane is also available in Singapore. I can't wait to try it in Singapore as well. |
Having an awesome lunch, we went take the train to Gangnam station.
~Gangnam Station Underground Shopping~
| | |
| --- | --- |
| Address: | Gangnam Train Station |
| Quick Review: | We went out to take a quick look at the Gangnam area. After listening to the famous song "Gangnam Style", we just have to come to check out the area. We went to shop around in the Gangnam Station Underground Shopping. It is quite affordable but I prefer the other areas like Ewha University area. |
We went back to hang around at Myeong Dong area. Had a quick snack at Deli Manjoo.
~Army Stew Dinner~
| | |
| --- | --- |
| Address: | Myeong Dong |
| Quick Review: | We randomly stumbled upon a restaurant selling Army Stew. We ordered a army stew set. It come with a sweet grilled minced meat which taste like our Bak Kwa. Not exactly sure what dish is that. It tastes good anyway. The restaurant was crowded. |
After dinner, we were craving for a nice cold dessert.
~Meet Fresh~
| | |
| --- | --- |
| Address: | Myeong Dong |
| Website: | [View Website] |
| Quick Review: | Meet Fresh served various Dessert and Drinks. Feels that it is more like a taiwanese style of desserts. We ordered the Mango Shaved Ice Dessert. |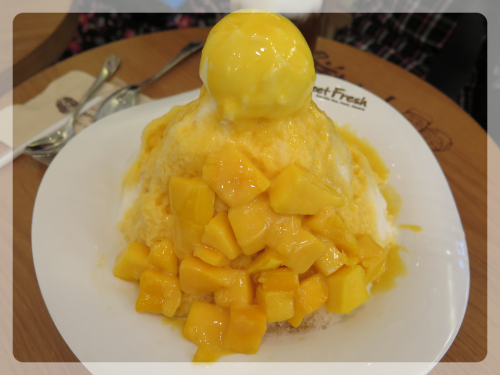 What a fun day especially the Nanta show. Tomorrow we will visit the famous Dongdaemun which is often highly recommended in korean dramas and friends.
Quick Links