It always so fun and exciting to go Bangkok! Shop, Eat, Chill, Massage…Oh my gosh! All my favorites! This time I am going to visit a lot of eating places that are highly recommended by my friends or Internet! Looking forward to hotel stay at Grand Centara at Central World. Again highly recommended by friends. It has a good great location near to BTS and surrounded by Shopping Malls. After checking in to hotel, I proceed to one of my favourite malls. Platinum Fashion Mall! It specialized in fashion clothes and accessories. I went to get a ice tea and cake at Black Canyon Coffee in the basement before hitting the shops!
~Black Canyon Coffee~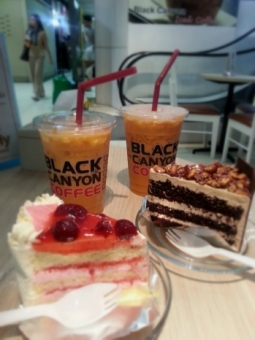 ~Fuji Japanese Restaurant~
After some shopping, we head for lunch at Fuji Japanese Restaurant at Level 6 in Platinum Fashion Mall. The sashimi is cheap and good! Not to be missed if you are a sashimi lover! The rest of the dishes were pretty good for its price!
We decided to head back to our hotel after our shopping. After a quick nap, we decided to head out to the popular Asiatique. We took BTS and ferry and here we are at Asiatique. We were famished and we head to Baan Khanitha (Thai restaurant). The restaurant was kind of pricy. However, the ambience was great and the food was great! We ordered Khung Lai Sua (Spicy soup with Tiger Prawn), Mixed Appetizers, Som Tam Song See (Thai Spicy Papaya Salad), Phad Thai Gai (Stir Fried Rice Noodle), and coconut juice! I love the Khung Lai Sua!! Tom yum my favourite! it is a winner! Phad Thai was also really good! Mixed Appetizers give a good variety to try! All these cost us 1,930.28 baht (~S$77).
~Asiatique~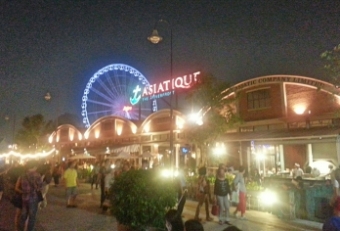 ~Baan Khanitha~
Quick Links