Morning has broken, Mr Coffee has spoken greets us while we enter the small cozy cafe. We had a hard time finding the place. Luckily we manage to get a seat when we reached. The people behind us were not too lucky. We went to the cashier counter but we could not locate the restaurant menu. The menu were placed in front of the cashier but it was hidden from view by the queue of customers. I think they should put the menu up on the wall. It will makes it so much easier for customers to order their food and drinks.
Ambience
It is a small cozy cafe bustling with life with small group gathering and couples. It is furnished with a contemporary modern design. Their tables layout are not conducive as it a bit too cramp and near to the other tables.
Service
There was insufficient service staff. We requested for maple syrup but it never came. Eventually, we had to approach the cashier to request for it.
Food
We ordered the following:

~Flock's Scrambled Eggs & Toast (Topped with Smoked Salmon)~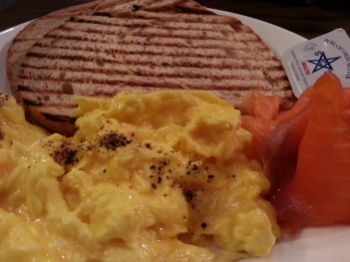 I Love the Scrambled Eggs!!! It so smooth with a nice soft touch of buttery taste. It is paired with 2 thin sliced of toast bread. We have requested for smoked salmon topping. I still miss the scrambled eggs. One of the best scramble eggs I ever eaten! I bet any of their dish that consists of scrambled eggs should be good as the scrambled eggs would be an highlight!

~Pancakes & Berries~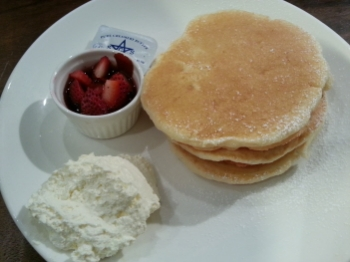 I guess am a bit bias against the dish as they did not serve any syrup with it. The cream and the strawberries goes well but I guess nothing still beats my maple syrup and honey. The pancakes are pretty plain and tasteless. I would not recommend to order this dish.
Address
8 Moh Guan Terrace #01-25 Tiong Bahru Estate Singapore 162078
Contact No.
+65 65363938
Website
View Website
Price Range (per pax)
S$16 to $30
Opening Hours
Mon – Thu: 08:00 – 18:00
Fri – Sat: 08:00 – 22:00
Sun: 08:00 – 18:00
Recommended Dish(s) to try
Flock's Scrambled Eggs & Toast