I am so so looking forward to Day 3 of the trip! A little pause from shopping to relax our legs! We have planned for movie and spa for today! Before that, we had brunch at You & Mee! We ordered chicken satay, Khao Soi (Curry Chicken Crispy Noodles) , Beef Ball Rice Noodles Soup, ice milk tea, ice lemon grass drink and coconut ice cream. The Beef Ball Rice Noodles soup is so delicious! The Khao Soi is also pretty good. It is quite spicy. The chicken satay is very tender and fragrant. These costs us 1,047.53 baht (~S$42).
~You & Mee~
We went to watch Gravity movie at iMAX theatre at Siam Paragon. It is a great movie. The theatre was excellent! You should always plan for a movie at Siam Paragon. It gives a good break from the shopping! We had an early dinner at Four Seasons (Roast Duck Specialist) at Siam Paragon. We ordered Stir Fried Morning Glory, Hor Fan, half a roasted duck and chrysanthemum tea. These costs us 1,283 baht (~S$52). The roast duck was pretty good. The Hor Fan was a bit too oily and not very good.
~Four Seasons~
We proceed for our spa at Grand Centara! It is excellent! We went for a chill out at Red Sky! The weather was perfect. We manage to catch outdoor view! It is amazing and they have sofa seats! You can admire the scenery while you relax.
~Red Sky~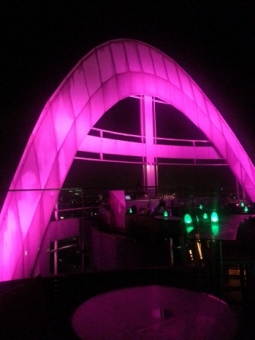 Quick Links