Can't wait for our Hong Kong holiday! It was a 4 days 3 nights trip but actually more like a 3 days 3 night trip. We booked scoot airline. The timing was quite bad as we will fly out at 6:55am on the last day. I miss Hong Kong! Its been 2 years since I went there. Hong Kong is getting more and more crowded over the years. Nevertheless, I still love Hong Kong. Shopping…Espirit….H&M! Food…Dim Sum…Char Siew…Roast Goose…Egg Tart! Yum Yum…Just the thought it..I already can't wait to go back.
Hong Kong Airport
When we land in Hong Kong Airport, there were very few people around. We went to get our Airport Express Tickets. First time, we are trying their airport train. It is 300HKD for 2 way train tickets and 3 days unlimited MTR rides. Take note that the Hong Kong train is not 24 hours. Do check out their operating hours.
Sim Card
Nowadays, it is always so good to have a mobile data on our hand. We bought a pre-paid sim card at 80 HKD and subscribe to their mobile data plan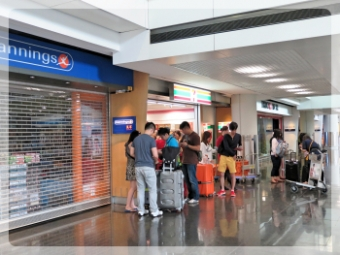 Airport Express Train
The train looks new and clean. Supposedly the fastest way to get to the town. Just 24 minutes to reach town. You will also get to see some scenery in the train. We alight from the Hong Kong station and transfer to their free Airport express bus to get to our hotel.
The Mercer
| | |
| --- | --- |
| Address: | No.29 Jervois Street, Sheung Wan, Hong Kong, China (Sheung Wan) |
| Tripadvisor: | Visit More Reviews |
| Book a Room: | Agoda Website |
| Quick Review: | Lovely small service apartment. We had a 1 bed room executive with a free mini bar. The room is clean and spacious. |
We were lucky to have an early check in. After washing up with a good rest, we decided to head out to have a Dim Sum lunch. Har Gow..Siew Mai..Here We Come!!!~ *Drool*
Maxim's Palace Chinese Restaurant
| | |
| --- | --- |
| Address: | City Hall Low Block, Hong Kong, Hong Kong, China (Central) |
| Website: | Visit Website |
| Tripadvisor: | View Reviews |
| Quick Review: | I love the ambience! It is so elegant with the chandeliers. We were lucky to be there about 11:20am. The crowd start to come in soon after. The whole place is so crowded at 12 with people waiting outside. They are still practising the traditional way of pushing the dim sum trolley to serve customers. It is so fun to order from the trolley. |
After having a satisfying meal, where to next?? Of Course it is SHOPPING!!~ *Winkz*
Harbour City/ Espirit Outlet
| | |
| --- | --- |
| Address: | 7-27 Canton Rd, Hong Kong |
| Website: | Visit Website |
| Tripadvisor: | View Reviews |
| Quick Review: | It is a HUGE HUGE shopping mall. I always get lost inside. There are many shops including the luxury boutiques, bakery, coffee place to chill. We also went to my favourite Espirit outlet along the canton road beside Harbour City. We got a lot of good deals. 1 item just cost about 10+SGD |
After a great shopping spree, we proceed to Temple Street. We were so hungry when we reach. We decided to go for dinner first before we go shopping again haha.
Temple Street/Ming Tat Spicy Crabs
| | |
| --- | --- |
| Address: | Temple Street |
| Quick Review: | Every time i come Hong Kong, I will always come Temple Street and come here to eat my favourite Mantis Shrimp / Lai Liu Ha (攋尿蝦). We chose Ming Tat Spicy Crabs. Ironically, we did not order crab. We ordered Large Mantis Shrimp (800HKD), Oyster Omelette (68HKD) and Fried Four Seasons Bean (四季豆) (68HKD). I never see restaurant sell mantis shrimp in Singapore. So every time I will come Hong Kong and order this dish. Their Oyster Omelette is also different from Singapore. It is very crispy. Four Seasons Beans are quite similar with our Singapore Version. The mantis were pretty pricy. |
Bai Bao Tang
| | |
| --- | --- |
| Address: | Temple Street |
| Quick Review: | After a long day of shopping, it feels good to eat chilled Turtle Jelly (Gui Ling Gao) with Honey. It is made up of many herbs. It is marketed to have many health benefits. Not sure how true but it jus feels good to have silky turtle jelly down my throat. |
Quick Links