It was our annual girls holiday trip! This round we decided to go Penang! I have never been there. Can't wait to try the infamous Penang Char Kway Tiao, Penang Laksa in Penang itself. Most importantly, it is to have fun with my good girl friends. After researching online, I am so impressed by the wall murals in Penang. They transformed the old buildings and gave the buildings a refreshing look.
Day 1
We took a flight out from Singapore to Penang. It was a 3 days 2 Night trip. Not much luggage to pack. The flight was less than 2 hours. We took a taxi to our hotel from the Penang International Airport. Love the taxi system in the airport. Just inform the airport employee the destination and pay the fare. The airport employee will issue you with a voucher which you will pass to the taxi driver. The system safeguards tourist from being cheated by taxi drivers.
Sunway Hotel George Town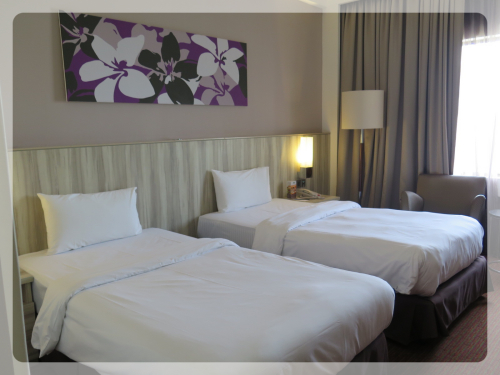 After checking into the hotel, we were famished. Can't wait to try the famous Penang Char Kway Tiao. Off we go to try the Two Sister's Char Kway Teow. Yum Yum!
Kafe Heng Huat
| | |
| --- | --- |
| Address: | 108, Lorong Selamat, 10400 Pulau Pinang |
| Quick Review: | We ordered a few dishes – Famous Two Sister's Char Kway Teow (炒粿条), Rojak and Oyster Omelette. Char Kway Tiao was served with big and juicy prawns and the Kway Teow is not too oily. Delicious! The rojak is different from our usual Singapore style. Theirs is more like a fruit salad and there is no You Tiao (fried dough stick). I prefer the Singapore style as I always love You Tiao in Rojak. |
Time for Dessert! Yummy. Here we go to the Penang Road Famous Teochew Chendul!
| | |
| --- | --- |
| Address: | 475, Jln Penang (at side lane outside Joo Hooi Café) |
| Quick Review: | First thing we notice is the long snake queue under the red hot sun! Everyone were crowding around eating the chendul. It is so refreshing and flavorful! So cooling! Shiok! |
So satisfied with filling ourselves with food goodies! Now the hunt for the Wall Murals start…
Penang Wall Murals
| | |
| --- | --- |
| Website: | View Website |
| Quick Review: | Wall Murals bring a different light to all the old buildings and houses. Unfortunately, a lot of the art were not well maintained and only little traces are left. You can refer to the website above to plan your trail to hunt the Wall Murals. Fun activity for family and friends. Be prepared with water and tissues. I was perspiring like crazy through out the hunt. |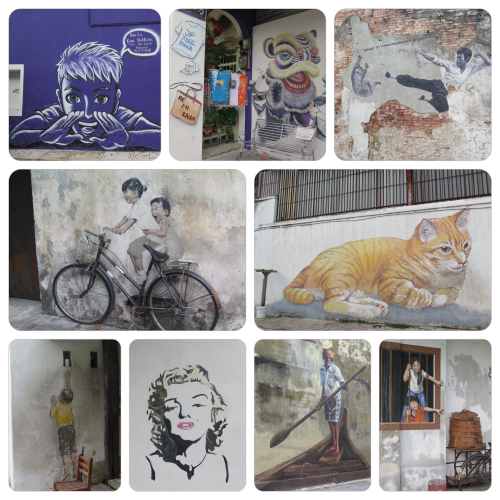 We were so so so tired after the hunt for the Wall Murals. It was definitely worth it as it is fun way to look around the area while searching for the Wall Murals. All of us were perspiring profusely. We finally make our way back to our hotel to rest our legs. Thankfully for our hotel's great location. We have the New Lane Hawker Centre right below it. Great dinner spot!
New Lane Hawker Centre
| | |
| --- | --- |
| Address: | Street below Sunway Georgetown Hotel |
| Quick Review: | The street below hotel is transformed at night with many food stalls which have many of the local delights. We ordered many dishes – Grilled Chicken Wings, Prawn Noodles, Satay, Po Piah, Char Kway Tiao and Spicy Squid. Awesome! |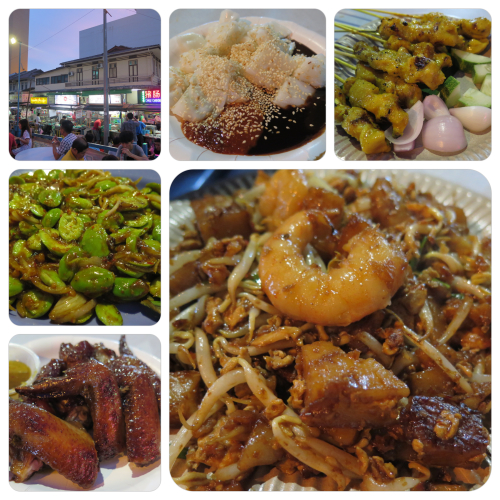 After a wonderful dinner, we went back to chill and have a good good night rest…Off to our dreamland…
Day 2
We rented a car today as we were so tired after the hunt yesterday. It is also easier to travel to places further away. We went to buy the popular pastries from Ghee Hiang.
Ghee Hiang
| | |
| --- | --- |
| Address: | 216 Macalister Road, 10400 Penang, Malaysia |
| Website: | View Website |
| Quick Review: | We bought lots of pastries especially their infamous tau sar piah (ground green bean biscuits) as souvenirs. Thank goodness that we have a car. We happily load all the pastries into the car. |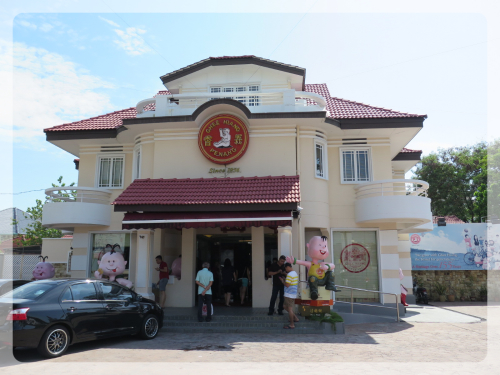 We continue to more shopping as we head out for Shopping.
Shopping Malls: Gurney Plaza and Gurney Paragon
Address:
Gurney Plaza: 170-06-01, Persiaran Gurney, 10250 Georgetown, Malaysia
Gurney Paragon: Jalan Kelawai, George Town, Pulau Pinang, Malaysia
Website:
View Gurney Plaza Website | View Gurney Paragon Website
Quick Review:
Gurney Plaza by CapitaLand (Familiar Name to people in Singapore) is one of the big malls in Penang. There is also Gurney Paragon by Hunza Group. There are a good mix of international and local brands in the 2 malls. We had a good time shopping! Wow! Transformers were having a road show at the Gurney Paragon. Bumble Bee!~ My Favourite!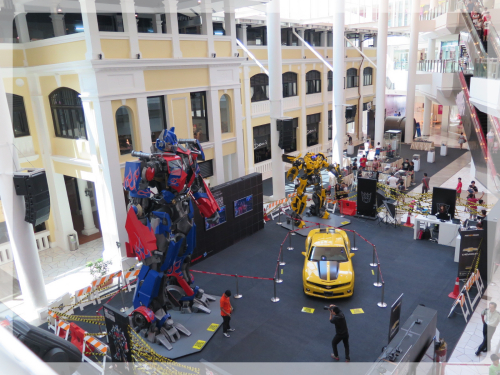 After our shopping, it is time to rest our legs for lunch~ We did some research and decided on The Little Nyonya Cuisine (小娘惹).
The Little Nyonya Cuisine (小娘惹)
| | |
| --- | --- |
| ddress: | B1-32B, Gurney Plaza, Persiaran Gurney, Penang, George Town, 10250 |
| Quick Review: | They are pretty crowded and offers a wide range of nyonya delights. The servings were generous as well. |
We passed by Hui Lau Shan. My favourite dessert shop from Hong Kong.
Hui Lau Shan (许留山)
| | |
| --- | --- |
| Address: | Lot no. 03-68, 3rd Floor, 170-06-01, Gurney Plaza, Persiaran Gurney, 10250 Penang. |
| Quick Review: | I still prefer the version from Hong Kong. The servings are not as generous when I bought it in Hong Kong. |
We continue our hunt of the Wall Murals. Another fun and fulfilling afternoon. To top it off, we decided to go for steamboat. Love to have steamboat with group of friends. You can order more different variety of ingredients to cook steamboat. We went to Goh Huat Seng Restaurant. (Unfortunately, it has permanently closed down)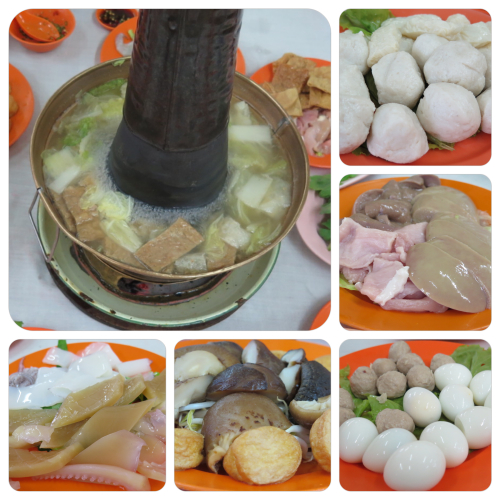 We end off the day with my favourite fruit. The king of all fruits! DURIAN!!~~ The flesh were buttery. Yum Yum! Slurp!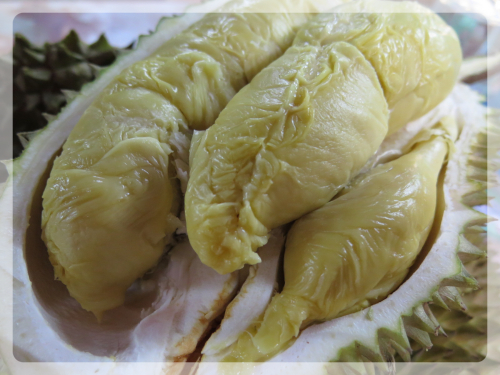 Day 3
Time flies!~ It is already the last day of the trip!
Macalister Mansion
| | |
| --- | --- |
| Address: | 228 Macalister Road, 10400 George Town, Penang, Malaysia |
| Website: | View Website |
| Quick Review: | The ambience is awesome! I think it is a perfect place for photoshoot as there are different settings in the mansion. |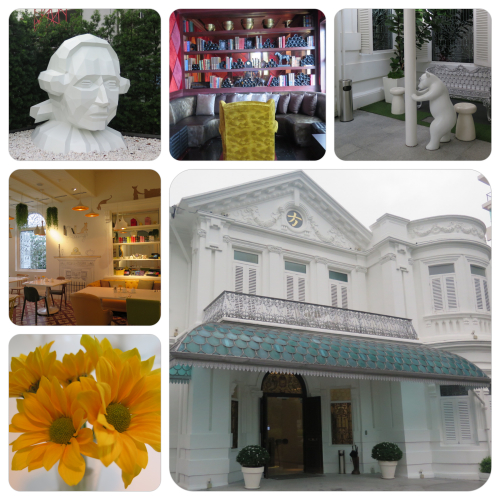 The weather is so hot! Can't wait for the refreshing Coconut Jelly…
Joez Coconut Jelly
| | |
| --- | --- |
| Address: | 201, Jalan Dato Keramat, 10150, Georgetown, Penang |
| Website: | View Website |
| Quick Review: | The coconut jelly is smooth and soft. It just simply melt into my mouth. It is very refreshing under the red hot sun. |
A great girls outing! Highly recommended for a short getaway from Singapore.
Quick Links