Previously, I have reviewed Twinkle Baby Body Oil (80ml), Twinkle Baby Body Mist (100ml) and Multi-Purpose Baby Balm. You can check out the post here. Many thanks to Twinkle Singapore to provide me with their Twinkle Baby Hair & Body Wash (250ml), Twinkle Lavender Baby Hair Oil (80ml), Twinkle Lavender Baby Hair Mist (100ml) and Anti-Dust Mites Room/ Linen Spray for review this round.
Twinkle Singapore Baby and Mother Care Products (twinkle.com.sg) are created by Jasmine J. Goh. The Twinkle Baby products use only natural and high quality ingredients. All their baby products are personally tried and tested. They also use amber plastic or glass to preserve the quality of the products. Twinkle products also do not involve animal testing, and do not contain parabens, mineral oils, petrochemicals, toxic preservatives, phenoxyethanol, phthalates, nanoparticles, silicon, artificial colouring, synthetic fragrances, harmful chemicals, or animal derivatives.
Twinkle Baby Hair & Body Wash (250ml) It is gentle formula for new born babies and children with sensitive skin. It is moisturising and soothe dry itchy skin. Just pump a sufficient amount, massage onto the baby hair and body and rinse clean. I love the lavender scent! Feel so relaxing. I also feel like having a hot bath soak in it. Ha ha.
Organic Calendula Oil It help to soothe sore, inflamed and itchy skin. Effective in relieving diaper rash, eczema and related conditions.
Grapeseed Oil (From Spain): A very light oil that helps to promote skin health.
Whitewood, Lavender and Orange Oil: They helps to alleviate anxiety, insomnia and restlessness.
Aloe Barbadensis (Aloe Vera) Leaf Juice Extract: Great in treating wounds and burns, minor skin infections and eczema.
Moringa Oil (From Cambodia): Rich in vitamins and help to heal minor skin complaints such as cuts, bruises, burns, insect bites, rashes and scrapes quickly.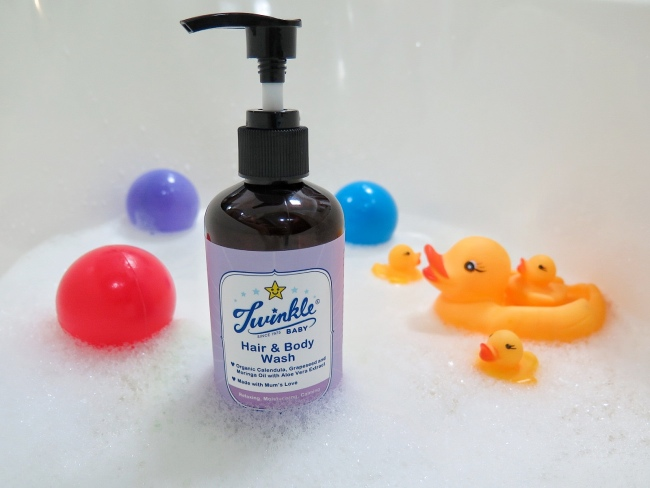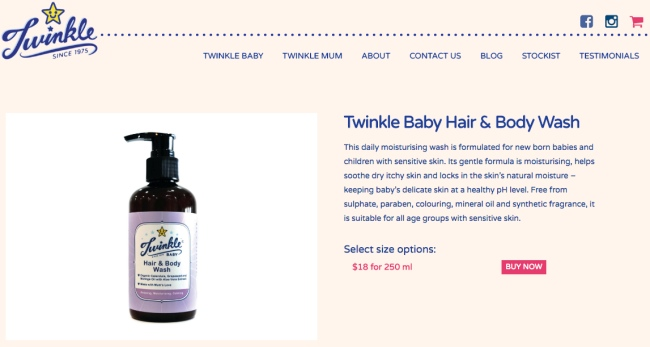 Twinkle Lavender Baby Hair Oil (80ml) is a rich blend of natural oil for healthy hair and scalp. 5 essential ingredients were carefully selected to help your baby's hair grow fuller, thicker and softer. It is suitable for newborns as a hair conditioner and cradle cap cleanser.
Candlenut oil (From Indonesia): It help to promote hair growth as it contains vitamins, folate and phytosterols.
Coconut Oil (From Philippines): It helps to promotes hair growth by penetrating deeply into hair follicles and promotes scalp health. It also adds lustre, shine and softness to the hair.
Aloe vera extract (From Australia): It removes dead skin cells on the scalp. It also acts as a great conditioner and leaves the hair smooth and shiny.
Vitamin E Oil (From Australia): Stimulant for growth of capillaries.
Camellia Japonica Seed Oil (From Japan): It helps to stimulate hair growth and strengthens hair strands.
Lavender Essential Oil (From Australia): It helps to alleviate anxiety, insomnia, depression and restlessness. It helps to reduce hair loss.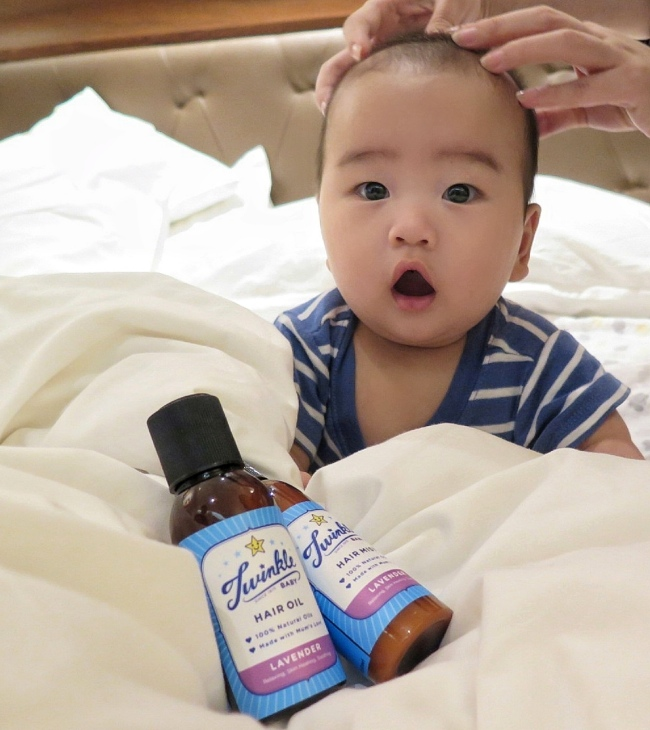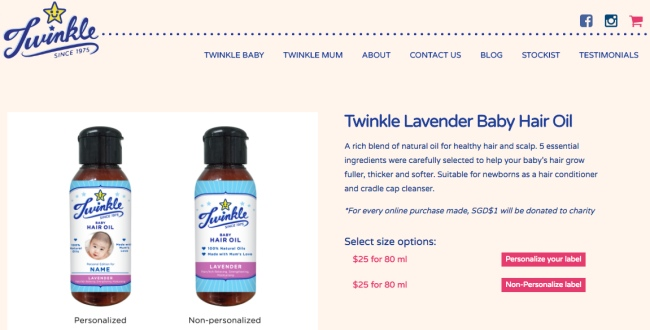 Twinkle Lavender Baby Hair Mist (100ml) Similar to Twinkle Lavender Baby Hair Oil. You just need to shake well, spray evenly onto baby's hair, and massage gently. I like it in mist form as you can easily spray on their hair. It makes it feel less oily too.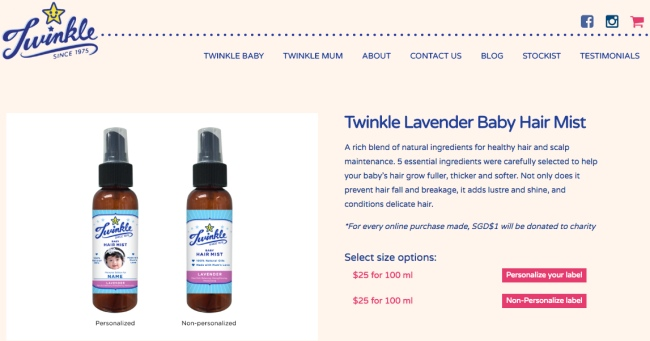 Twinkle Anti-Dust Mites Room/Linen Spray A natural room spray that can freshen up your home with pure Whitewood and Lavender essential oils. The aroma is so relaxing and soothing. Helps to promote a restful sleep. It also eradicates dust mites, mould, bacteria and fungi. It even repel mosquitoes! It is suitable for use on any fabric surface and as a room spray. I like to use it when I am changing the bed, pillow, bolster covers. I also use it on my car and stroller seats. You can even use it on sofa, curtain and shoes!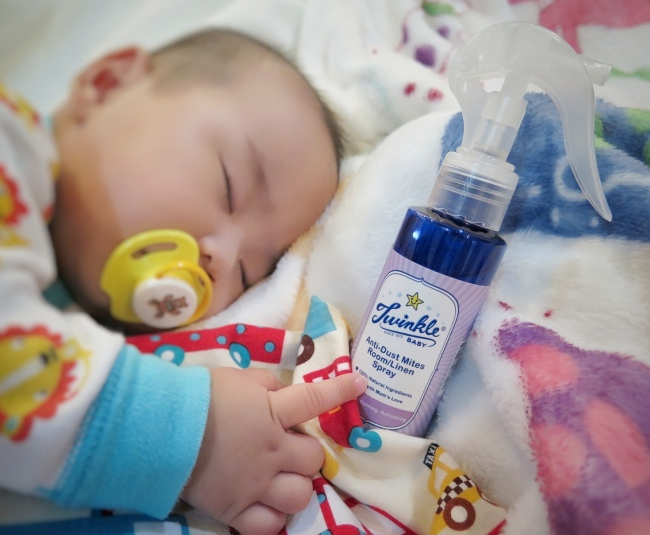 Enjoy your Baby and Mothercare Products Shopping~ I am sure your loved ones will love these.
Above information is for reference only. Please always contact Twinkle Singapore (twinkle.com.sg) for latest details.