PIGEON Singapore (pigeon.com.sg) a very popular brand in mother and baby care products. They provide a wide range of products that can meet all my needs from maternity to childcare. From breast pump, bottles, toiletries to my favourite BABY WET WIPES!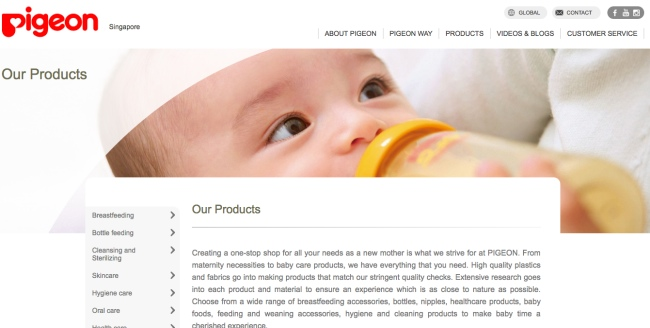 Pigeon had already been my favourite brand when I was preparing for my new born's arrival. You can read about my shopping journey for my new born here.
Pigeon Singapore Baby Wipes – Moisturising Cloth When my family told me that I should stock up a lot of PIGEON wet wipes, my mind was filled with "Are you kidding?". Of course, I still took up the wonderful advice. Hence, I actually bought a CARTON of PIGEON wet wipes! HAHA I am so glad that I did it! New Born Baby poo so many times! I have realised the importance of having wipes! The worst was yet to come. Poor Travis suddenly started to have diarrhea. We have to keep changing his diaper and cleaning his poo. His skin is so delicate. The poo easily irritate the skin and soon it become red. Thanks goodness that we got the Pigeon Baby Wipes – Moisturising Cloth. The Moisturising Cloth contains Natural lanolin oil which provides extra moisture and protective barrier. It is also thick and has a special checkered texture that can clean off Travis poo easily. It is Alcohol Free and Microbiologically tested. Strongly recommended for newborns and babies up to 6 months old.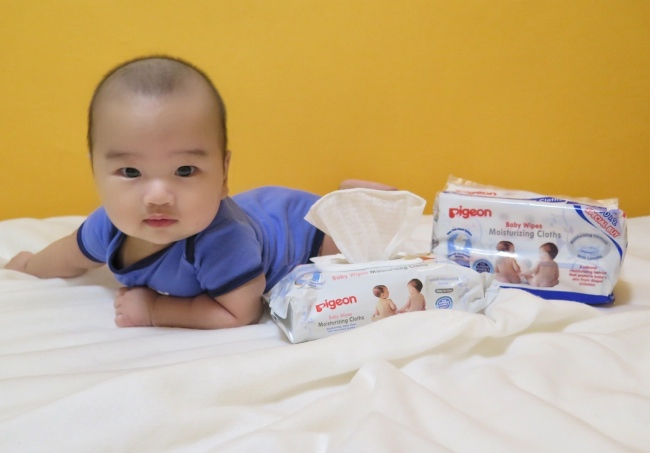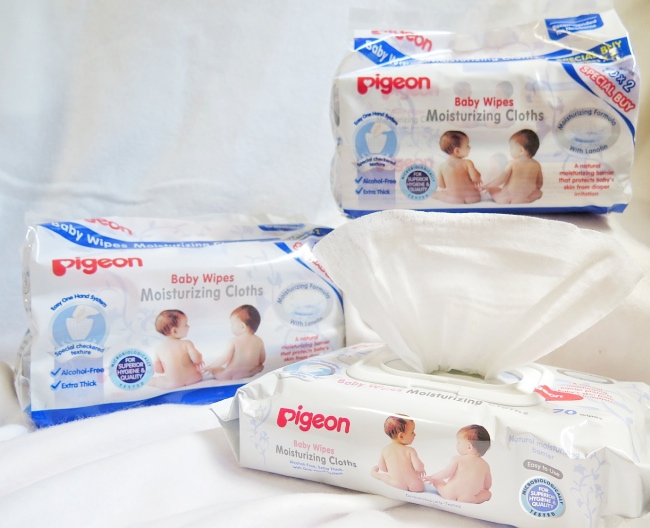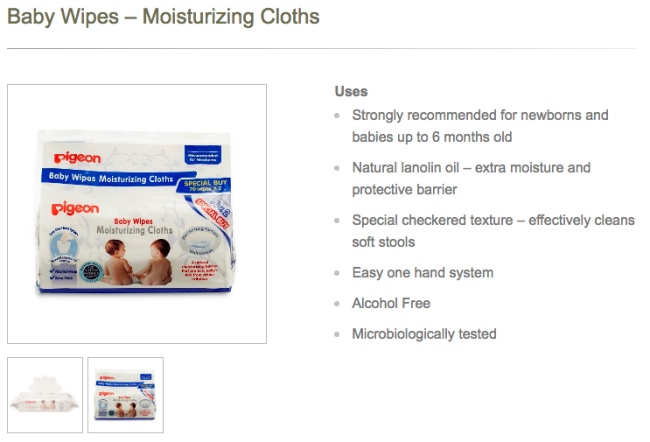 Pigeon Singapore Anti-Bacterial Wet Tissues Although many friends advise me not to use pacifier, I certainly cannot leave the house without one haha. When all things fail to pacify the Little Prince Travis, Pacifier may save the day. Guess what. Just when I thought I finally have some peace. He will just pull out his pacifier and happily throw it on the floor. To make things worse, I may not be able to find a place to wash the pacifier. Here comes The Saviour – Pigeon Singapore Anti-Bacterial Wet Tissue! It effectively kills 99.99% of bacteria. It uses 100% food grade ingredients. I also use it on his toys and other things that he touches. It is Microbiologically tested and Fragrance Free.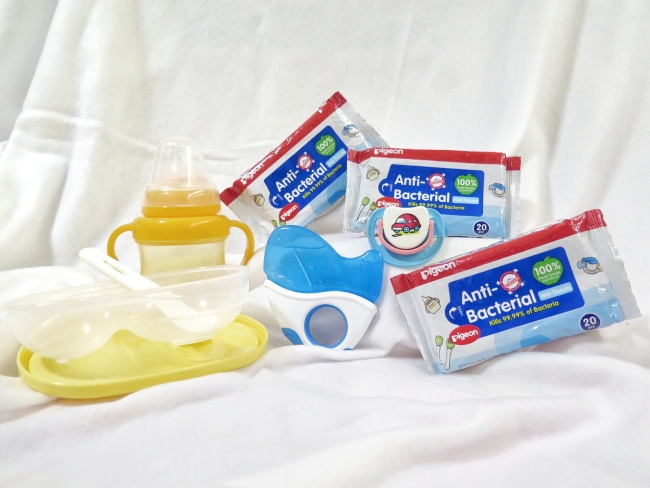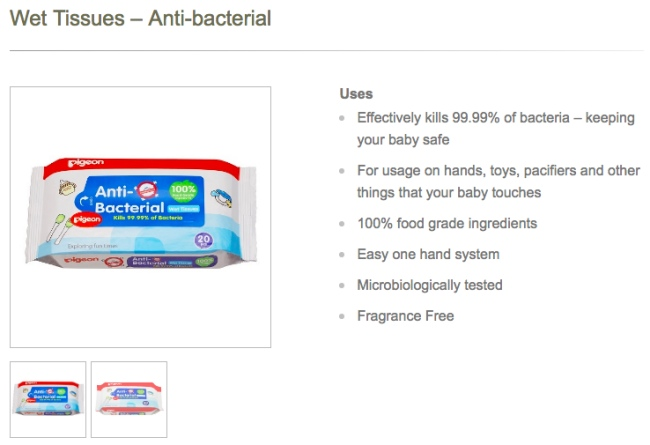 Pigeon Singapore Hand and Mouth Wet Tissues Baby Travis has started to explore the world with his little hands. He loves to touch everywhere and put his hands back into his mouth. I love the Pigeon Hand and Mouth Wipes! Great to clean his hands. They are gentle and safe on baby's skin. They are also known to clean food stains on hands and mouth effectively. Most importantly they use 100% food grade ingredients. Feel so safe to use on my little Prince. It is also Alcohol Free, Microbiologically tested and Fragrance Free.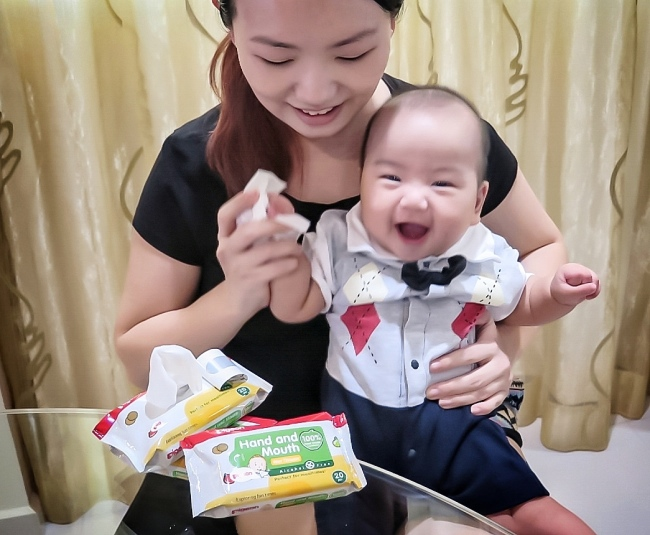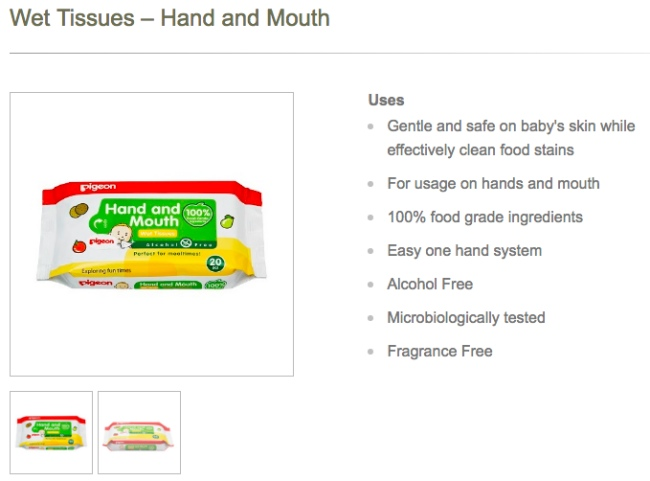 Many thanks to Pigeon Singapore for the lovely pigeon products.
Enjoy your Baby and Mothercare Products Shopping~ I am sure you and your loved ones will love these.
Above information is for reference only. Please always contact PIGEON Singapore (pigeon.com.sg) for latest details.