Twinkle Singapore Baby and Mother Care Products (twinkle.com.sg) are created by Jasmine J. Goh, a mum for all other mums. The Twinkle Baby products uses only natural and high quality ingredients. All their baby products are personally tried and tested. They also use amber plastic or glass to preserve the quality of the products. Twinkle products also do not involve animal testing, and do not contain parabens, mineral oils, petrochemicals, toxic preservatives, phenoxyethanol, phthalates, nanoparticles, silicon, artificial colouring, synthetic fragrances, harmful chemicals, or animal derivatives.
Many thanks to Twinkle Singapore to provide me with the Natural and Organic Essentials Starter Pack with Lemongrass scent for review. It consists of a Twinkle Baby Body Oil (80ml), Twinkle Baby Body Mist (100ml) and Multi-Purpose Baby Balm. Lemongrass scent is extremely effective both as an insect repellent and an environmentally friendly deodorant. Often used to relieve pains and itches due to its analgesic nature and its anti-inflammatory properties.
Do note that Lemongrass essential oil should only be used for children above 6 months old. All other essential oil can be used for babies over three months old.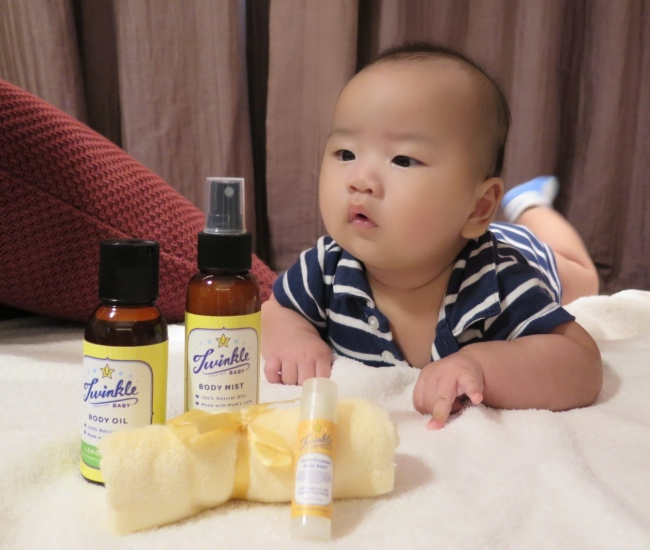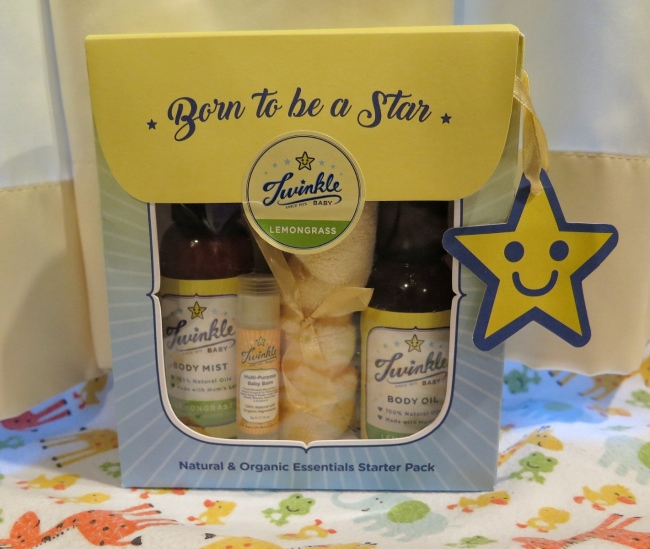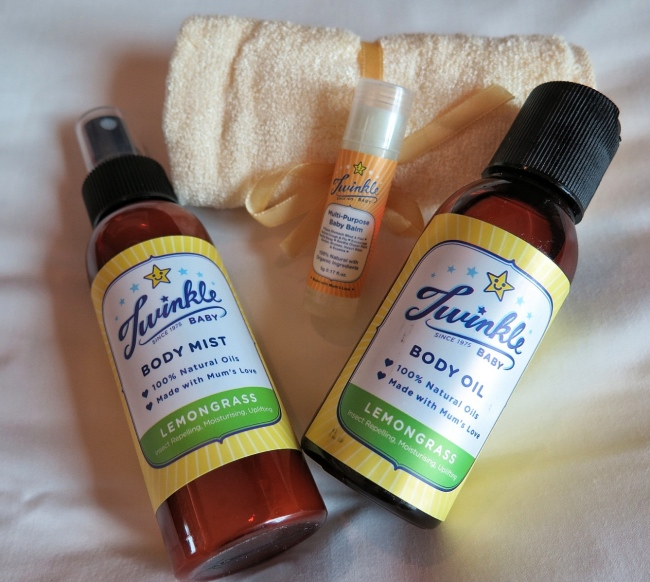 Twinkle Singapore Baby and Mother Care Products also have other products like Twinkle Baby Wash, Twinkle Baby Hair Oil. There are also products for Mummy like Multi-Purpose Oil and Stress Relief Roll On.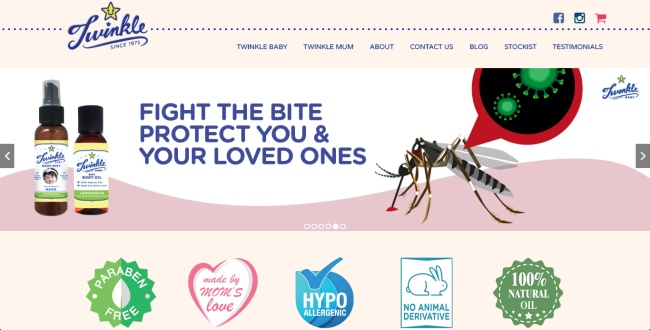 Twinkle Baby Oil is a rich blend of natural oils. It helps to moisturise and keep baby's delicate skin at a healthy pH level. The 5 essential ingredients (Grapeseed Oil, Avocado Oil, Aloe vera extract, Vitamin E Oil, and Camellia Japonica Seed Oil) in the Baby Oil helps to protect the baby's skin from harmful UV rays and pollutants, and contain anti-fungal and immunity-boosting properties. It is suitable for sensitive or inflamed skin. I understand that it can be used as an eczema treatment. All ingredients are blended and mixed freshly in Singapore upon order.
You can just apply 2-3 drops onto baby's skin and massage gently.
I like that Lemongrass scent is not too strong till it cause discomfort to the baby and stil serve well as a insect repellent. 2 in 1 product. (Moisturise Baby Skin and Repel Insects) It makes it so easy rather than put mosquito patch which they may go and peel it off.
Grapeseed Oil (From Spain): A very light oil that helps to promote skin health.
Avocado Oil (From Mexico): An oil that helps to hydrate and soften skin. It is often recommended to be an effective eczema/skin inflammation treatment.
Aloe vera extract (From Australia): Good for moisturising skin and soothe skin.
Vitamin E Oil (From Japan): A powerful antioxidant that helps to neutralise free radicals which damage cells.
Camellia Japonica Seed Oil(From Japan): An oil that maintains a healthy skin pH and blocks harmful UV rays.
The strong citrus scent of Lemongrass Essential Oil (From Australia) also serves as very useful insect repellent.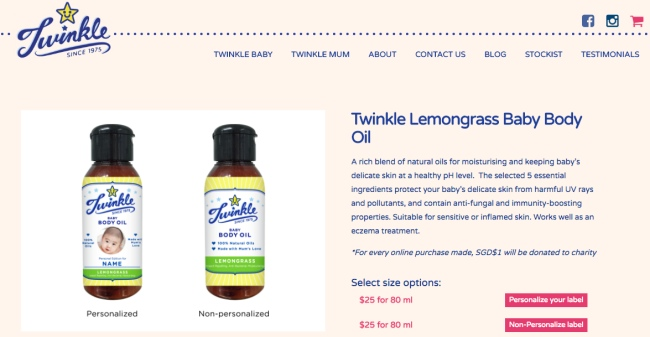 Twinkle Baby Mist Similar to Twinkle Baby Oil. You just need to shake well, spray evenly onto baby's skin, and massage gently. I also like it in mist form as you can easily spray on their skin.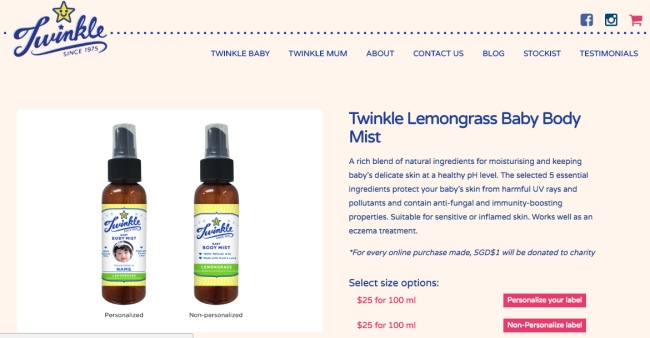 Twinkle Multi-Purpose Baby Balm A gentle blend of natural and organic ingredients. Organic Pure Shea Butter, Organic Pure Beeswax, and Organic Calendula Oil help to protect and condition skin. It can also relieve diaper rash, bumps and bruises, heal scar, and soothe skin. Whitewood and Grape Seed Oils help to ease stomach wind/pain, travel sickness, cough, flu, and insect bites. Lavender and Orange Essential Oils promote a sense of wellbeing and encourage restful sleep.
I like that the balm is very portable. It is just like our lip balm. You can easily put in your bag.
You can just gently rub a layer of balm onto the baby skin and massage.
Organic Shea Butter helps to soften and strengthen skin.
Organic Pure Beeswax provides a protective barrier for the skin.
Organic Calendula Oil helps to soothe sore, inflamed and itchy skin.
Whitewood Oil helps to relieve aches and pains from sore muscles
Grapeseed Oil helps to tighten skin, and restore collagen.
Lavender Essential Oil helps to alleviate anxiety, insomnia, depression and restlessness.
Orange Essential Oil helps to nourish the skin.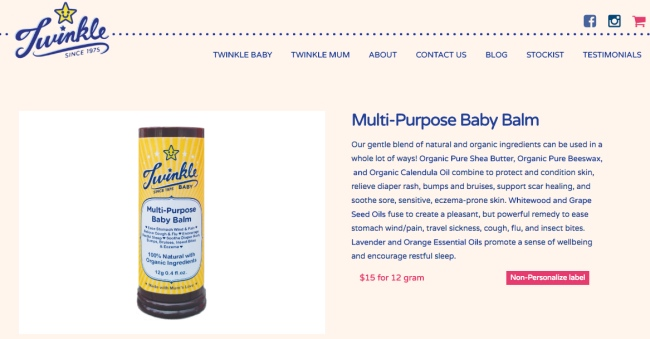 Enjoy your Baby and Mothercare Products Shopping~ I am sure your loved ones will love these.
Above information is for reference only. Please always contact Twinkle Singapore (twinkle.com.sg) for latest details.