It's been so long since I been to Malaysia! Can't believe it especially Singapore is so near to Malaysia! Finally the long awaited food trip to Malaysia is going to realised! My friends and I decided to go for a short trip 2 Days 1 Night trip to Batu Pahat. A lot of my friends were telling me that there isn't a need to stay overnight. However, we were still going to stay 1 night to slowly enjoy the trip and of course the food! Winkz The morning started with a big Yawn! haha I have to wake up early for the drive to Malaysia!
~Soon Lai Kway Chap~
Address: 6-C, Jalan Fatimah, Batu Pahat, Johor
First food stop. It is at Soon Lai Kway Chap. It was recommended by many bloggers. I was famished when I reached there. Fortunately, the food did not disappoint us. My Favourite was actually the "Kway" (Rice Sheets). Soft and Silky.
~Akbar Cendol~
Address: No 12, Jalan Engan 83000 Batu Pahat
We decided to head toward for a nice cold dessert. Chendol! We went to Akbar Cendol! However, it is a bit of a disappointment. There is nothing to rave about. However, it is reasonably priced. There aren't many seating.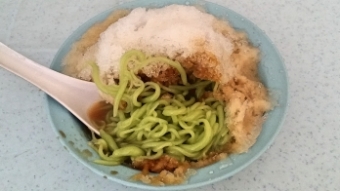 ~Glutton Square~
Next! We went to check into our hotel and proceed to Batu Pahat mall. We went to do some shopping at the supermarket and proceed for our movie. After relaxing at the movie, its already time for dinner! Time Flies when you are having fun! The Glutton Square! Here we come! It is indeed a place for Gluttons! It is a hawker centre! The local food are good and cheap! We ordered Grilled Chicken Wings, Otah, Kang Kong with Cuttlefish, Oyster Egg, Satay, Carrot Cake, Sambal Stingray, and Fried Hokkein Mee. Oh my thats really a lot of food and we almost finish all of it! The cuttlefish was a bit too soft.
~Xin Yang Bak Kut Teh~
Address: No. 41, Jalan Setia Jaya Utama, Taman Setia Jaya, 83000, Batu Pahat, Johor
Next morning , we went out to look for Wanton Mee for breakfast but we passed by this Xin Yang Bak Kut Teh! It was very crowded and looks NEW! It look too good to be missed! Hence, we decided to skip Wanton Mee and go for Bak Kut Teh. The Bak Kut Teh is really good! Unfortunately, they don't refill a lot of our soup! The soup is herbal flavored. It is not too strong and just nice! We also ordered Braised Pig Throtter, Vegetables and Tau Pok (Fried Bean Curd). So happy that we had a good meal before we leave for Singapore!
Quick Links
View all my Travel Itineraries