When I had my little Travis, I did not do maternity shoot as I feel I would not look good with such a big tummy. After being encouraged by many friends, I decided to give it a shot during my second pregnancy. More importantly, I want to capture this precious moment with my family too!
Ashley Low Photography ~ Ashley Low is the founder of Ashley Low Photography. She is an award winning Family Photographer who specialises in Newborn and Baby Photography. In 2016, Ashley was awarded the title of "Master Photographer" by Master Photographer's Association in U.K. She has also been named as "One of the Newborn Photographers in Singapore you can trust" and "One of the best family photographers in Singapore" by various publications. In 2018 and 2019, Ashley clinched 2 international awards; the RISE International Awards 2018 Silver Award and the AFNS International Award for the Newborn Category 2019!
As it was my first time doing a maternity shoot, I was nervous about it. A lot of questions come into my mind. What should I prepare for it? When is the best time during the pregnancy to do the shoot? What kind of style do I prefer? What kind of gowns do they offer? If my family join the shoot, what timeslot will be most suitable? What will happen during the shoot? Will Travis be cooperative? What kind of clothes should I get Hubby and Travis to wear? and many many more. Gosh! I sound crazy! Haha
All my worries were unfounded. Their friendly sales assistant sent me their Preparation Guideline which is a list of commonly asked questions to aid in my preparations. Awesome! It answered most of my questions. They also called and took me through what I need to know and answer all my other noob questions! I understand that the recommended timing to do the maternity shoot is between 34-36 weeks so that it will be best time to show the lovely curves. I decided to do the shoot at 35 weeks! They showed me the pictures of the gowns and fabric wraps they offer! I can bring my own gown too. They also suggest the outfits for hubby and older children. As I intend to use their gown, they suggest neutral colour shirt plus jeans/trousers. I decided to prepare white Polo Tee and Jeans for Hubby and Travis. We got the white Polo Tees from Uniqlo! Simple and easy to match with my gowns. They also suggest to bring other things like ultrasound scans or baby clothes. I did my own makeup and I got my friend to style my hair. They do have a few regular contacts for hair and makeup artists. Great for people who prefer to engage the professionals.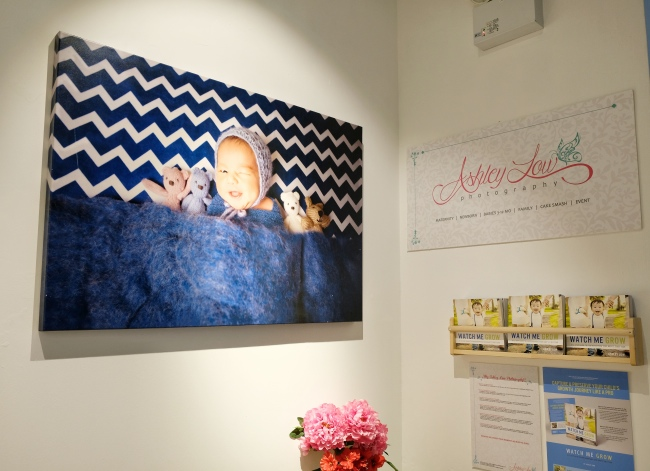 When we reached, Ashley showed us around the studio. The studio is bright, spacious and very well-equipped! They have a lot of props for newborn photography. Little Travis is especially delighted with the cupboard of soft toys. The area is perfect to warm him up for the family shoot. There is also a baby changing area with diapers, wipes, and tissues. The props and outfits look so lovely that makes me also want to do newborn photography with them! They even offer snacks and beverages too! The place makes us feel so much more at ease.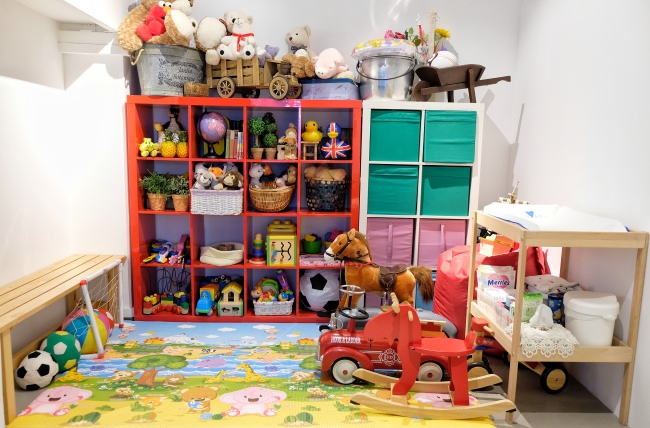 Ashley shows us the gowns that they offer and suggests the backdrops that go well with them. There aren't many gowns to choose from but the collection is good enough for me! I wasn't keen on baring my whole tummy. I chose 2 gowns – white tube with a pink tulle skirt and a long white gown! Feel like a princess! I also choose 2 fabric wraps – white and red! The white polo tee and jeans that I prepare for Hubby and Travis can match well with the gowns!
Initially, I was doubtful that little Travis will be cooperative during photoshoot as it is always hard to get him to pose for phototaking. He is always shy especially with strangers. Ashley took some time to warm up Little Travis. She puts effort to talk to him to make him more comfortable with her. He warmed up to her very quickly and has superb chemistry with Ashley! He was so excited and delighted to join my photoshoot.
I was worried we will not know how to pose properly. During the shoot, she patiently guided us in various poses and shoot in various kinds of lighting such as brightly lit, silhouette, one light to bring out certain feel. She also continue to play with Travis. He was so delighted to pose based on Ashley's instructions! We were all beaming with happiness! It is no wonder that she is an award winning family photographer and has captured photos of more than 1600 children from all ages since 2011. After the shoot, she also continue to play with Travis! You can see that she really has a love for kids!
Take a look at these behind the scenes pictures/ video!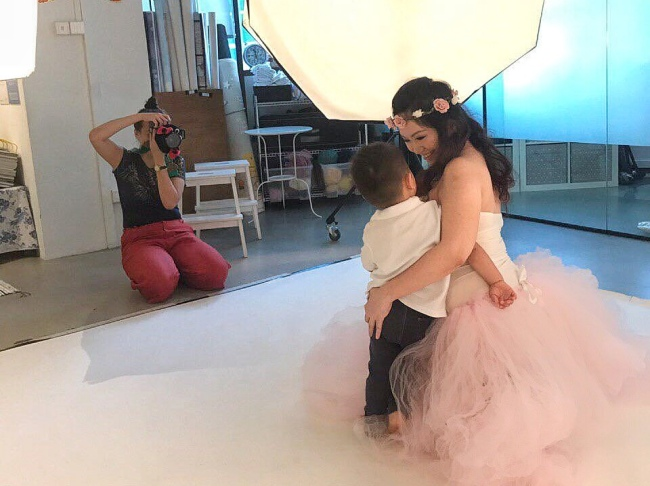 We enjoyed the whole photoshoot experience. It is not just the photoshoot session. But the amazing experience starts from the preparation all the way to seeing the beautiful pictures at the end. Ashley has captured all the beautiful and sweet moments! Afterall, I am delighted that I actually look good with the big tummy! Haha! The family pictures are so heartwarming as we were all beaming with happiness! I am especially delighted that Travis had so much fun during the shoot too! He was always beaming with joy! Here are my favourites from the photoshoot: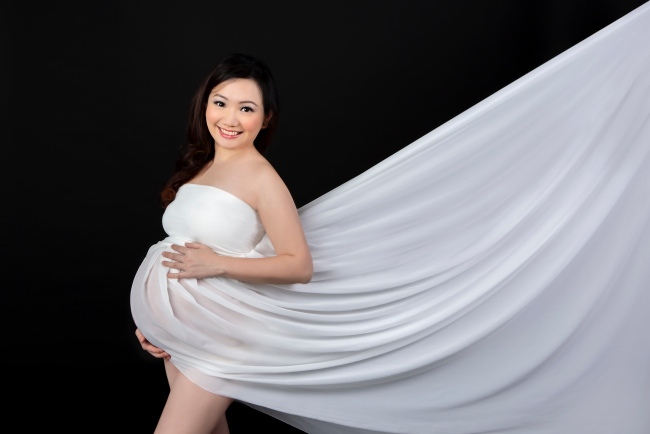 In addition to being a photographer, Ashley also sees herself as an educator! She runs photography workshops for aspiring photographers and parents alike. She has even wrote a book for parents to learn how to document their baby's first year of growth. The book "Watch Me Grow: A 12-Step Guide to Photographing Your Baby's First Year" helps parents who are avidly seeking to photograph their babies' milestones. I can't wait to use the tips that I learn from her book to take picture for my little Darius!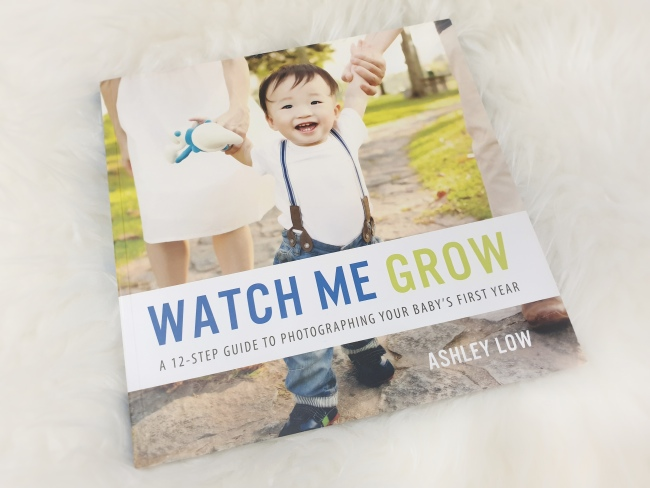 If you are in a delimma whether to do a maternity shoot, I would strongly encourage you to do it. Capture this precious moment! Ashley Low Photography will definitely be a great choice for you. I would like to share the below promotion with my readers.
HOT Promotion (Till 30 June 2020)
Quote Eileen100 upon enquiry/booking via Call/Email/Facebook/Instagram to receive a $100 off session fee for a Maternity Photoshoot with Ashley Low Photography
Enquire/book with Ashley Low Photography through these channels:
Call – 6443 3953 / 9640 3774 (Message/WhatsApp)
Email: info@ashleylowphotography.com
Facebook Messenger: View Facebook
Instagram Direct Message: View Instagram
Terms & Conditions
– Discount offer is only applicable on their full priced session fee of a Maternity Package.
– This offer cannot be used in conjunction with other promotions/bundle deals.
– Offer must be presented upon enquiry or booking.
– Offer is valid till 30th June 2020 only.
Address
62 Ubi Road 1 Oxley BizHub 2 #08-01 Singapore 408734
Contact No.
6443 3953 / 9640 3774
Email Address
 info@ashleylowphotography.com
Nearest MRT Station
Paya Lebar
How to get there
Show Map
Website
View Website
Facebook
View Facebook
Instagram
View Instagram
Others
HOT Promotion (Till 30 June 2020)
Quote Eileen100 upon enquiry/booking via Call/Email/Facebook/Instagram to receive a $100 off session fee for a Maternity Photoshoot with Ashley Low Photography
**Terms and Conditions Apply**