Last year has been an exciting year. Waiting and Preparing for our new family member – My Little Prince Travis to arrive.

There are so much things to learn. Listening to relatives and friends and Reading up on Internet on the way people prepare for the baby arrival, the way they breastfeed, the way they do their confinement, the way they bring their kids up. So many schools of thoughts and they may even conflict with each other. I guess at the end of the day, you just have to understand from the various schools and come up with your own school of thought and share with other new mummies.
Just the thought of preparing the shopping list was already a headache for me. Not sure what brand to get. Not sure where to get the products. Below is my shopping experience and I will update this post progressively as I use the products and provide more reviews. Check out my shopping experience:
BABY CARE (Bathing, Clothes, Feeding)
WOW. It is such a long list of things to buy. If you want to optimise your every dollar, you may need to get your item from different places – Robinsons, Qoo10, iHerb, Amazon, Taobao and Uniqlo.
I went to Robinsons during their sale and got a lot of my stuff from there. Woah! Look at that mountain below! Haha! Especially for new mummy, unless you are blessed with a lot of gifts, there is really a lot of things to get. Guess I was also KIASU! Haha!~
We bought Tommee Tippee Steriliser set (Electric Steam Steriliser, Electric Bottle Warmer, 8 Bottles, 2 Teats, Milk Powder Dispensers, Bottle Bags, Teat Brush, Teat Tongs), Pigeon (Cotton Balls, Cotton Buds, Wet Wipes, Liquid Cleanser), Philip Avent (Bottle, Pacifier), Mustela (Body Wash, Body Lotion, Barrier Cream), Sebamed (Bubble Bath), Bud Organics (Mozzie Clear Lotion) and TollyJoy (Liquid Cleanser, Gauze Napkins, Mitten and Bootie Sets).
Here are some areas that you need to take note
Wet Wipes (Brand: Pigeon, Shop: Robinsons)
If you are using wet wipes to clean your baby's poo and pee, be prepared to have lots of it. Especially for new born, they pee and poo so frequently. I bought a carton to prepare. *Super Kiasu*
Diaper Cream (Brand: Mustela, Shop: Robinsons)
Diaper Cream is important to prevent, soothes and recover skin discomfort. I am recommended by friends to use the products below:
– Mustela Vitamin Barrier Cream (Bought from Robinsons)
– Earth Mama Angel Baby, Bottom Balm (Bought from iHerb)
Wash Cloths (Brand: No Specific Brand, Shop: Robinsons)
You will need quite a few of these too. I prepared about 20 of these. They are always handy during feeding, burping time. I read some people use it to absorb urine during diaper changing time. Haha Babies love to surprise you with their fresh from oven urine or poo during the diaper changing session. However, I don't use wash cloth for this purpose. I just use wet wipe for this. A tip is to soak the wash cloths overnight before the first wash. This is to increase the absorbance of the wash cloths.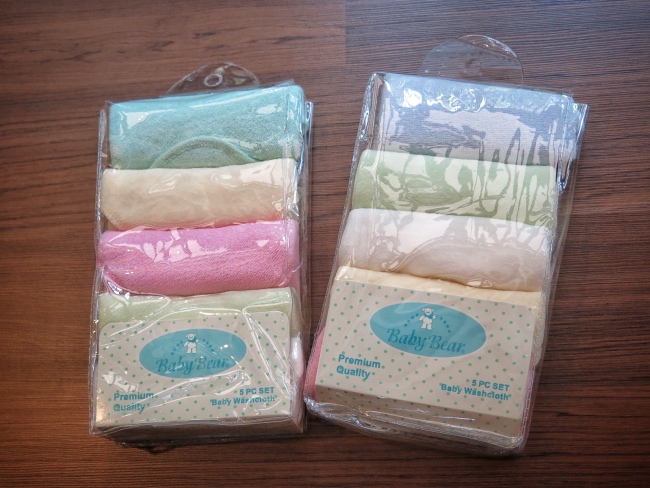 Baby Mittens & Booties (Brand: No Specific Brand, Shop: Robinsons)
Baby Mittens are important as babies' nails may be sharp. You won't want them to accidentally scratch their cute face. The mittens and booties are also good for keeping their little hands and feet warm respectively. Do wash them before the baby first use.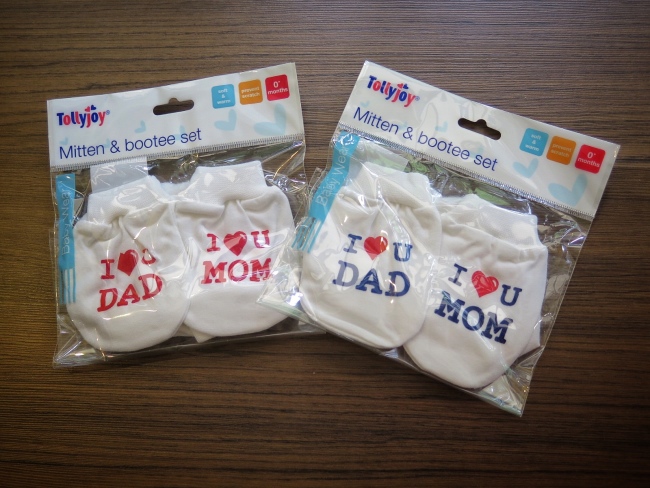 Baby Clothes (Brand: No Specific Brand, Shop: Uniqlo, Spring Maternity and etc)
Baby Clothes. There are so many kinds of Baby Clothes. You may also be blessed by many relatives and friends with their pre-loved baby clothes. That will save a lot of money as baby outgrow the clothes very fast. I bought him some new ones from Uniqlo and Spring Maternity. I like the Uniqlo baby clothes design as their buttons design are very easy during the changing time. You may want to consider kimono design style baby clothes when you first handle your baby. It is much easier to change. I only try Romper style when I am more confident. Do wash them before the baby first use.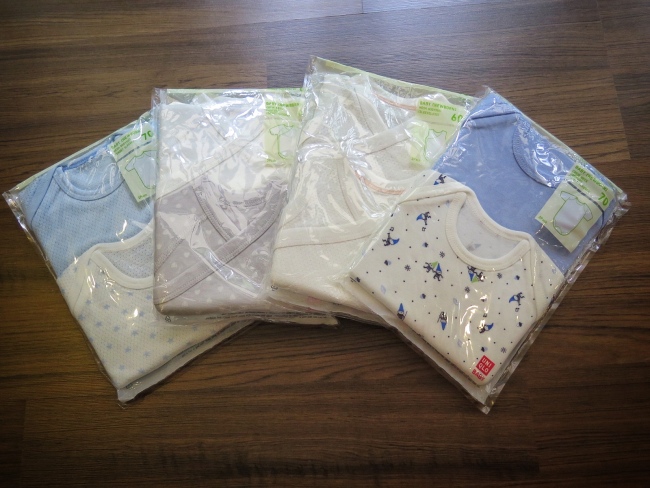 Diaper (Brand: Pampers, Huggies, Goon, Mamy Poko, Merries Shop: Qoo10, Baby Fair)
There are many brands of diapers to use. I am currently using Pampers. I like it that they have a color-changing wetness indicator. Make it much easier to check whether I need to change his diaper a not.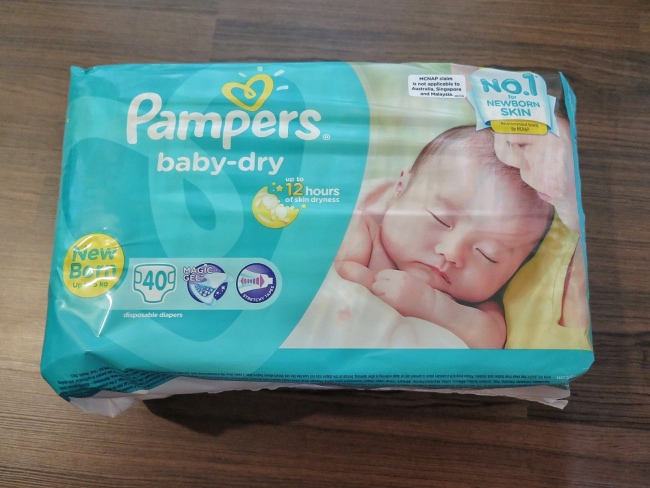 Gauze Napkins (Brand: Tollyjoy, Shop: Robinsons)
Gauze Napkins. Traditionally, a lot of people use gauze napkins with napkin liners instead of diaper. It is said to be more enviornment friendy and better for baby skin. Heard there will be lesser chance of diaper rash. The washing of the napkins is a daunting task to me. We opt for convenience and use diapers instead. You can also use to lay under his head to catch his puke if he vomit when he sleep. Do wash them before the baby first use.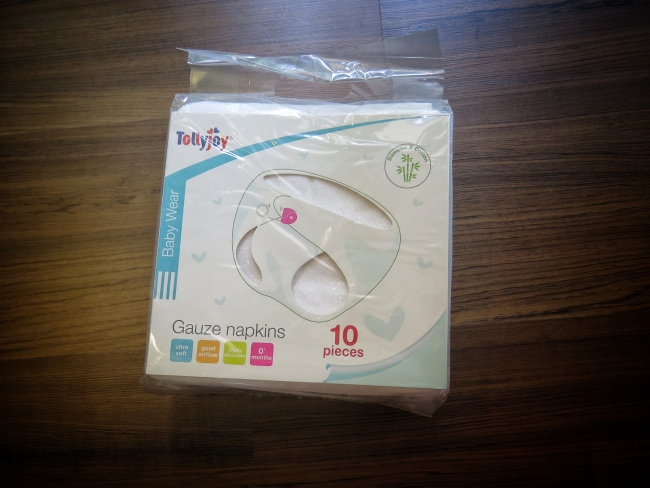 Cotton Balls (Brand: Pigeon, Shop: Robinsons, Thomson Medical Shop)
It is recommended to use Sterile Cotton Balls when you clean baby eyes. So I bought from the Thomson Medical Shop. I use the normal Pigeon cotton balls to clean his face and neck. Some friends just use wash cloth and clean.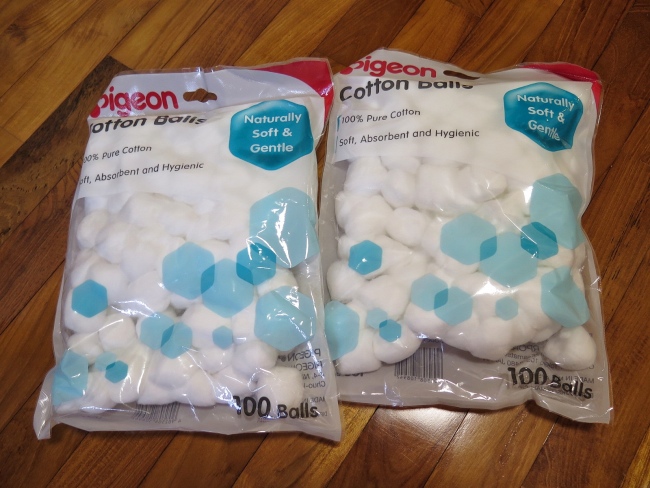 Cotton Swabs (Brand: Pigeon, Shop: Robinsons)
It is recommended to use Cotton Swabs to clean the Baby outer ear. Do not clean the Baby Ear Canal.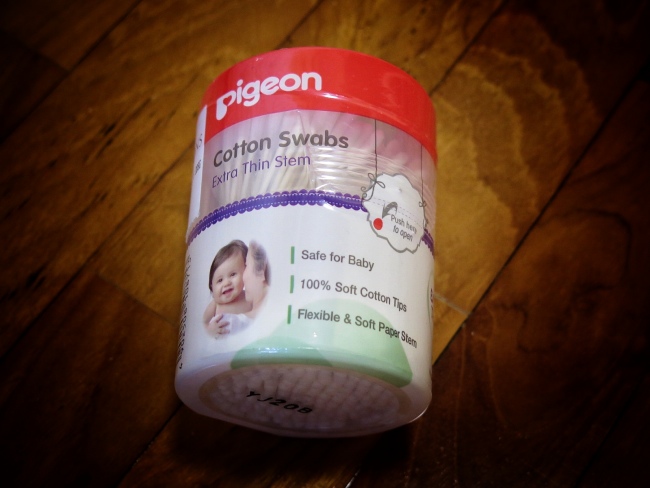 Swaddle (Brand: No Specific Brand, Shop: Qoo10)
Qoo10 makes a lot of shopping easier. Bought the swaddle cloth from Qoo10 sellers. It is good to swaddle babies as it make them feel safe and secure.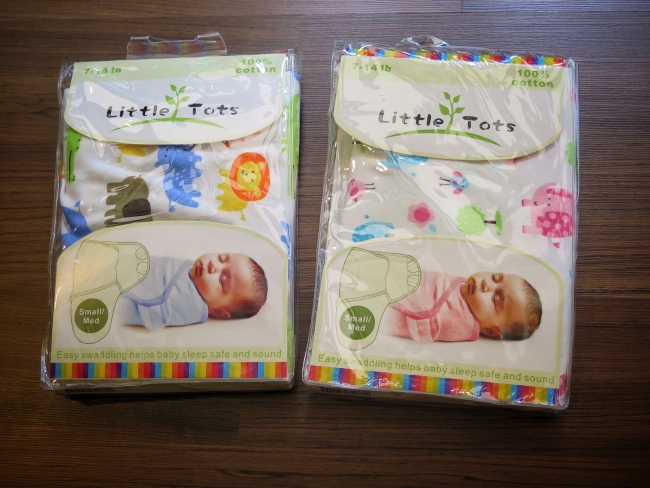 Detergents (Brand: Attitude, Pigeon, Tollyjoy and etc, Shop: Robinsons, iHerb)
Interesting. Didn't know that you need a separate detergent to wash baby clothes and accessories. I guess you need a more gentle product to handle the baby stuff.
I am recommended by friends to try ATTITUDE, Little Ones, Baby Bottle & Dishwashing Liquid from iHerb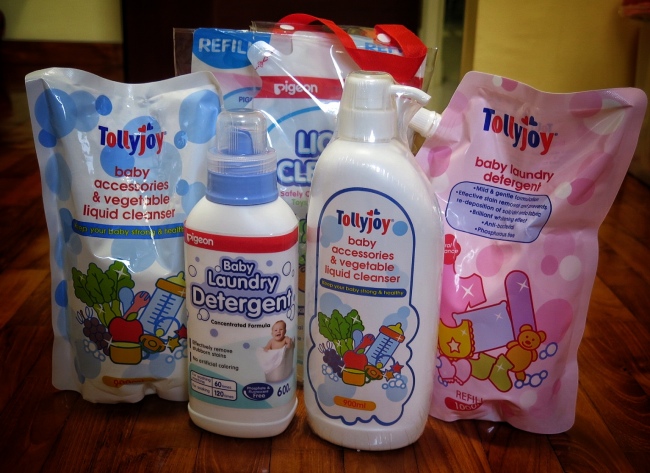 Hand Sanitizer (Brand: No Specific Brand, Shop: Robinsons, iHerb)
I prefer to keep a hand sanitizer with me. It is handy when I need to sanitize my hands before handing my baby.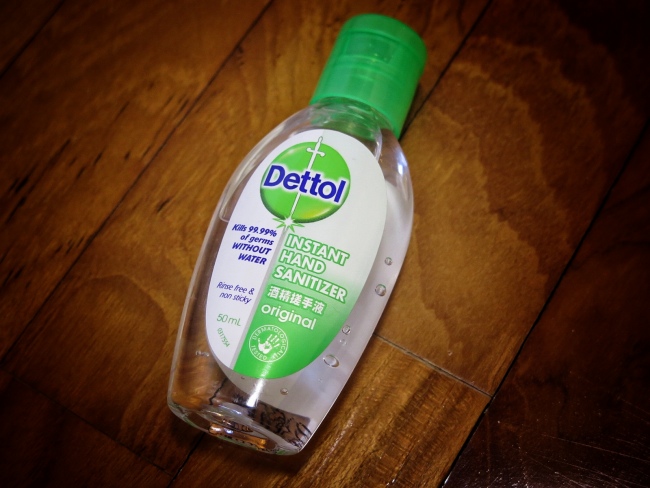 Body Wash (Brand: Mustela, Sebamed, Shop: Robinsons)
I also use a Body Wash for baby. You just need 1 little drip for the whole baby tub of water. So 1 bottle can use for very long.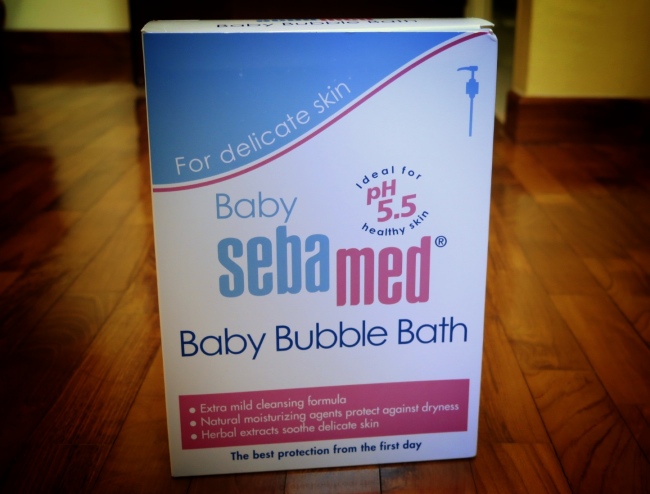 Anti Mosquito (Brand: Buds Organics, Badger Shop: Robinsons, iHerb)
If you are worried about mosquitos "kissing" your beloved baby, do consider the anti-mosquito lotions.
I am recommended by friends to use the product below:
– Mozzie Clear Lotion from Buds (Bought from Robinsons)
– Badger Company, Anti-Bug Balm, Citronella & Rosemary (Bought from iHerb)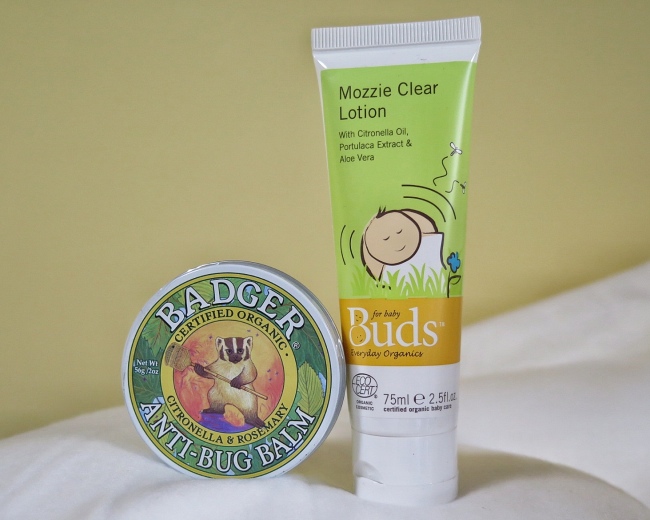 Milk Bottles (Brand: Tommee Tippee, Pigeon, Philips Avent, Shop: Robinsons, iHerb, Amazon)
I got my 8 milk bottles under the Tommee Tippee Steriliser set. I was blessed with the Pigeon and BiBi bottle. Tommee Tippee bottle is much faster in the flow. The Pigeon and BiBi is much slower. So depends on your baby speed of feeding, you need to use the appropriate bottle. If the flow is too fast, they may choke or don't feel full. If the flow is too slow, they may dozed off or get frustrated. I am recommended by friends to use the product below:
– Philips Avent Natural Newborn Baby Bottle Starter Set (Bought from Amazon)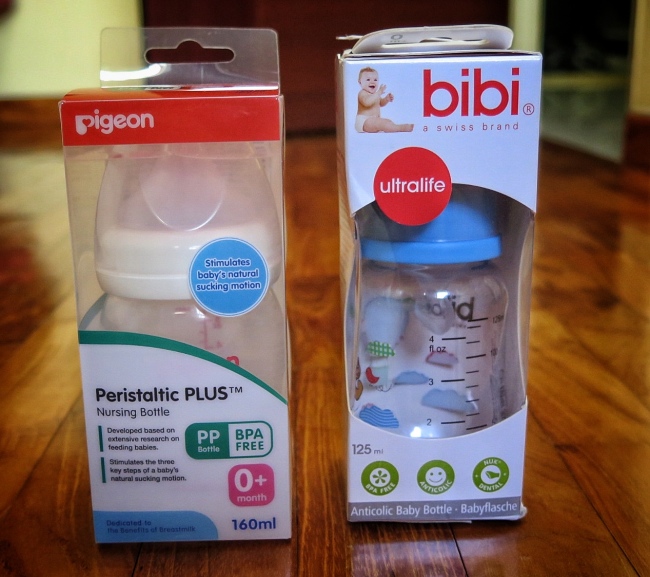 Nail Clipper (Brand: Pigeon Shop: Robinsons)
Baby Nails seem to grow so quickly. Although we use baby mittens, the mittens may easily drop off and the longer finger nails may just scratch the baby face. I was advised by friends to try to cut the nails when the baby is sound asleep.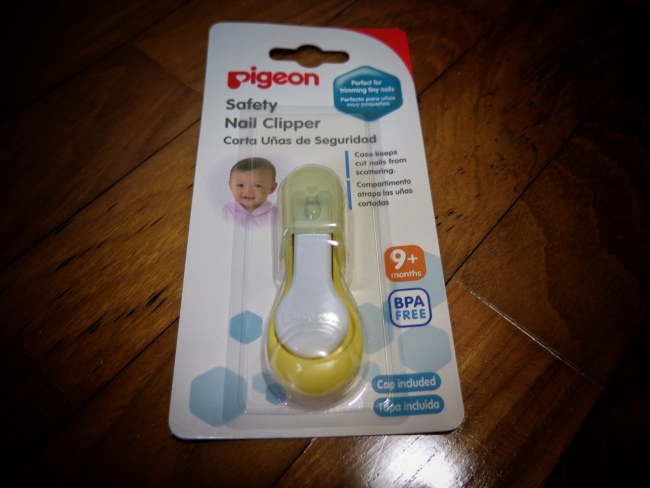 NURSERY
Nursery. I guess it is whether you going to put his cot in your room or he has a separate room to himself. I decided to put the cot in my room to make it more accessible till when he can sleep through the night then put him in his separate room.
Bedsheets (Brand: No Specific Brand, Shop: Spring Maternity)
I bought my cot from Spring Maternity so I bought the bedsheets from them too. I bought 2 sets to interchange.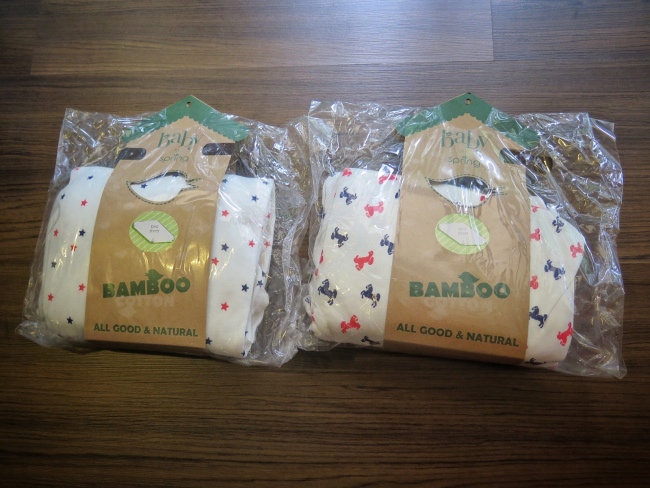 MUMMY/ BABY BAG
You can pack 2 separate bags. 1 for Mummy. 1 for Baby. I delivered at Thomson Medical Centre. Thomson Medical do provide most of things required for mummy and baby. In the end, I never use much from my bag. Most importantly, bring your CAMERA! Haha. You will want to capture all the lovely moments with your baby.
CONFINEMENT PERIOD
Usually for chinese ladies, we always try to do a confinement period of about 30 to 40 days. Some follow certain nutritious diet. There are also some rules like reduce drinking plain water. of course, need to take lots of rest. This is restore mummy's health to original condition and prepare for future.
Confinement Food
Often an easy solution is to hire a confinement lady who is experienced with cooking confinement meals and taking care of the newborn baby. However, I do hear from friends of their issues with their confinement ladies. After all, it is still living with a stranger for a month long. The lifestyle and beliefs might be different and create conflicts.
There is a new trend of ordering confinement meals especially when they do not want to hire a confinement lady. It saves the family a lot of effort of cooking and cleaning for the mummy. The family may understand the benefits of the confinement meals but they may not be able to prepare it properly due to lack of experience in cooking confinement meals. These days there are a lot of companies offering confinement meals service.
Since I have some family help, I thought why not also try not having a confinement lady and get confinement meals from RichFood Catering. They are highly recommended by my friends and relative. They offer delectable, healthy and quality (NO MSG) confinement meals. You can find out more from here. This saves so much hassle for my family and I. We can focus and spend quality time with our baby Travis.
Herbal Shower (Brand: No Specific Brand, Shop: Qoo10, Babyfair and etc)
Washing Hair and Having a nice bath is a like a luxury activity for me during confinement. I have friends who can tolerate 1 month of no washing hair. I will go crazy haha. The maximum I can tolerate is washing hair every 2 day and having daily herbal shower. I got these instant herbal pack where you just boil and shower with the herbal water.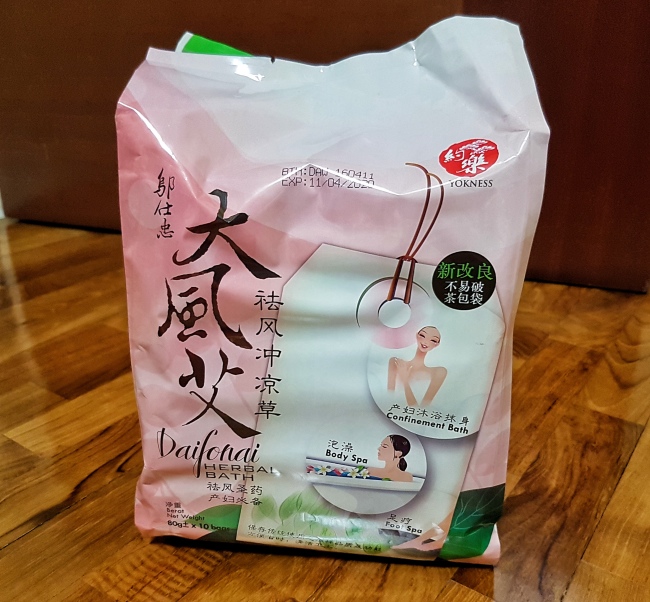 Bottom Balm/ Spray (Brand: Earth Mama, Shop: iHerb)
Bottom Balm/ Spray helps ease discomfort of postpartum vaginal soreness and swelling, and hemorrhoids I am recommended by friends to use the products below:
– Earth Mama Angel Baby, New Mama Bottom Spray (Bought from iHerb)
– Earth Mama Angel Baby, Mama Bottom Balm (Bought from iHerb)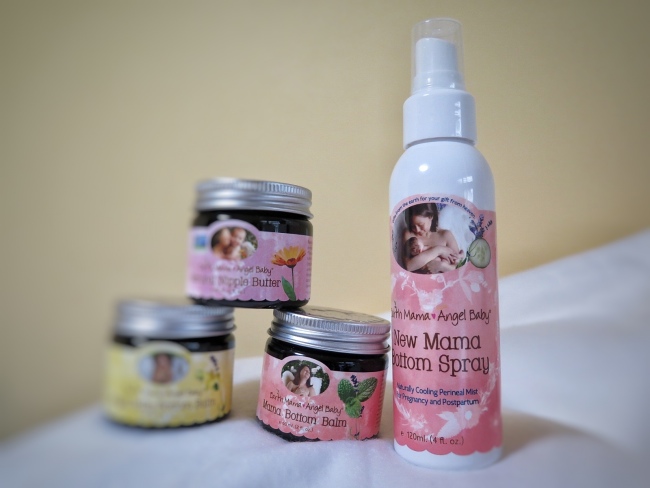 Post Natal Massage
After giving birth, mummies always tend to feel tired physically and mentally. It is good to have post natal massage to help to relieve the stress. It will help to reduce post-partum swelling and water retention, remove the wind in the stomach and improve circulation in the body.
BREASTFEEDING
I try my best to breastfeed him since there is so much benefits said for breastmilk. However, I also recognise the fact that most importantly he need to feel full and hydrated. At times, I will supplement with formula milk if required.
Breast Pump (Brand: Cimilre, Spectra and Medela, Shop: Qoo10, Babyfair and etc)
I also bought Cimilre S3 from Qoo10 seller. So far it is quite effective for me and simple to use. Just that not very portable as it does not come with a battery.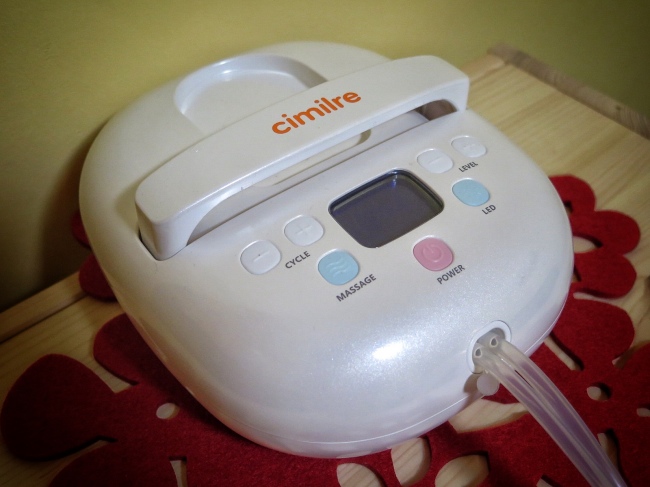 Storage Bottles/ Bags Pump (Brand: Cimilre, Spectra and Medela, Shop: Qoo10, Babyfair and etc)
If you supply more milk than your's baby demand, you will need storage bottles/ bags. Bottles can be re-used. More environment friendly. Some bottles can be used with teats and use as milk bottles immediately. Storage Bags are useful when your freezer has insufficent space for milk.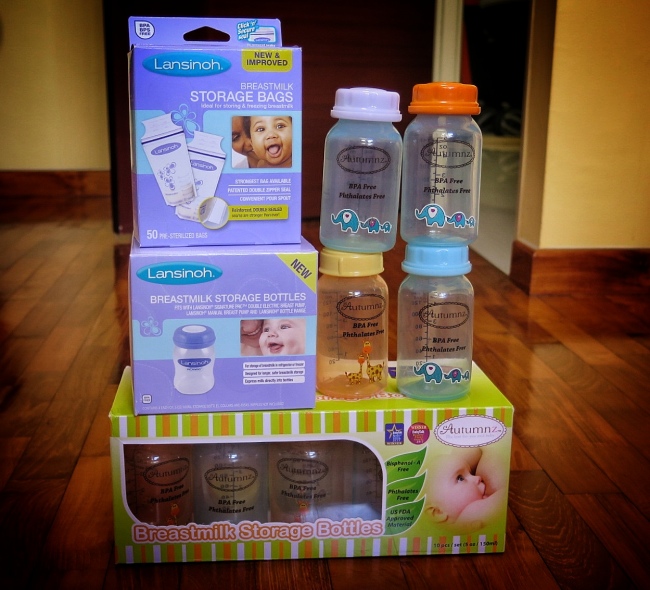 Supplement to boost Breastmilk (Shop: iHerb)
A lot of mummies often had the headache that their supply of breastmilk is lower than their baby's demand. I understand below teas and supplements are good for increasing breastmilk supply 🙂
– Earth Mama Angel Baby, Organic Milkmaid Tea, Fragrant Fennel Herb, Caffeine Free, 16 Tea Bags (Bought from iHerb)
– Traditional Medicinals, Organic Mother's Milk, Caffeine Free, 16 Wrapped Tea Bags (Bought from iHerb)
– Nature's Way, Fenugreek Seed, 610 mg, 180 Veggie Caps (Bought from iHerb)
– Nature's Way, Blessed Thistle, 390 mg, 100 Veggie Caps (Bought from iHerb)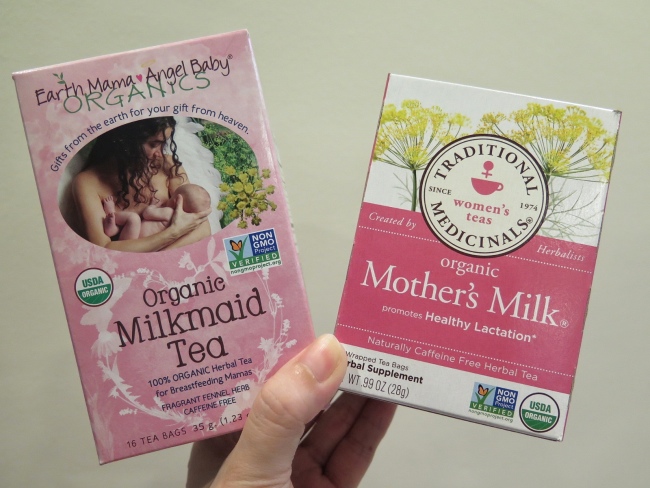 Nipple Butter (Brand: Earth Mama, Shop: iHerb)
Nipple Butter moisturizes and soothes everything from the mummy nipples to baby cheeks.
I am recommended by friends to use the product below:
– Earth Mama Angel Baby, Natural Nipple Butter (Bought from iHerb)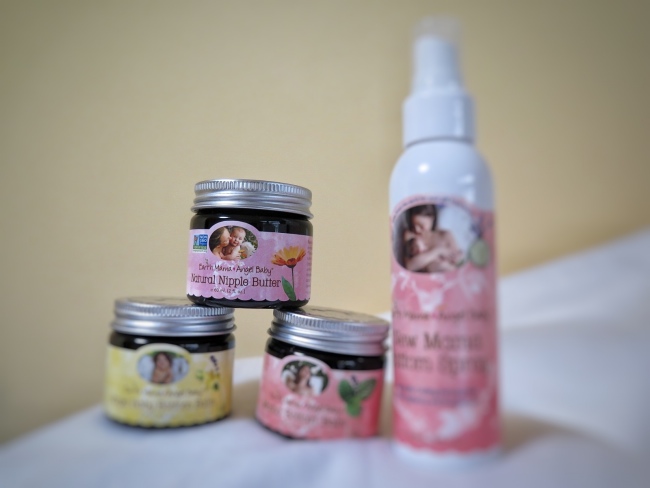 Handsfree Bra (Brand: SimpleWishes, Shop: Thomson Medical)
Love the handsfree bra. Initially without the handsfree bra, I was always dozing off when I pump. Sometime, my hands ache cos of holding the pump too tightly as I afraid it will leak. With the handsfree bra, it is so convenient. I can just surf net and use the phone while I am pumping.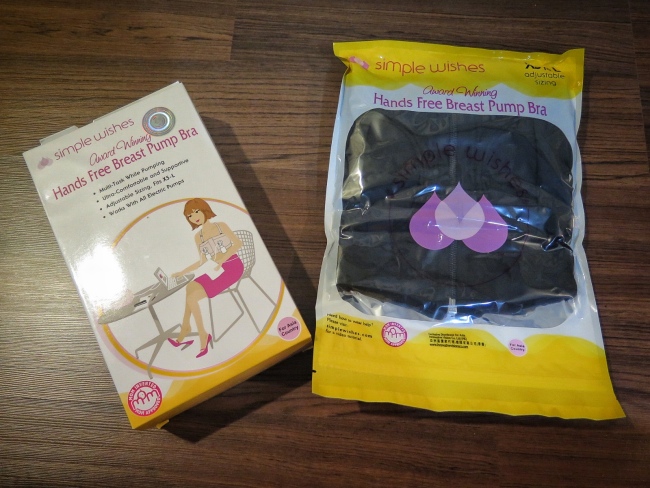 GOING OUT
It is always not easy to go out with babies. Need to ensure all their essentials are with you. At all times, need to be fully prepared as you don't want to rush home to change/ feed them.
Diaper Bag (Brand: Jujube, Shop: Spring Maternity)
Diaper bag from Jujube are very popular. I bought the Jujube B.F.F. Sanrio Diaper Bag. It is a product of collaboration between Jujube and Sanrio. Got my favorite characters like Hello Kitty! Hello Keroppi! Hello Badtz-Maru! Hello Pochacco! Hello Sanrio! This B.F.F has a triangle base which stops it from tipping over. There are also spacious compartments including Mommy pocket for phone and wallet.