Based on Traditional Chinese Medicine practice, we understand that when a woman is very "weak" after giving birth as she loses large amounts of "energy" and blood. Hence, New Mummy usually practices about a month of "Confinement" period. During these few weeks, the new mother will need a lot of rest, follow chinese medical herbs inspired diet and modified lifestyle (E.g. No cold shower). This is to ensure that you have a smooth recovery.
Hence, New Mummies often like to hire a confinement lady who is experienced with cooking confinement meals and taking care of the newborn baby. Seemed to be an easy solution. However, I do hear from friends of their issues with their confinement ladies. Afterall, it is still living with a stranger for a month long. The lifestyle and beliefs might be different and create conflicts.
Some new mummies seek help from their own parents or in-laws or relatives. However, it might not be easy to seek help too as the family members might be working or other commitments.
Recently, I realize that there is a new trend of ordering confinement meals especially when they do not want to hire a confinement lady. It saves the family a lot of effort of cooking and cleaning for the mummy. The family may understand the benefits of the confinement meals but they may not be able to prepare it properly due to lack of experience in cooking confinement meals. These days there are a lot of companies offering confinement meals service.
One of them is RichFood Catering (confinement-meals.com). They are highly recommended by my friends and relative. They offer delectable, healthy and quality (NO MSG) confinement meals. They will deliver straight to your doorsteps and ready to eat. Their confinement meal packages are planned to ensure that the mummy will receive the right necessary amounts of nutrients and benefits for her confinement period. This saves so much hassle for the mummy and family. No more worries that you may overload your family. Mummy can get her rest and the rest of the family can focus and spend quality time with the newborn.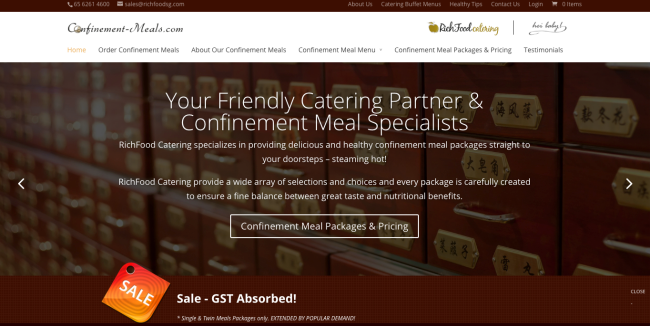 Confinement Meal Menu
RichFood Catering published their confinement meal menu. You can check their menu out at http://www.confinement-meals.com/confinement-meal-menu/. They have a Week 1, Week A, Week B and Week C menu. You will start with Week 1 menu for 7 days (unless otherwise stated) and followed by Week A, B or C menu (depending on the menu that they are running on at that time). In their week 1 Menu, they have the popular Sheng Hua Soup (生化汤)which is a traditional Chinese herbal formula consumed by Asian women right after delivery. It is supposed to aid in the expulsion of toxins, the discharge of lochia and the revitalization of Qi and blood. Due to seasonal nature of vegetable and product availability, they may change the menu without notice. After you made the order with them, you can just inform them 1 – 2 days (before 5.00 pm) at +65 6261 4600 (between 8.00am to 5.00pm) to commence the delivery of meals. Their confinement meals are served in microwaveable disposable containers. This saves a lot of hassle in washing up and also makes it easy to heat up the food.
Confinement Meal Delivery
Their meal delivery service is served from Monday to Sunday (unless otherwise stated). Their delivery for lunch starts from 10.30am to 1.30pm and dinner starts from 4.00pm to 7.00pm. Actual delivery time will vary based on traffic and location. They deliver to most parts of Singapore except for certain parts of Singapore. Customers will be given 1 complimentary thermal bag. I guess it is always best to consume the food immediately. However, if you did not feel like eating when you receive their delivery, you can keep the food warm using their thermal bag. They will also deliver on weekends including public holidays except Eve and 1st three day of Chinese New Year.
Confinement Meal Packages
Before you make the decision to order confinement meals with Rich Food Catering, you may feel skeptical of ordering confinement meals or unsure whether Rich Food Catering suits you. You can actually order their Trial Meal and check whether you like their confinement meals.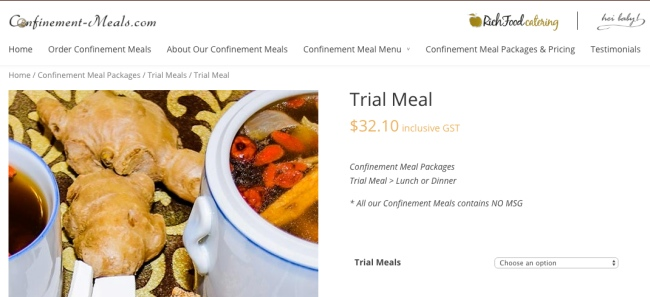 They offer various packages. The most hassle-free is their Twin-meals package (Lunch AND Dinner). You can opt for different duration (7, 14, 20 or 28 days). You do not need to worry about your daily 2 meals. Just only need your normal breakfast. I understand most of my friends just had simple breakfast like milo and bread. All their meals come with complimentary Logan Red Dates Tea and Plain Rice (Fried Rice w/ Ginger & Eggs served on every Wednesday – Dinner Only).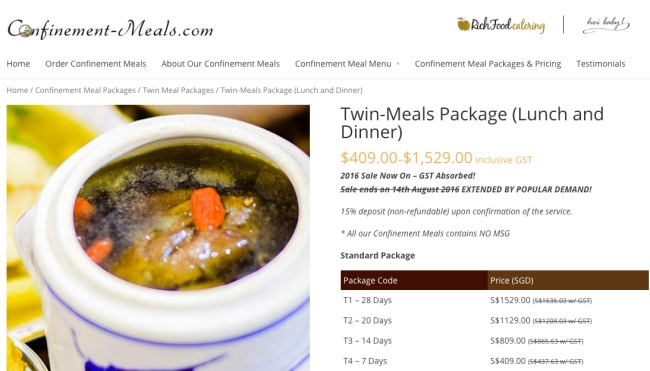 They also offer Single-meal package (Lunch OR Dinner). Similarly with the Twin-meals package, you can opt for different duration (14, 20 or 28 days). I think this option is great for people who still want to enjoy their own family cooking but still want to save some hassle. (E.g. Perhaps New Mummy's Mother in Law is still working and is only available to cook dinner). You will enjoy the best of both worlds.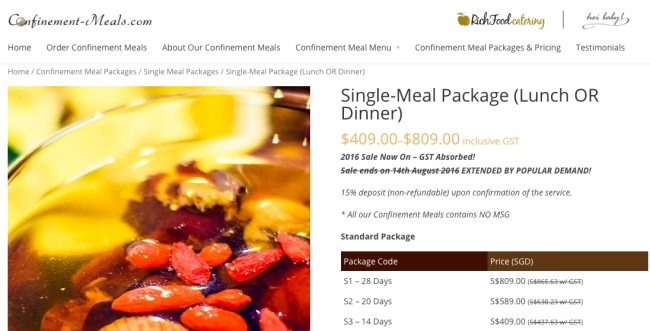 They even offer an option where not just saving the hassle for the New Mummy but also their loved one (E.g. Hubby). You can just simply add on a normal meal to the confinement meals. It comes with (1 Plain Rice, 1 Nutritious Soup, 1 Meat, 1 Vegetable, 1 Side Dish).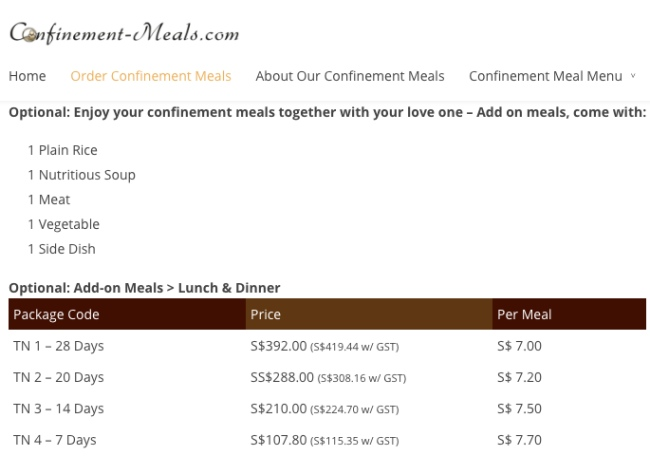 Payment
There is a 15% deposit (non-refundable) upon confirmation of the service.
They have various modes of Payment:
– Payment for Deposit: Cheque via Mail & Internet Bank Transfer
– Payment for Balance Amount: Cash or Cheque or Internet Bank Transfer on first day of delivery
Above information is for reference only. Please always contact RichFood Catering (confinement-meals.com) for latest details.