Artemis Grill ~ Located on the 40th floor of the city's latest Green landmark CapitaGreen in Raffles Place. Offering a stunning Marina Bay cityscape, the restaurant also showcase the Mediterranean-inspired flavours with Fresh, Organic and Sustainable produce.
Many thanks to Artemis for the wonderful invitation. Special thanks to Chef Fernando Arevalo for the amazing dishes, Rico for the lovely cocktail, Anant and Marina for hosting us that evening. An awesome sky-high dining experience.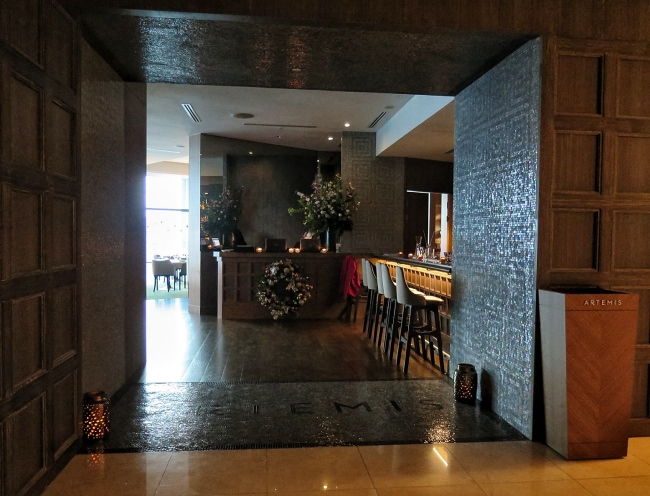 AMBIENCE
An elegantly designed 120 seater restaurant which also offers a private room seating of up to 40 pax. It was quite crowded for a Tuesday evening. I understand that lunch time they are always very packed. Do make reservations in advance to avoid disappointment. They are popular for friends gathering, business dining, and romantic couple dates. I also understand that they also host corporate presentations and weddings.
Not only does the restaurant offer delicious dishes, it also offer you an awesome visual feast – Stunning Marina Bay cityscape whatever time of day you are admiring it! Day or Night. Always so beautiful. Just Sit back and soak in the beauty of the view.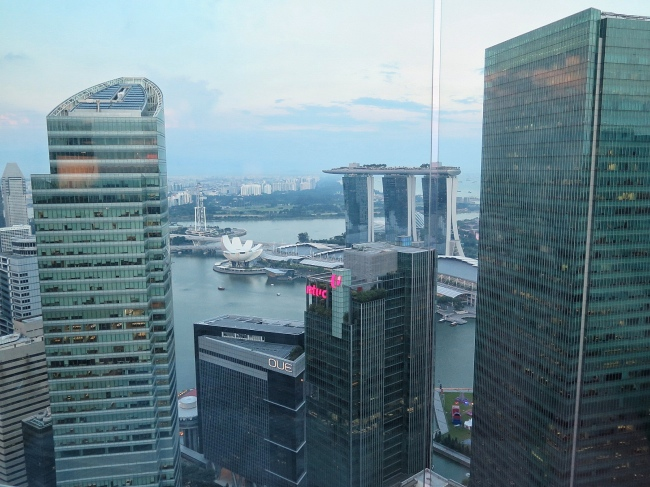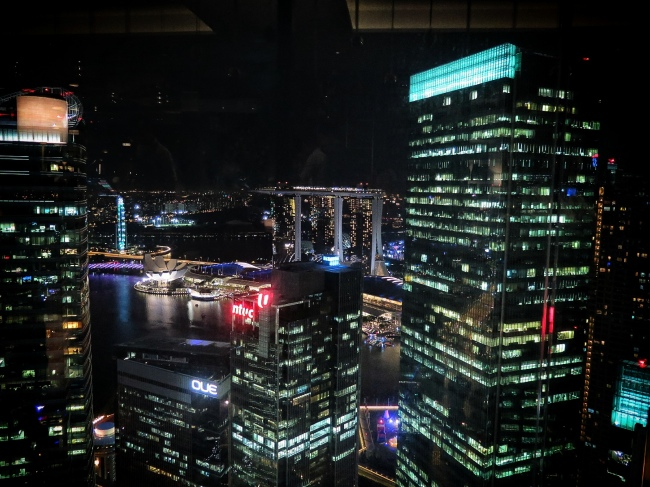 The brown shades and the decorations makes the restaurant contemporary and stylish. It creates a warm and welcoming atmosphere. Making it very relaxing after a long busy day at work. The unique table flower arrangement also add charm to the place.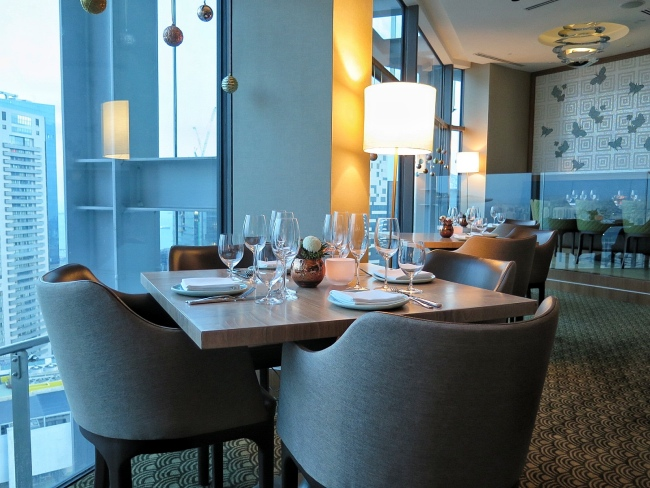 You definitely should not miss their bar! Especially if you work in the area, it is another great place in the area to chill out. They have the 2 tower fans. Making the place pretty cooling. The cocktails by Rico and the team are also awesome. There is also a lovely 100 year-old Spanish olive tree as its centerpiece. Nice to enjoy a lovely cocktail while admiring the amazing view.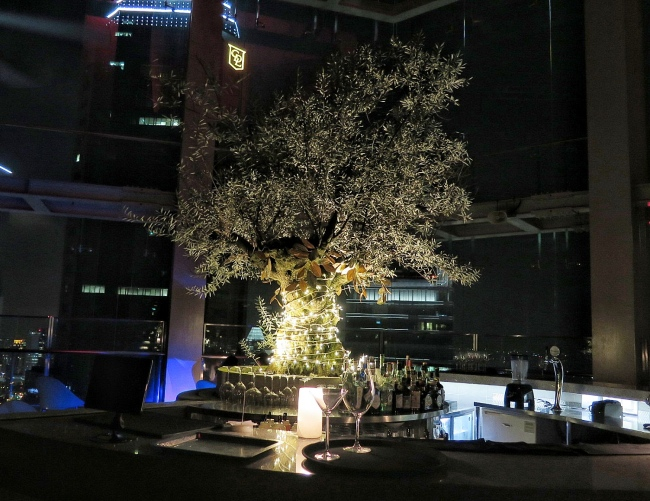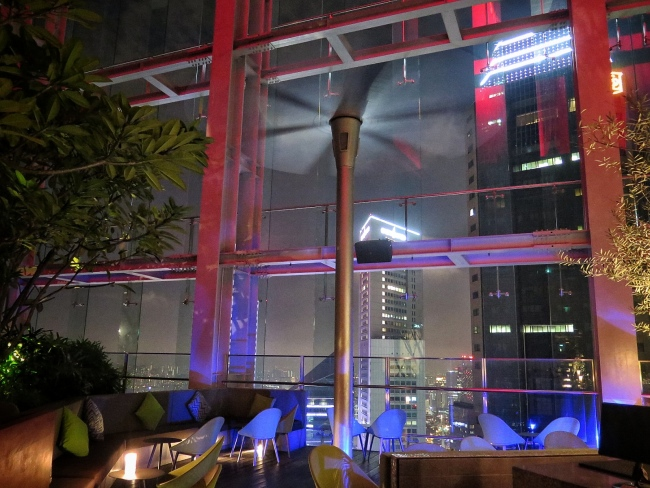 SERVICE
I am honored to meet the talented man behind the amazing dishes. Chef Fernando Arevalo together with artisan suppliers are committed to ensure the restaurant's quality and sustainability. Their fish and seafood served are sustainably sourced. Their meats are hormone-free and grass-fed. Their vegetables are organic where available and source locally. The ingredients feel so safe and environment friendly.
The service staff are also very friendly and attentive despite the evening crowd. Anant who was hosting us is very knowledgeable on the dishes. Excellent Service!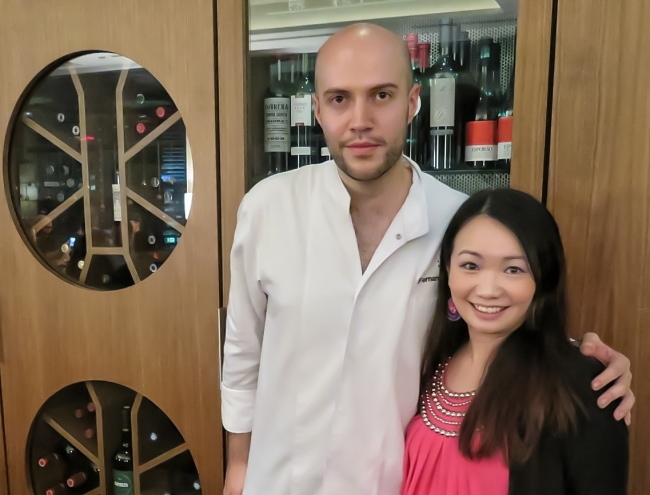 FOOD
~ BREAD ~
They offer 4 complimentary types of breads served warm on their bread tray. The olive oil is especially made for Artemis. You can dip the bread in the olive oil and sprinkle some of their Dukkah dip – mixture of nuts and spices. Butter is available upon request.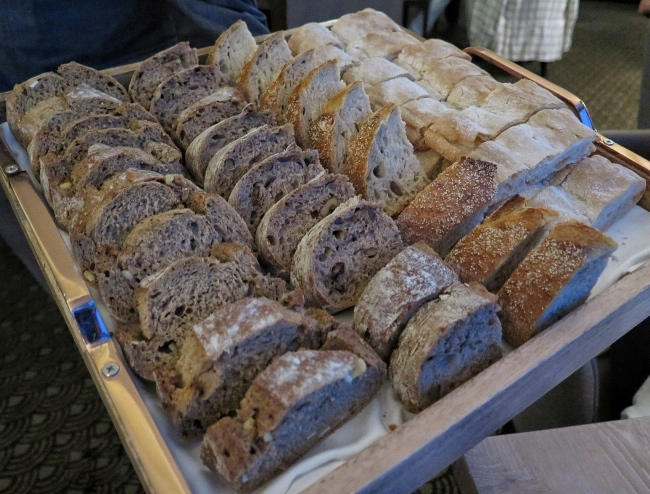 ~ WILD SEABASS SASHIMI – S$42 ~
Wild Seabass Sashimi with Corsian Coppa (Cold Pork Cut), Finger Lime and Avocado Mousse. The Seabass Sashimi was very fresh. The flavorful Corsian Coppa is an ingenious complement to the sashimi. Giving it a salty kick. A Refreshing Beautifully Presented dish.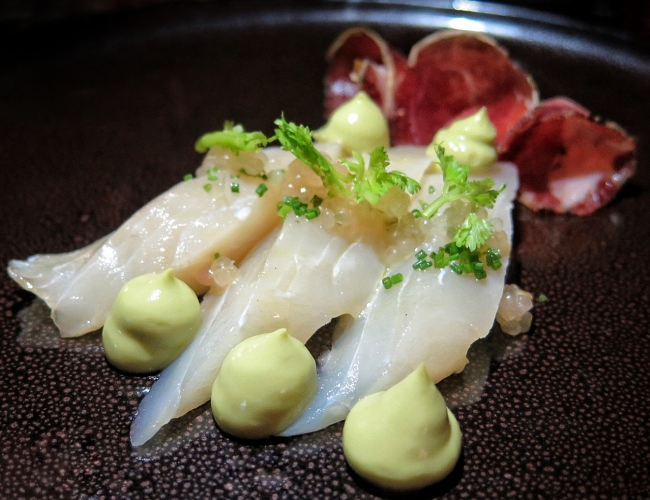 ~ HEIRLOOM BEETROOTS – S$22 ~
Heirloom Beetroots with Buttermilk Beetroot Horseradish Ice Cream, Walnuts, Shropshire Cheese, Saba and Marsala Reduction. Beet root, a dark red vegetable that is known to be a very healthy vegetable. I understand it may improve blood flow and lower blood pressure. It is interesting that they have even made the Beetroot into a Ice Cream with extra punch from the Horseradish.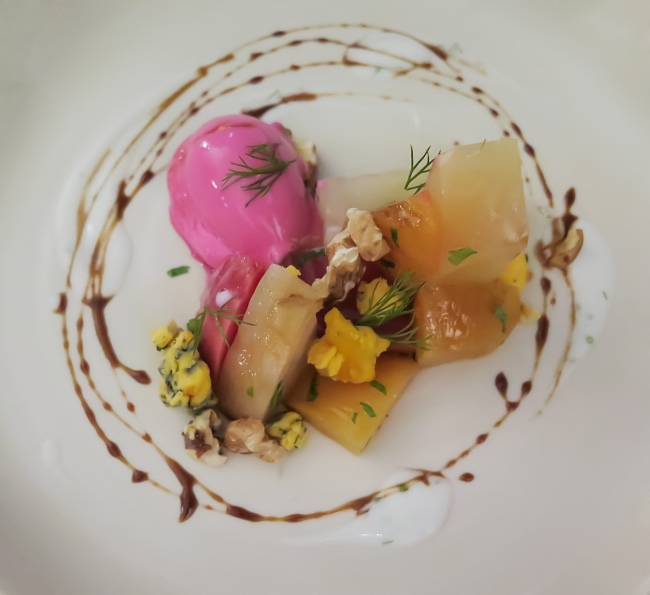 ~ CHARGRILLED SPANISH OCTOPUS – S$22 ~
Chargrilled Spanish Octopus with Confit (Slow Roasted) Cherry Tomato, Preserved Lemon Pickled Padron Peppers. The Octopus was cooked to perfection! It is evenly browned but the inside remain juicily moist. So Flavorful! I totally love this dish!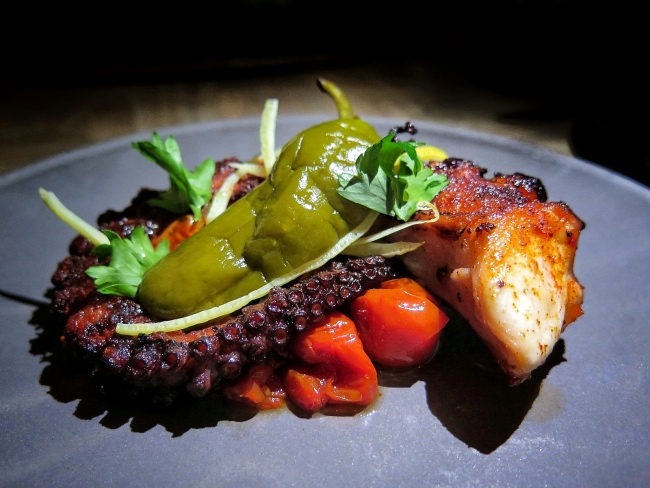 ~ TRUFFLED CHERVIL ROOT – S$66 ~
Truffled Chervil Root with Squash Gnocchi, Comte Cheese, Egg Yolk and Alba White Truffle. As soon as Chef Fernando Arevalo arrived with the dish, the magical fragrance from the Alba White Truffle tickled our senses. I had never heard of Chervil Root. It tasted like a carrot but the texture was more like a firmer version of a potato.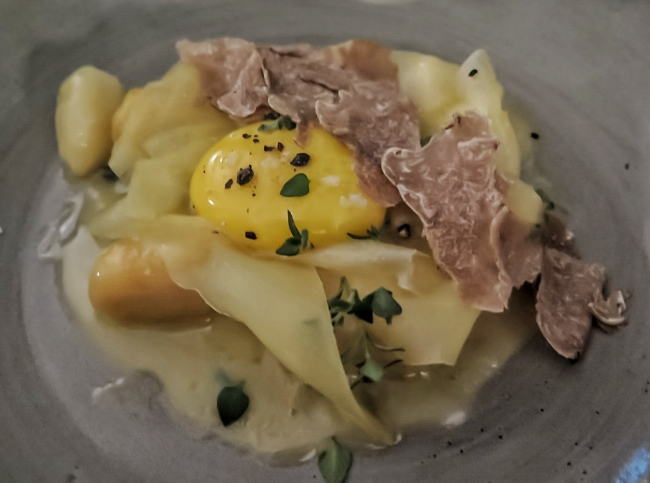 ~ MEY SELECTION GRASS-FED BLACK ANGUS TENDERLOIN – S$52 ~
(200g) Dry-Aged Mey Selection Grass-Fed Black Angus Tenderloin, Potato Puree, Caramelized Pearl Onions, Red Wine Jus. The Beef together with the red wine was very Flavorful and Juicily Tender. An awesome steak!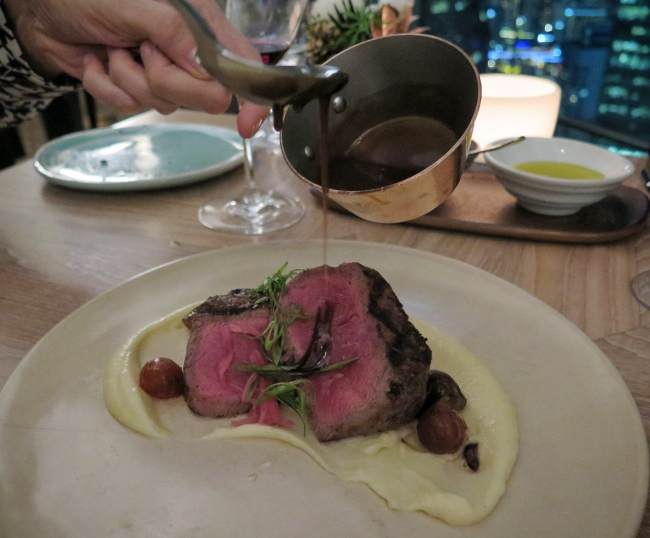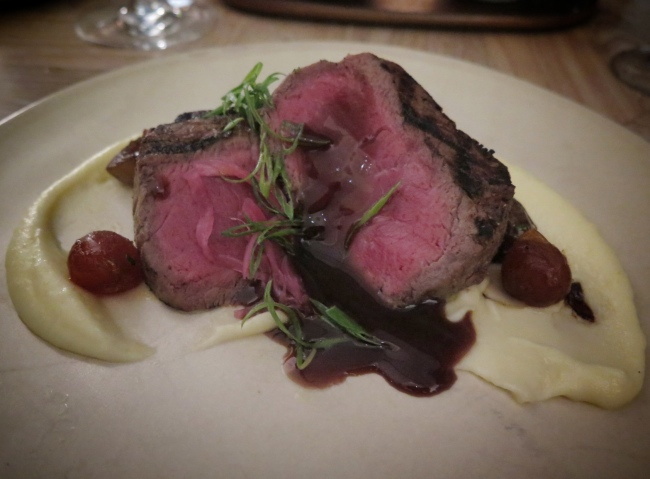 ~ SLOW-COOKED IBERICO PORK PRESA – S$48 ~
Slow-Cooked for 7 hours Iberico Pork Presa with Geneva Apple, Apple Comote, Buttered Turnip and Dolcemente. The pork was lean but very tender and juicy. The sweetness of the geneva apple complemented very well with the flavorful Iberico Pork Presa. Nom Nom!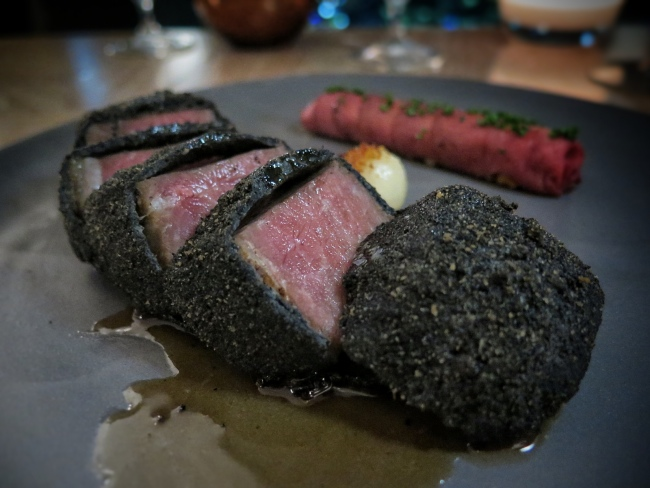 ~ COMICE PEAR TART – S$22 ~
Comice Pear Tart with Muscat Grapes, Saba Cremeux, Iberico Chips and Pear Sorbet. A dessert was always important to have a sweet ending for a lovely meal. The Comice Pear is one of the sweetest and juiciest pear varieties. Pear is one of my favourite fruit. The muscat grapes also bring the sweetness of the dish to another level.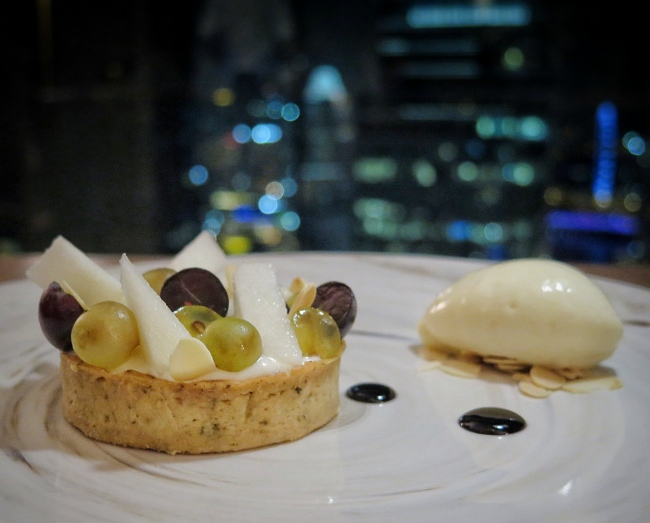 ~ PASSION FRUIT TEA MOCKTAIL, JP RIZAL COCKTAIL – S$22 ~
The cocktails by Rico and the team was amazing. We had the Jp Rizal Cocktail (Don Papa Rum, Pineapple, Calamansi and Coconut) and Passion Fruit Tea. We understand their syrups are even self-made in-house. You could see the attention they pay on every step for their dishes and their drinks. Thumbs Up!~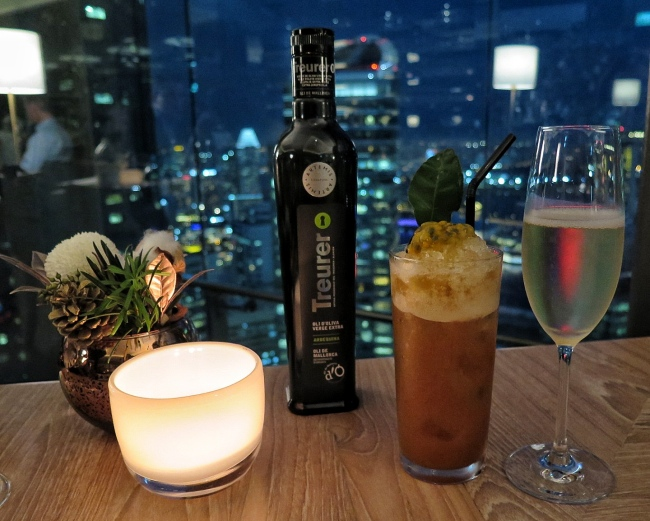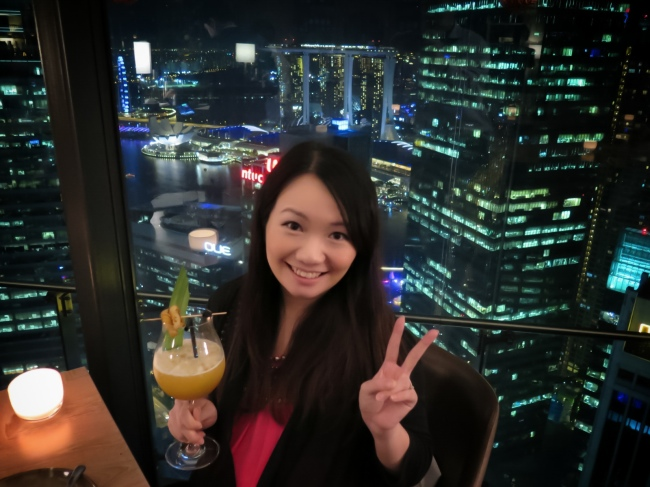 ~CONCLUSION~
Artemis Grill ~ Located on 40th floor of the city's latest Green landmark CapitaGreen in Raffles Place. An elegantly designed 120 seater restaurant which also offers a private room seating of up to 40 pax. Popular for friends gathering, business dining, and romantic couple dates. Offering a stunning Marina Bay cityscape, the restaurant also showcase the Mediterranean-inspired flavours with Fresh, Organic and Sustainable produce. Great Service and Amazing Dishes. We especially enjoyed the Flavourful Chargrilled Spanish Octopus, Slow cooked Iberico Pork Presa and Mey Selection Grass-Fed Black Angus Tenderloin. Their cocktails are too good to miss!
We tried the following:
– WILD SEABASS SASHIMI – S$42
– HEIRLOOM BEETROOTS – S$22
– CHARGRILLED SPANISH OCTOPUS – S$22
– TRUFFLED CHERVIL ROOT – S$66
– MEY SELECTION GRASS-FED BLACK ANGUS TENDERLOIN – S$52
– SLOW-COOKED IBERICO PORK PRESA – S$48
– COMICE PEAR TART – S$22
Address
CapitaGreen Rooftop
Level 40, 138 Market Street
Singapore 048946
Contact No.
+65 6635 8677
Nearest MRT Station
Raffles Place MRT
How to get there
Show Map
Website
View Website
Facebook
View Facebook
Instagram
View Instagram
Price Range (per pax)
Above S$100
Opening Hours
Mon to Fri: 11.30am to Late
Sat: 6.00pm to Late
Sun: Closed
Recommended Dish(s) to try
Chargrilled Spanish Octopus
Slow cooked Iberico Pork Presa
Grass-Fed Black Angus Tenderloin
Comice Pear Tart
Cocktails