Ever since Little Prince Travis was born, we were so busy. Being a first-time Mummy has a lot to learn. How to use breast pump? How to change his diaper? How to feed him? All are so NEW. Planning his Full Month Celebration Party is also definitely a new experience. It brought back the old memories when we organise wedding dinner. Booking a Venue. Confirming Guest List. Sending out invites. Deciding the Theme. Booking and Buying all the food and decorations. I have only less than a month to do all these while taking care of him.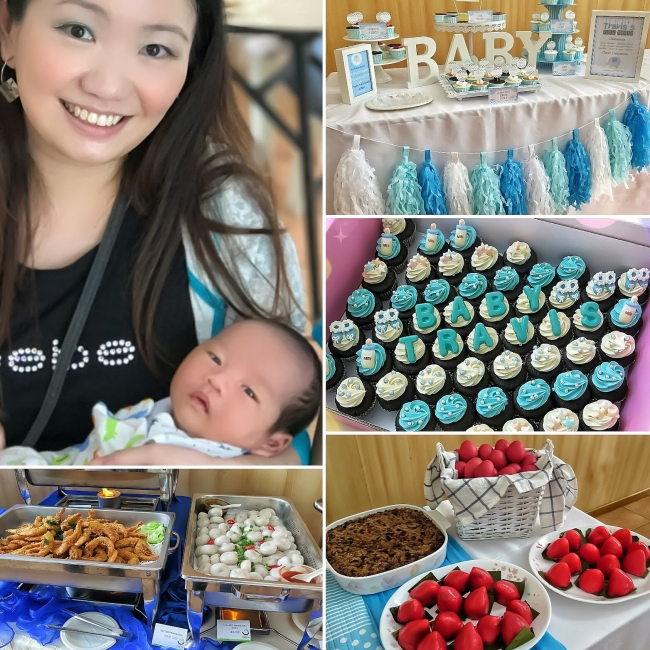 Did some research online. Wow some mummies have organised amazing full month celebration party. Since I don't have a lot of time and help, I decided to keep things simple.
~VENUE~
We thought about holding it at home but feel our house is too small to accomodate the number of guests. The thought of cleaning up our house after party is also daunting. Luckily, we managed to book our relative's condo clubhouse function room. Great Venue Settled!
~GUEST LIST~
Now the guest list~ Haha remind me of our wedding dinner. Luckily no table planning required. We drafted out the list of invitees. Due to space constraints, we also couldn't invite all our friends and relatives. Finally the invite was sent out and we managed to confirm the estimated attendance. This is important as I need to estimate the amount of food to order. Great Guest List Settled!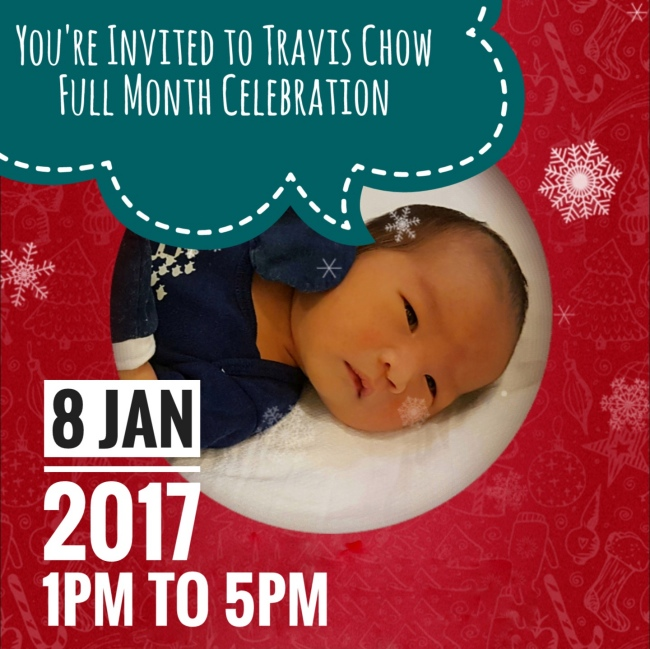 ~FOOD~
One if the key highlights of the celebration party. FOOD! So What food to get for the day?

Buffet
We ordered the Premium Delight B Buffet from Deli Hub Catering (A Subsidary of Neo Group Limited). Deli Hub is also Halal Certified. The guests especially love their Signature Curry Chicken! They were also nice to allow me to change the dessert and pastry to other dishes.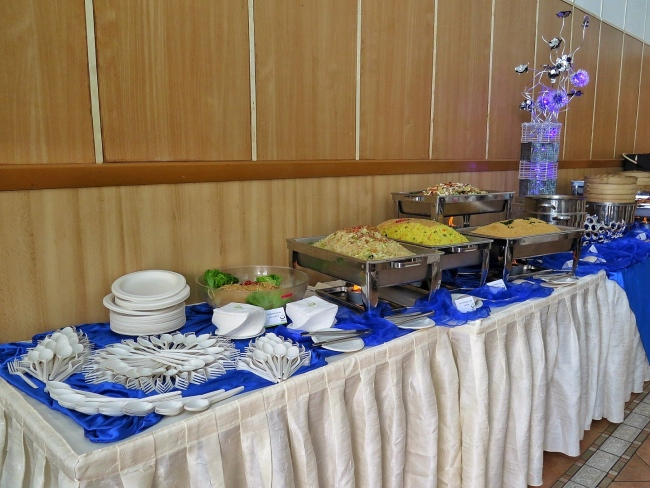 Desserts
I had 2 types of cupcakes. I had ordered from Jara Petit a dessert table with their popular cheesecups. What a beautiful dessert table! Great Simple Decoration and save a lot of my efforts on trying to doll up the place. The Cheesecups are also delicious, creamy and smooth. The Cookies and Cream and Classic Cheesecups are the popular ones among my guests. You can find out more about my dessert table by Jara Petit here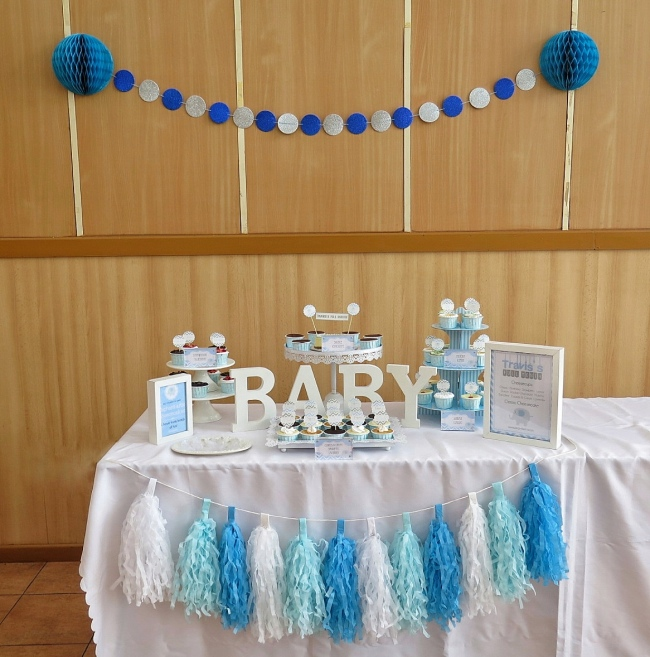 I also ordered Mini Baby Blue Cupcakes (54 pieces) from Sweetest Moments. Awww they are so adorable and delicious. They are a hit among the little kids!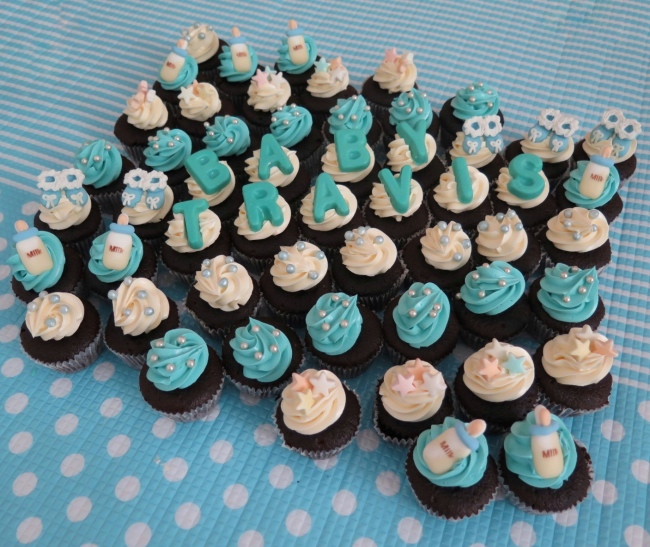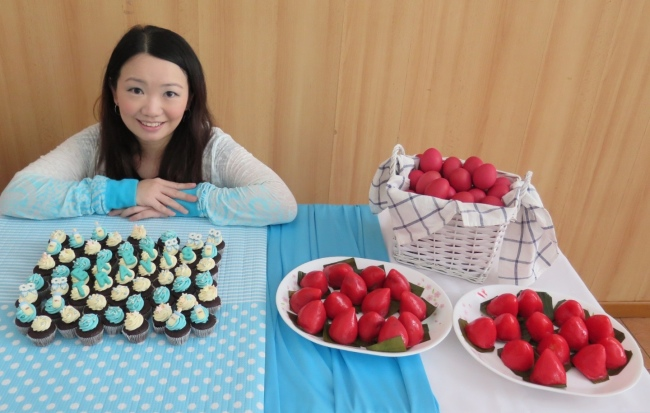 Traditions
Not forgetting the traditions. My relatives made the Red Eggs and Glutinous Rice. I understand that red egg symbolizes happiness and the announcement of a newborn baby arrival. Glutinous rice is popular among Hokkein dialect to distribute along with red eggs. We also bought the delicious Ang Ee (Peanut or Green Bean Paste) which are from Ji Xiang Confectionary. Ang Ee are given out with the red eggs as gifts if the baby is a boy. If the baby is a girl, Ang Ku Kueh given out instead. Instead of distributing all these as packages, the red egg, glutinous rice and Ang Ee are presented as part of the buffet. Guests can eat at the party or takeaway. This allows more flexibility and the guest get to pick what they like.