Do you like Beauty Collagen Soup? I love to use collagen soup in my dishes, especially for hotpot! So nourishing! Last time, I will make my own soup broth. I will need to buy a lot of pork bones, chicken bones, and chicken feet. Blanch the bones. Then use my pressure cooker to cook for hours. Then sift out all the bones and freeze the soup. Sound like a hassle! I am so glad that it is so convenient to use frozen collagen soup base. With this, I cook hotpot more often these days as it is convenient and perfect for cold weather. I just had to buy ingredients and a soup base. Dinner is ready to serve! Haha!
One of my favourite collagen soup base source comes from noMSG – Beauty Collagen Soup. It strives to eliminate the stress and hassle of a mother when meal prepping for her babies or family. This is awesome! Often, we are so busy taking care of our little ones that we do not have enough time to prepare delicious and nutritious meals. It offers 100% natural collagen soup bases with no MSG, additives, and preservatives. There are 2 options: Premium Chicken Collagen soup and Premium Pork Collagen Soup. It offers free island-wide delivery on all orders above $40 (w/o Collagen Soup) or $80 (with Collagen Soup) in Singapore. It uses FDA Food Grade packaging which can withstand temperature of up to 100•C and prevent leaking when frozen. Their Collagen Soup is produced in batches daily. This will help to ensure freshness so that the aroma and taste will still be at their optimal.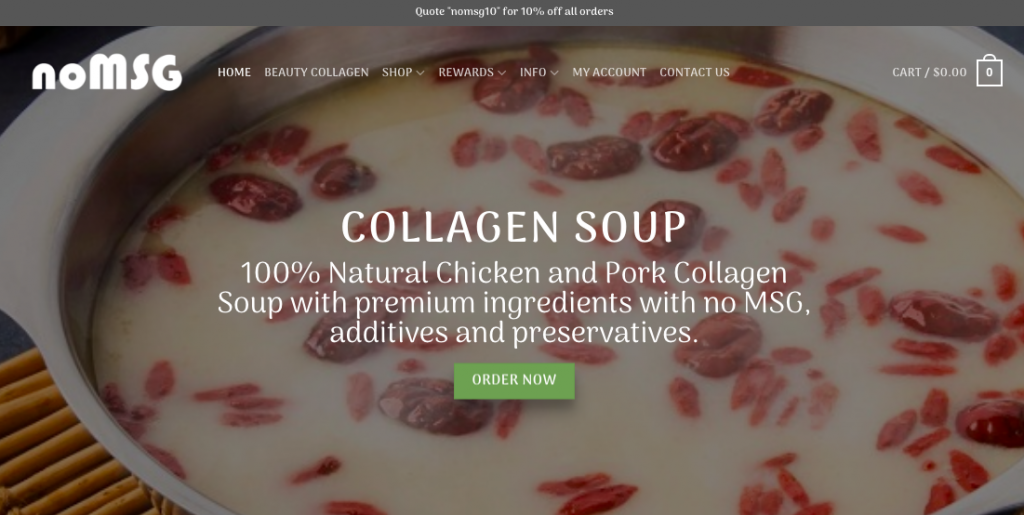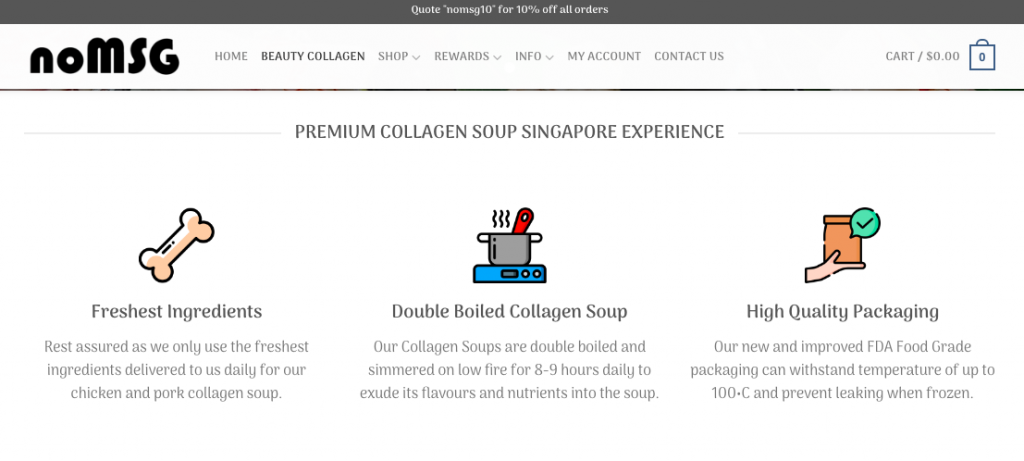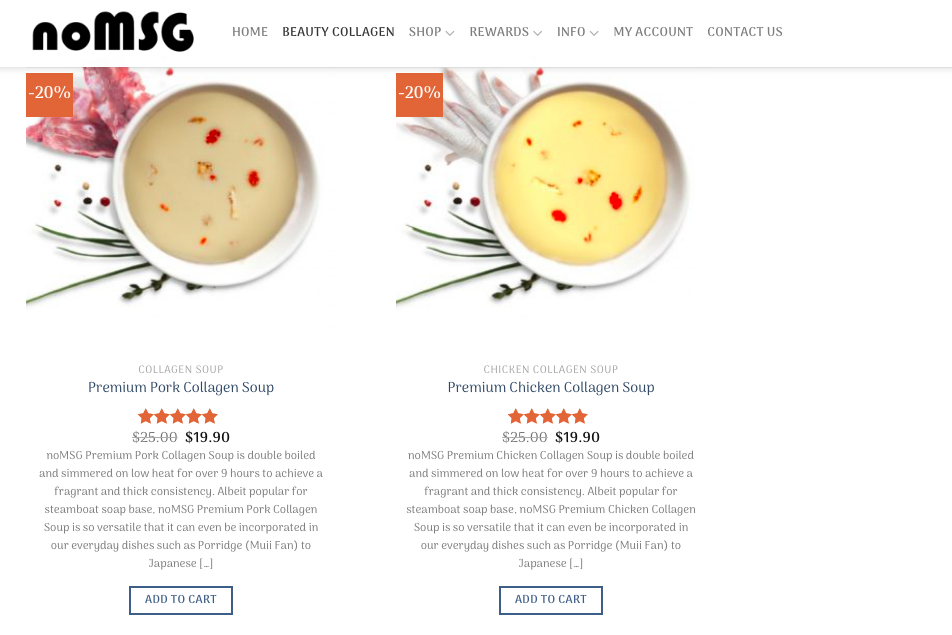 Their collagen soup is frozen in pouch of 1 liter. It is perfect for steamboat. I just need to thaw 1 pouch and good for steamboat for my family of 4 (2 Adults and 2 Children). I actually only need to add water 1 time for us. noMSG Premium Pork Collagen Soup is made by double-boiled pork bones and simmered on low heat for over 9 hours. For noMSG Premium Chicken Collegen Soup is made with chicken bones and chicken feet. Both types of soup bases are very fragrant and pretty thick. I think it greatly depends on whether you are a chicken or pork lover. My family prefer pork soup base as the flavour is stronger. The chicken soup base is lighter. I think it will be also good to use to cook ramen too. It is not salty and I don't feel thirsty despite we drink up almost the whole pot of soup. For steamboat, I don't think it is necessary to add any seasoning as the ingredients will already add a lot of flavours. (Tip: I will also add some red dates and wolfberries to enhance the flavour).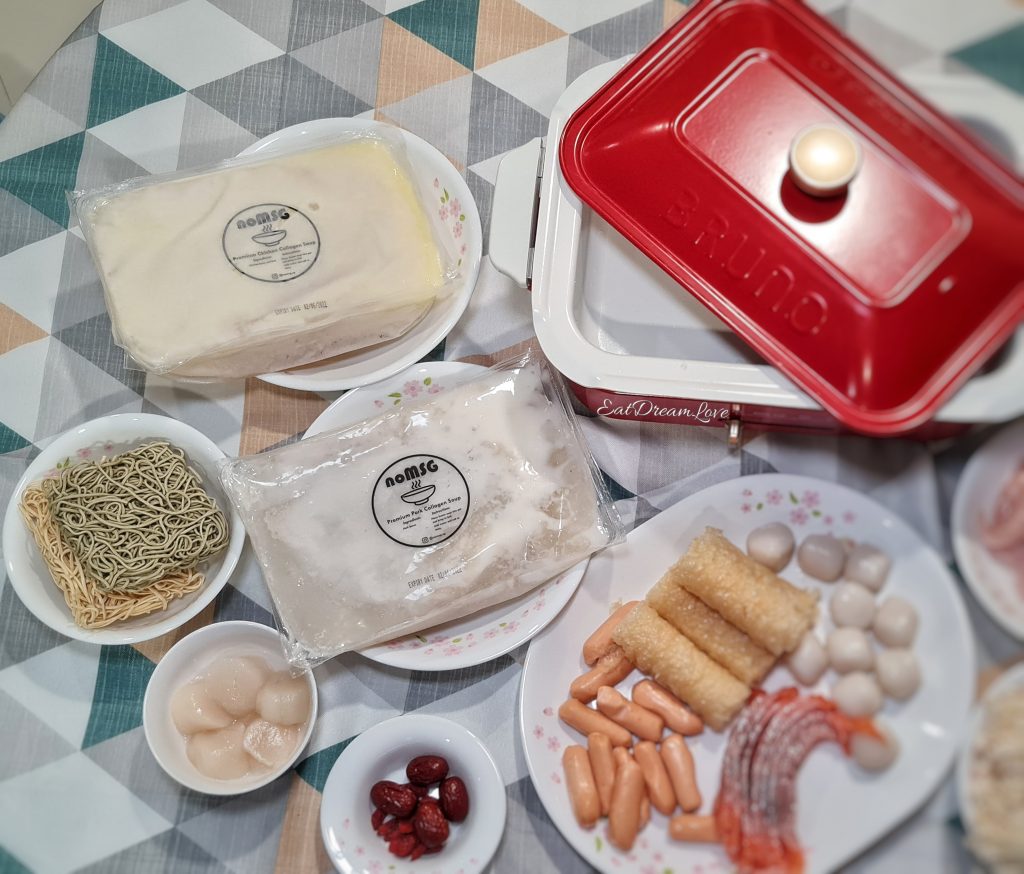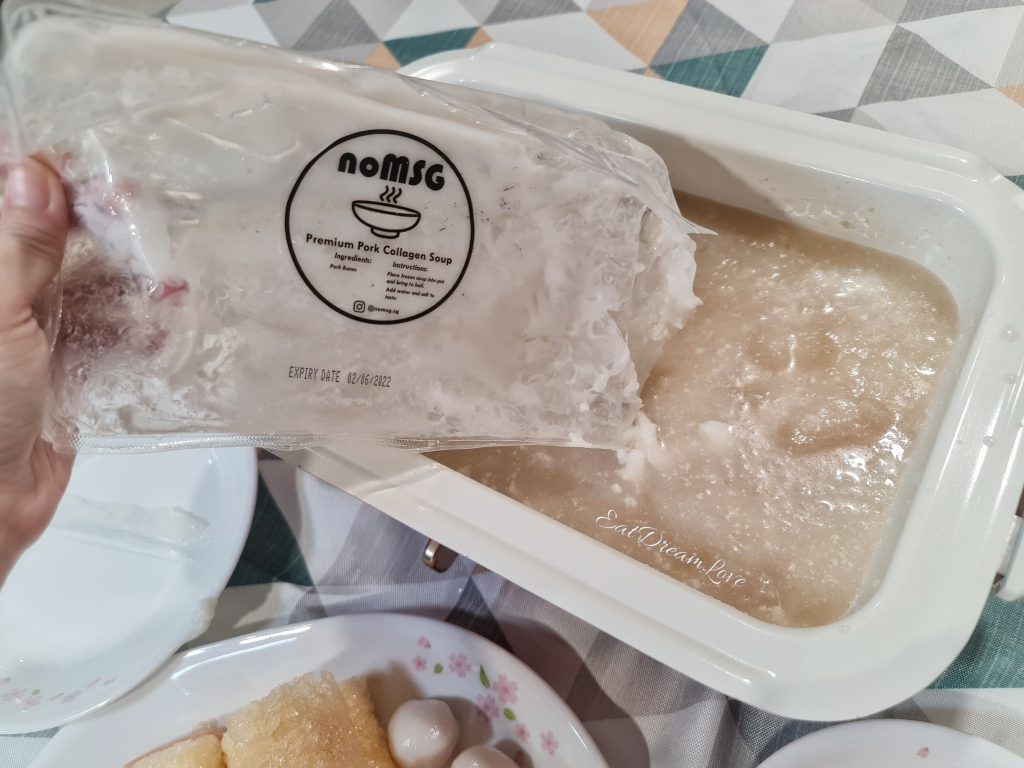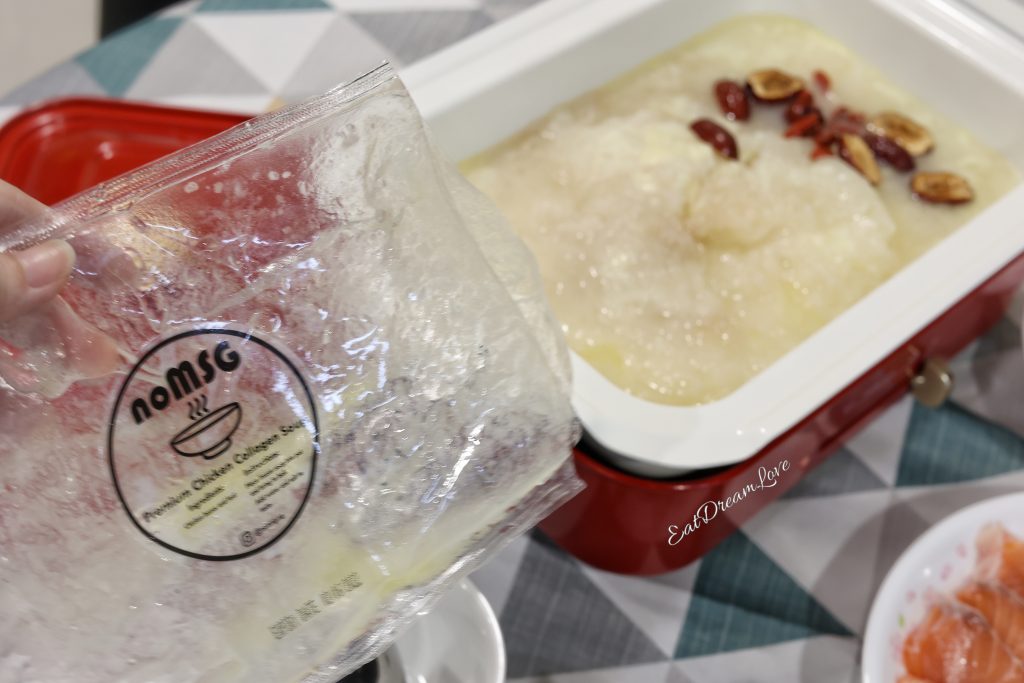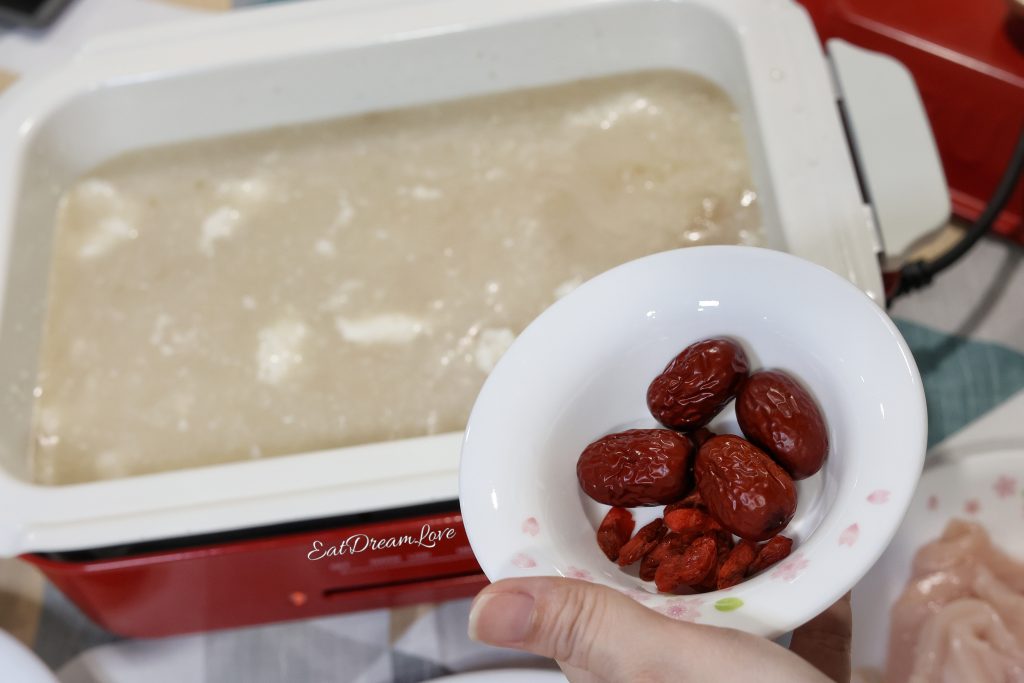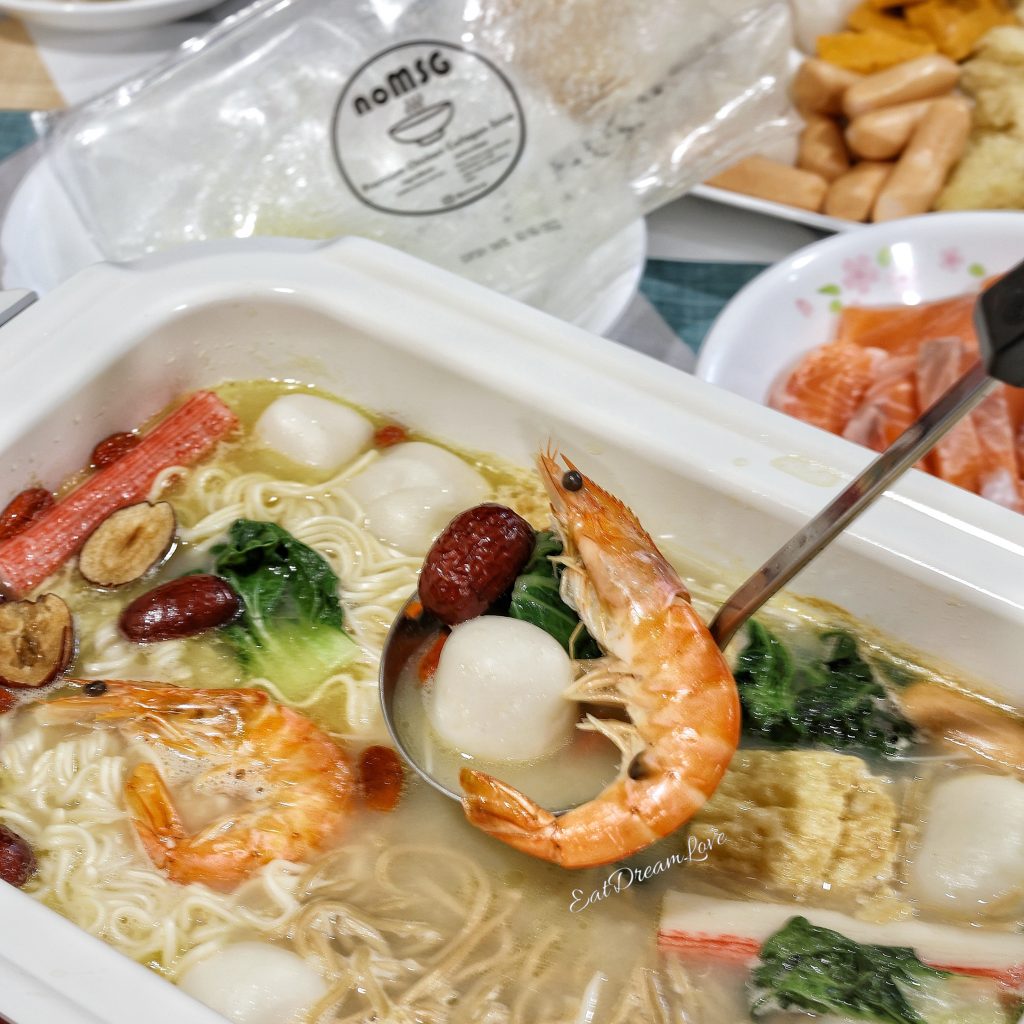 noMSG also offers food seasoning powder like Ikan Bilis Powder, Scallop Powder, Whitebait Powder, and Mushroom Powder for babies and infants. I love to use food seasoning powder when I cook for my boys. It makes the food more flavorful and nutritious with minimal effort. This is perfect for busy working mummies!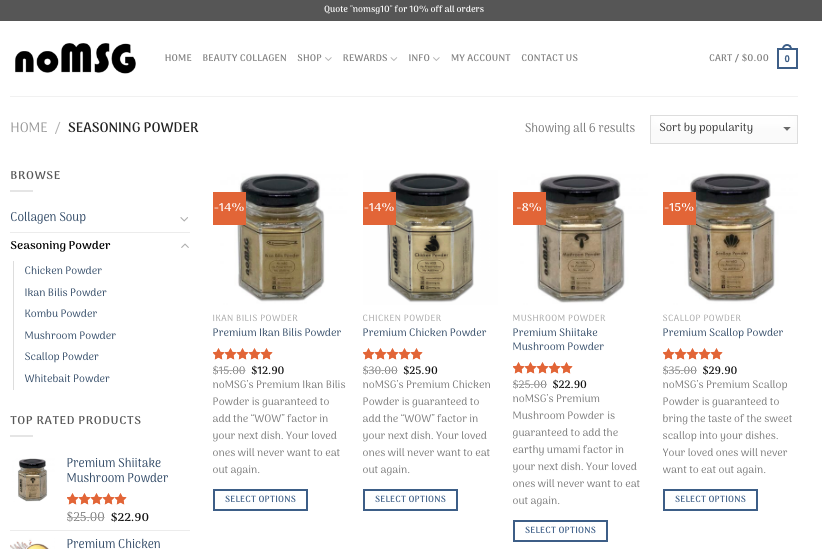 Above information is for reference only. Hop on to noMSG – Beauty Collagen Soup for more information.