Founder Bak Kut Teh ~ One of Singapore Popular Bak Kut Teh. Frequently patronised by famous oversea celebrities like Chow Yun-fat when they are in Singapore. I went to the Balestier outlet since young. It is always crowded with long queue and parking is often an issue. I am delighted to know that they have another new outlet at Hotel Boss with more parking spaces. Thank you Founder Bak Kut Teh, Eunice and Ah Lem for having us. We had an awesome time and delicious food! Impressive that they have been selling Bak Kut Teh since 1978! More than 30 years. Cool! Older than me! Haha!
If you are at the Hotel Boss lobby, you will be greeted with the signboard on the pillar to direct you to the restaurant. The entrance is outside of the building (facing the road outside).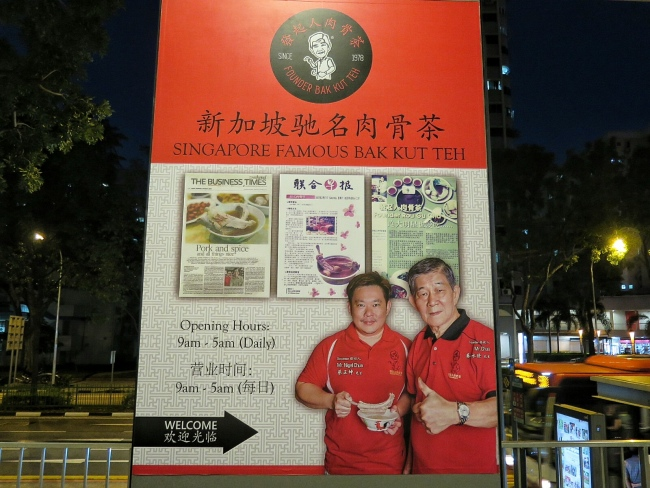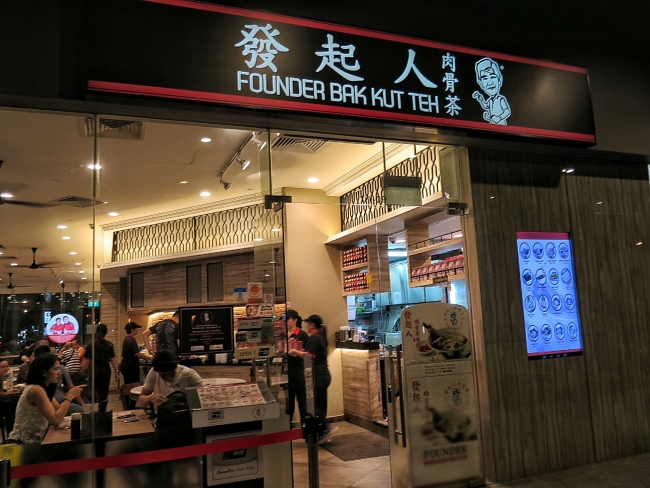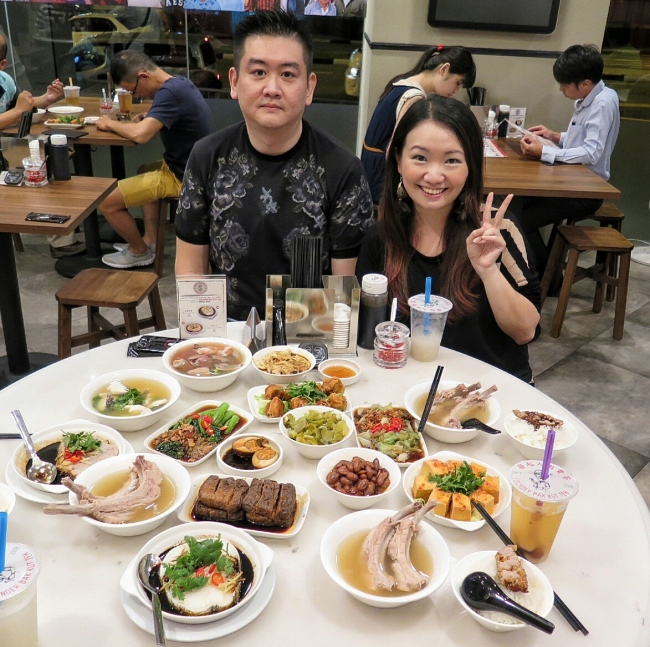 Ambience
First thing you will notice is there are many pictures of celebrities who have patronised the place. So you know how famous this place is. Some of the Bak Kut Teh shop I patronised are very cramped and you can just hear all the conversations from the next table. Hence, I am glad that the place is quite spacious. I noticed their setting also include round tables which are ideal for family or friends gathering. They have long operating hours – 9am to 5am. Good place for supper! I understand the crowd grew as the night progressed.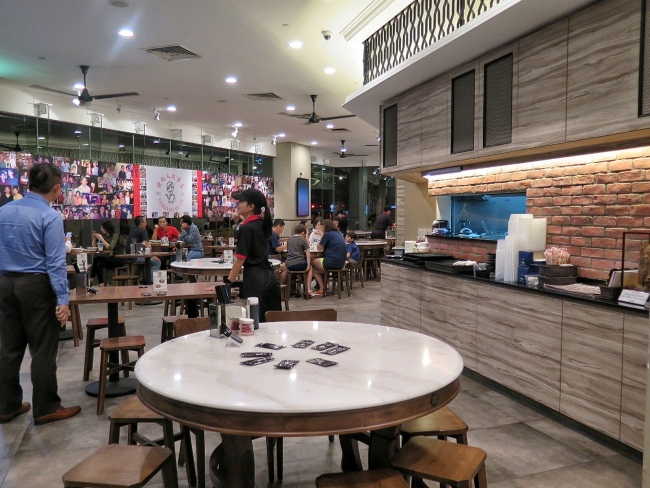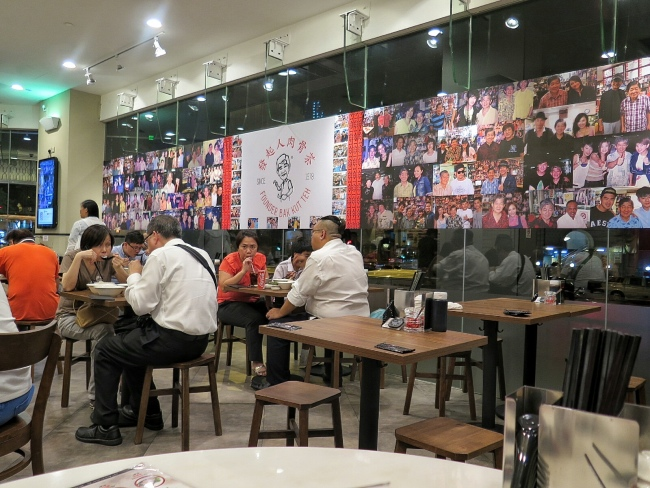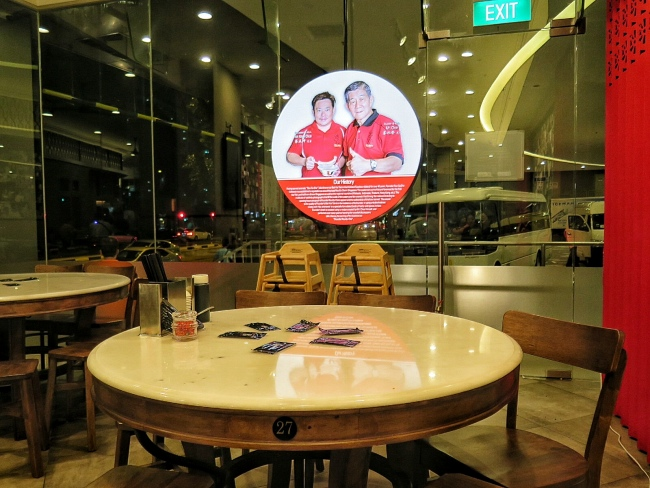 Service
I noticed that they have the service bell system at each table. I always think this is so much more convenient for customers and service staff. You don't need to be shouting or waving madly at the staff. The staff also wont' need to keep asking whether you need any assistance and disturb your meal.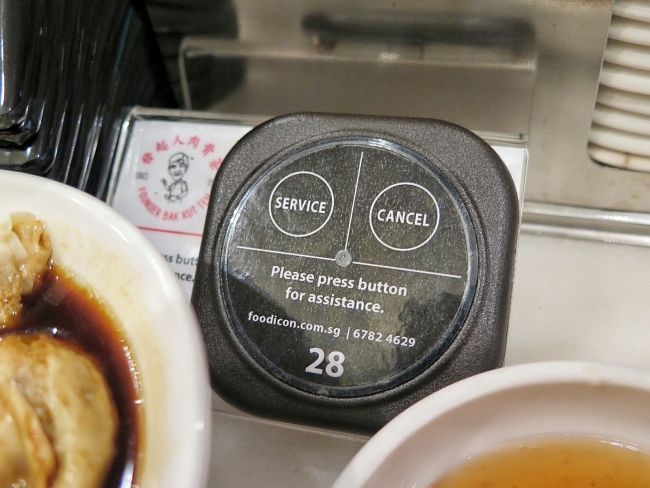 Food
Premium Ribs Soup S$10 – Their soup base is the clear peppery soup version of Bak Kut Teh. Look at the long premium ribs! So big! I understand The pork they use here are fresh pork ribs from Indonesia or Australia. The soup is not too strong or salty. It feels light which is more suitable for me. When the soup is too strong, it is harder to enjoy it on its own. They also have different types of ribs like the premium short ribs catered to everyone's preference.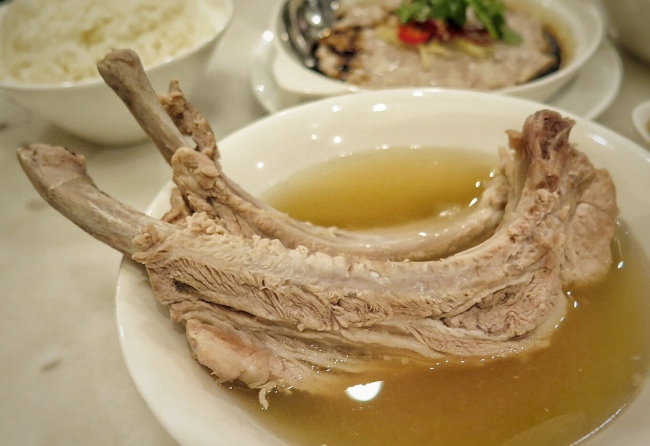 Steamed Cod Fish S$18.80 ~ One of my favourite here! Healthy dish filled with Omega 3. It is very fresh! The fish is so smooth and tender. The sauce is also not too overpowering so that you still able to savour the freshness of the fish.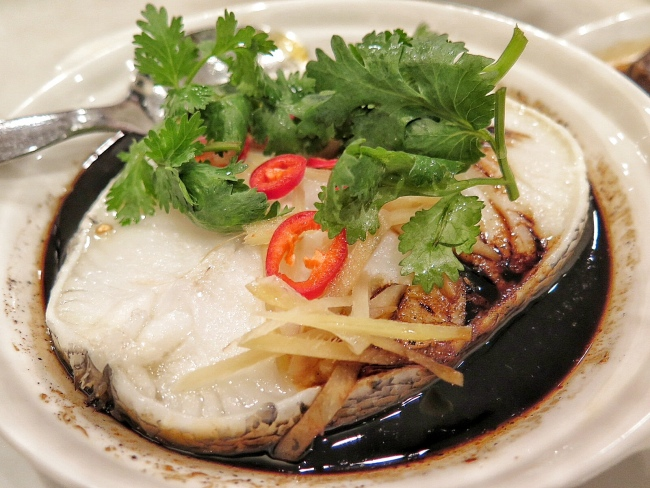 Steamed Minced Pork S$6.80 ~ Another simple nice dish which goes very well with rice. It is also using the same sauce with the cod dish. The sauce again doesn't overpower the meat and not too salty.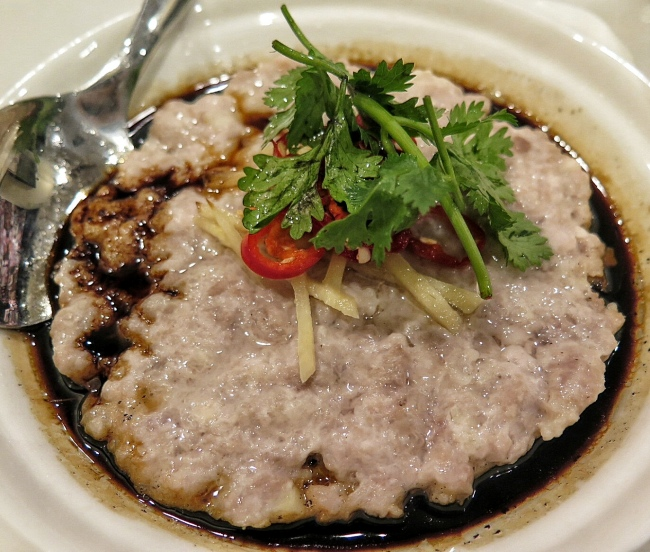 Braised Pig's Trotter S$8, S$10, S$12 ~ Wow Pig Trotter! The pig trotter has a well-balance amount of meat, skin and fats. This is awesome as you won't want the dish either just have too much lean meat or too much fats. The tender meat, skin and of course the fat all melt in your mouth.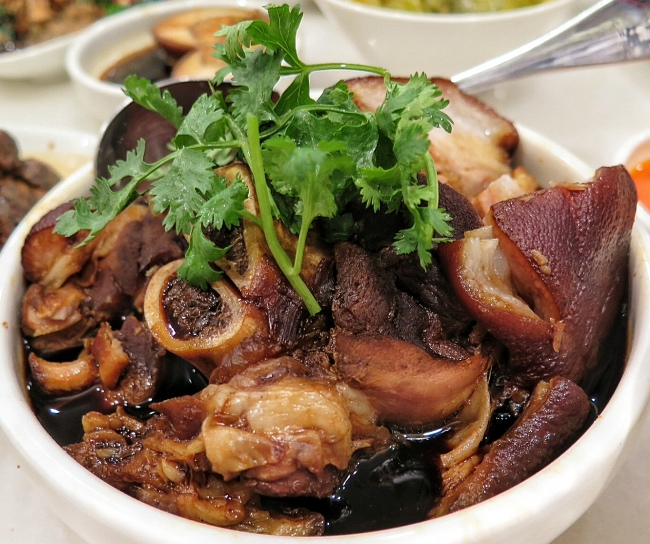 Fried Beancurd S$5.80 ~ Love the crispy outside and soft inside. Together with the Sweet Thai style chilli sauce. It is very appetising.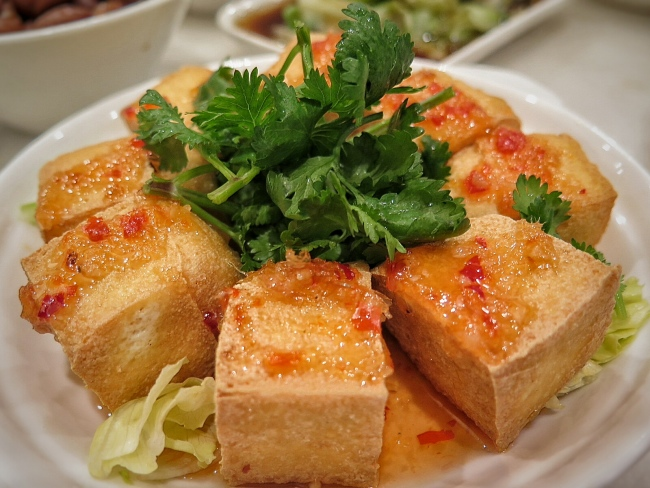 Crispy Prawn Roll S$5.80, S$10.80 ~ I always like Fried Prawn Roll dish. I find their version very crispy and not very meaty. Feel quite light. I still enjoy the dish!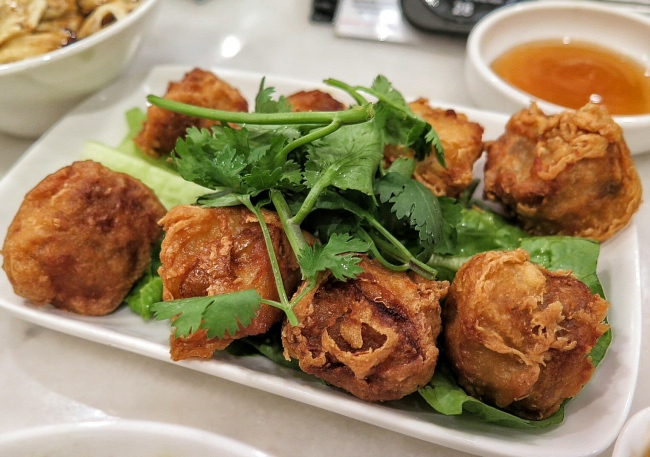 They also offer other delicious other side dishes to go with your Bak Kut Teh. Like Choy Sim with Oyster Sauce, Lettuce with Oyster Sauce. The side dishes also include the usual Bak Kut Teh side delights – Peanuts, Dried Bean Curd/ Tau Pok, Salted Vegetables and Braised Egg. Great for family or friends gathering. A good variety of side dishes that you will be spoilt for choice. I like the Dried Bean Curd/ Tau Pok and Salted Vegetables as they are not too salty. Great side dishes to go with rice. Nom Nom!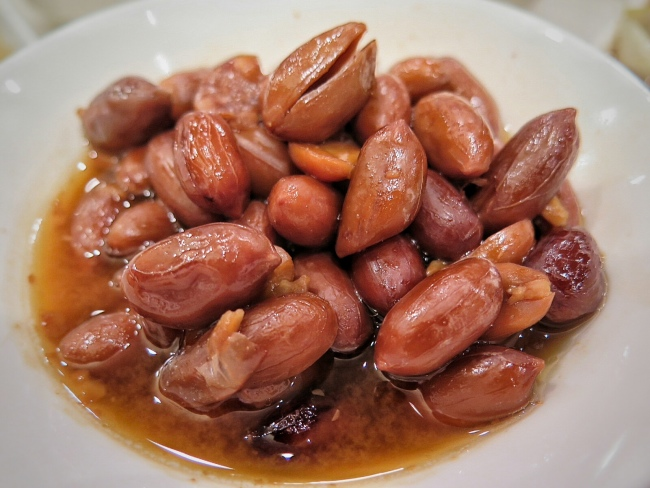 Longan & Red Dates S$2.50, Home made Barley S$2.50 ~ The Home made Barley is thick and thirst quenching! So shiok! I will prefer the the Longan & Red dates to be stronger in flavour.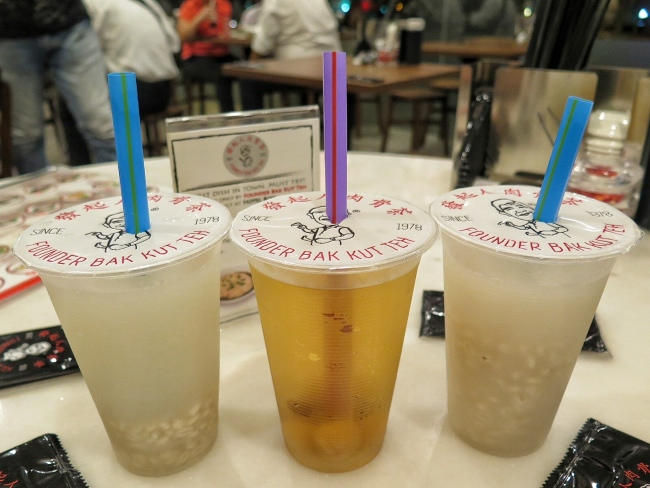 ~Conclusion~
Founder Bak Kut Teh has been offering Bak Kut Teh in Singapore since 1978. It has been always a popular choice among the locals as well as overseas celebrities. The restaurant is filled with pictures of the celebrity customers. A great Bak Kut Teh place that offers great clear peppery Bak Kut Teh soup as well a good variety of side dishes! There were some hits and misses. Overall, it is still a very recommended place for Bak Kut Teh especially for late night supper. Great for family and friends gathering too. You might even run into celebrities. If you are always concern over the parking spaces at their Balestier outlet, Hotel Boss outlet is definitely the recommended choice.
Address
500 Jalan Sultan #01-09, Singapore 199020
Contact No.
+65 6816 2582
Email Address
enquiry@founderbkt.com.sg
Website
View Website
Price Range (per pax)
S$16 – S$30
Opening Hours
Daily: 9am – 5am
Recommended Dish(s) to try
Premium Ribs Soup
Steamed Cod Fish
Steamed Pork
Dried Bean Curd/ Tau Pok
Bean Curd Skin/ Tau Kee
Salted Vegetables