Adrift By David Myers ~ Located at popular Marina Bay Sands. Went during the Singapore Restaurant Week October 2016. I always enjoy trying new restaurants. Singapore Restaurant Week always gives good opportunity to try new restaurants. This round I picked Adrift By David Myers. Can't wait to try their Asian inspired dishes prepared using fresh Californian produce.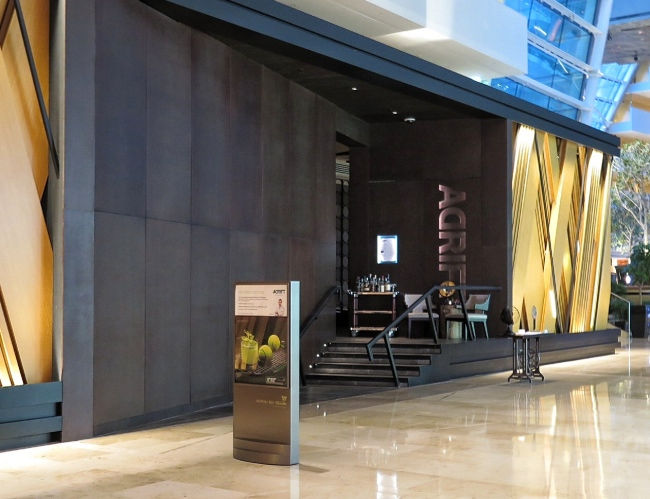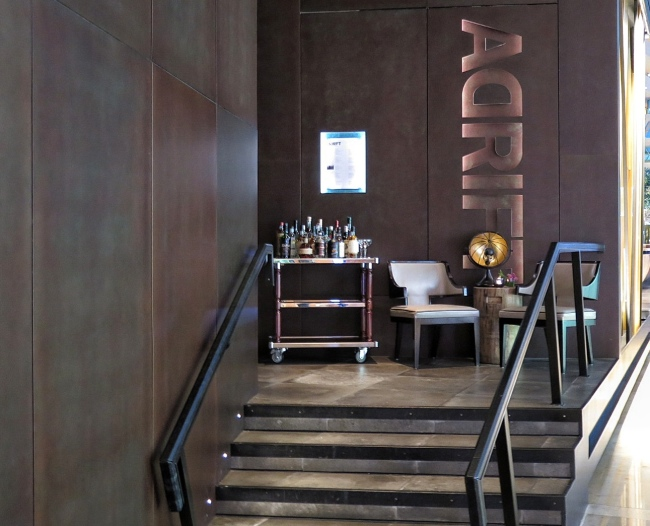 Ambience
It is quite spacious. A cozy, dimly lit ambience. They have cozy, low sofa seats and round table. Great for couples and family/ friends gatherings. I will prefer it is slightly brighter so that I can see the dishes clearly. The dim light hides the beauty of the dishes.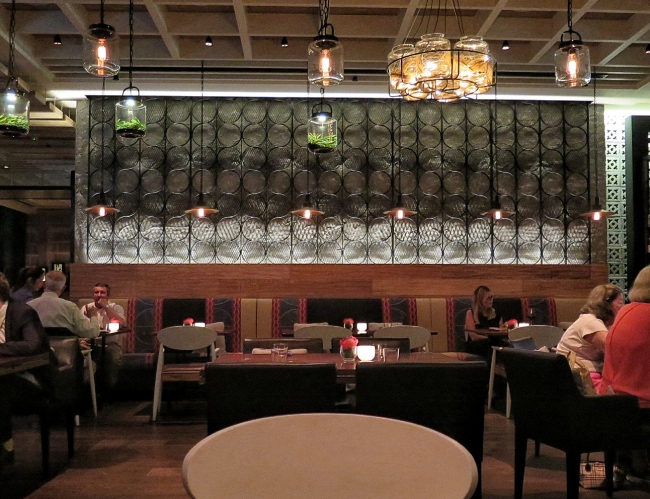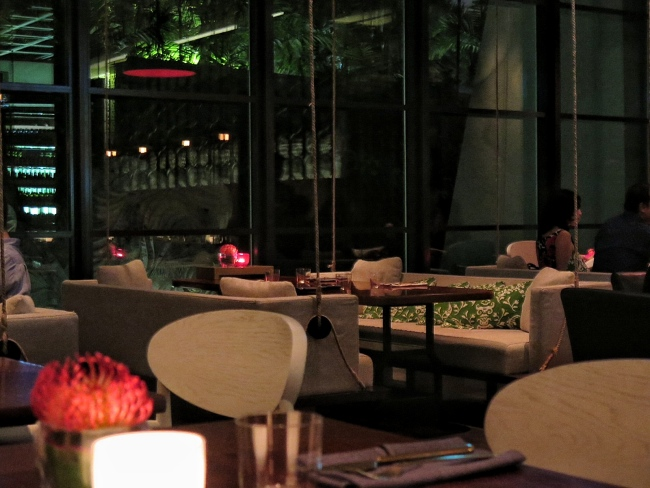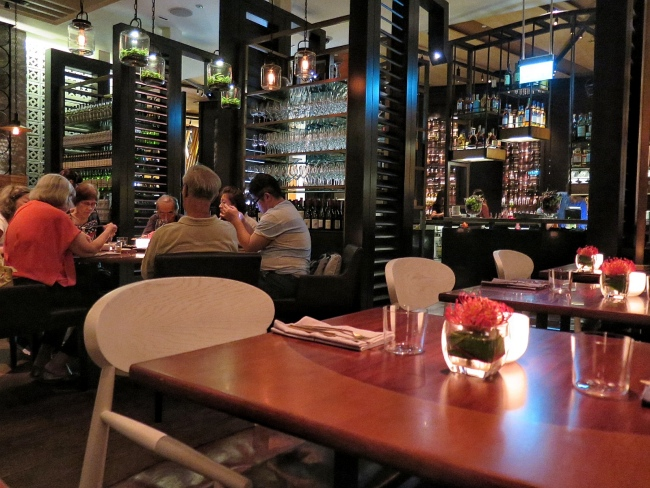 Service
After making a reservation via restaurant week, they called to confirm the reservation. The service staff swiftly bring us to our seat and took our orders. They took initiative to help us take photos. They also design the desserts to include the our anniversary greetings. So Sweet of Them! Appreciate that the service staff check whether we need complimentary self-park if we are entitled. Felt so sore over this. Especially the parking charges is not cheap.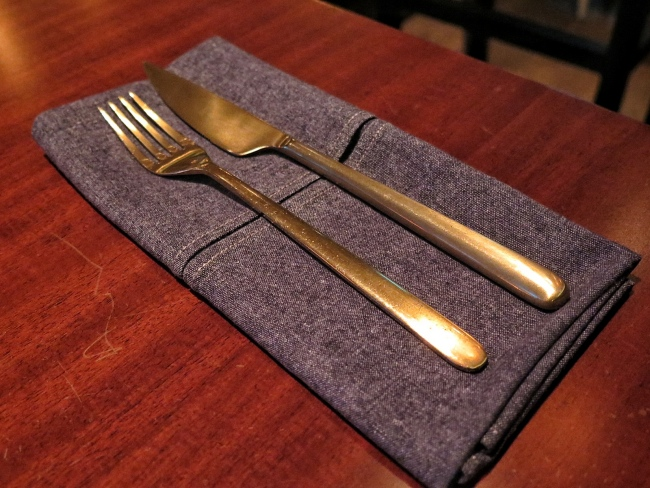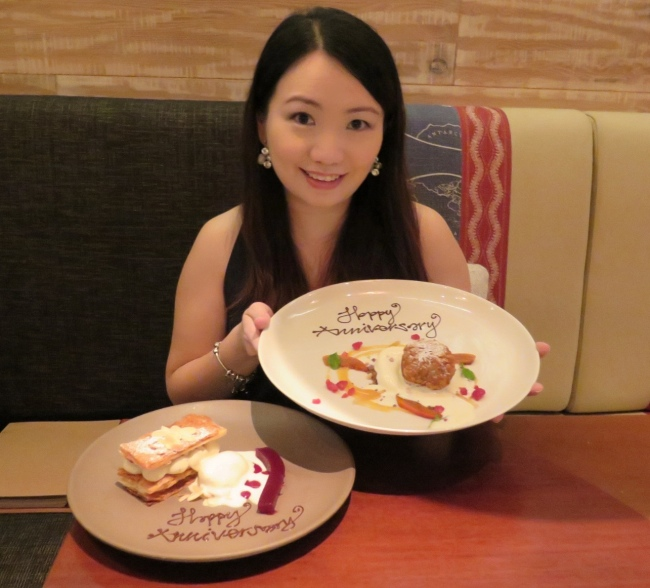 Food
We ordered 2 restaurant week set menus – S$58++. ~ Complimentary Dish ~
I am not quite sure of this dish. The texture feels like thin crispy slices of the popular indonesia chips – Emping but not bitter. They sprinkle some spice powder on it and it complement well with the mayonnaise.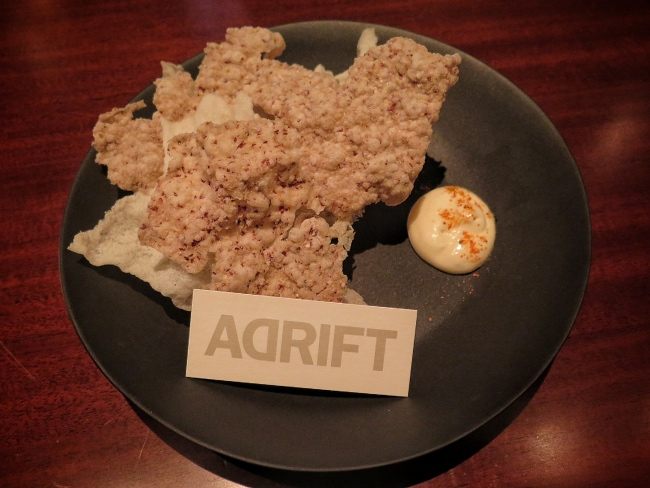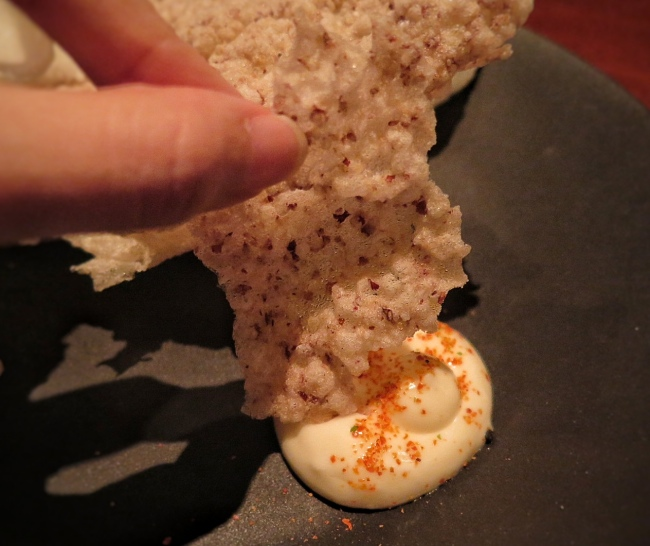 ~ Chilled King Prawn ~
Chilled King Prawn with cucumber and masala dressing. The fresh succulent prawn with waves of healthy refreshing cucumber. A very refreshing dish to start off the dinner set.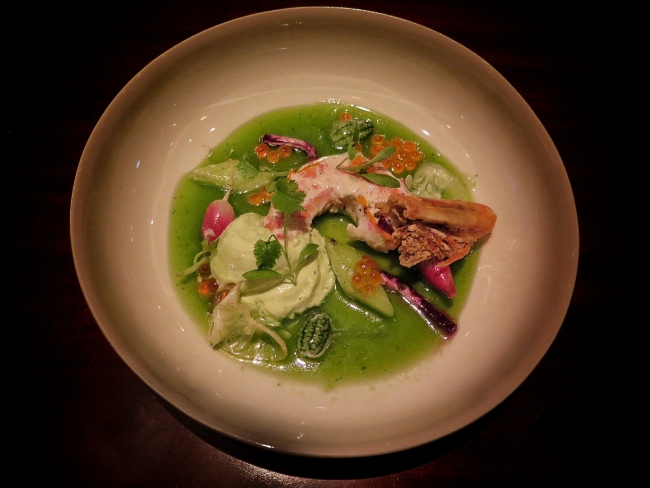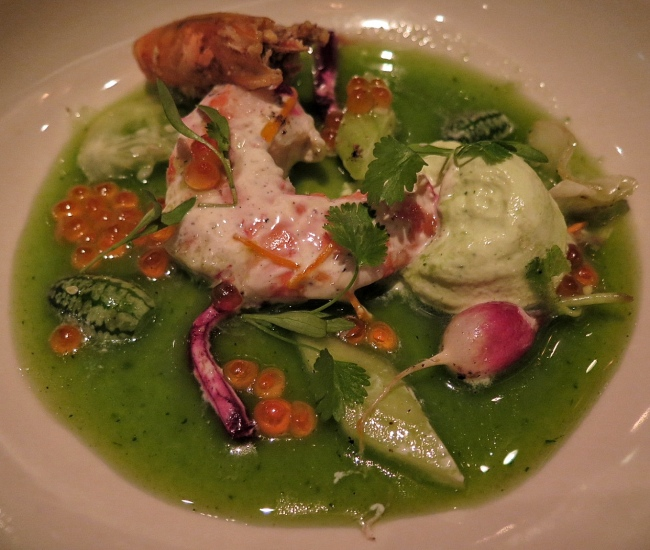 ~ Big Eye Tuna Tartare ~
Big Eye Tuna Tartare with Ginger Flower, Shiso, and tofu puree. I can't says much about this dish as I couldn't try it. Understand it is also fresh but the Chilled King Prawn was a better starter dish.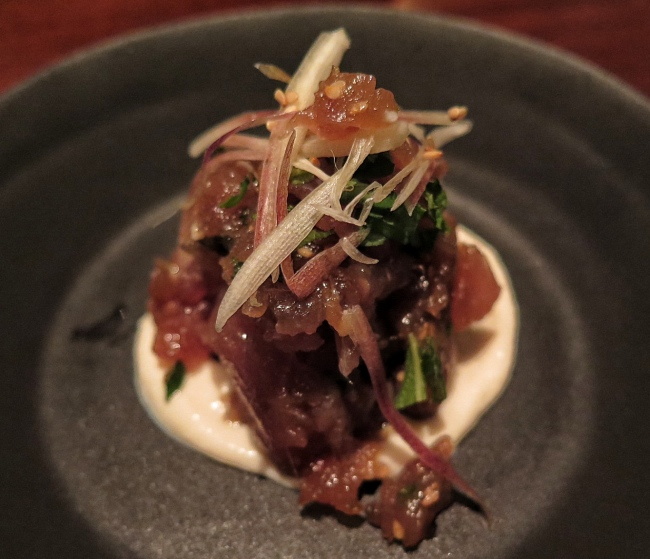 ~ Miso Glazed Pork Chop ~
Miso Glazed Pork Chop with roasted brussel sprouts and spiced apples. A delicious memorable dish. The pork chop was so tender and juicy! It reminded me of our cantonese barbecued pork – Char Siu (叉燒). It is evenly well-cooked. I also love the knife they provided for cutting the pork chop. The hand grip is very comfortable. It is super suitable for cutting pork chop and steak.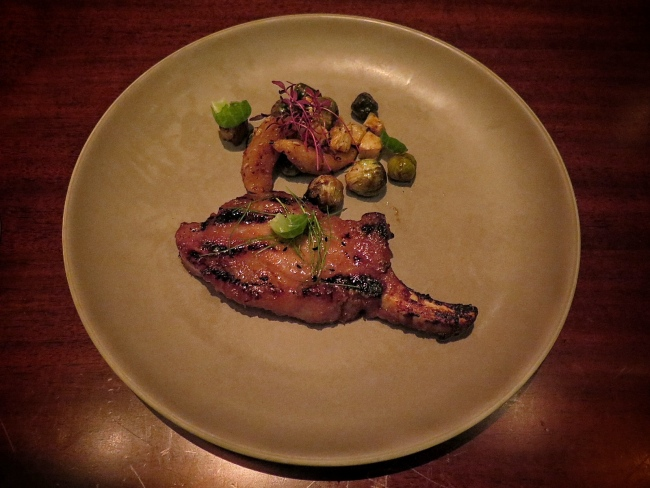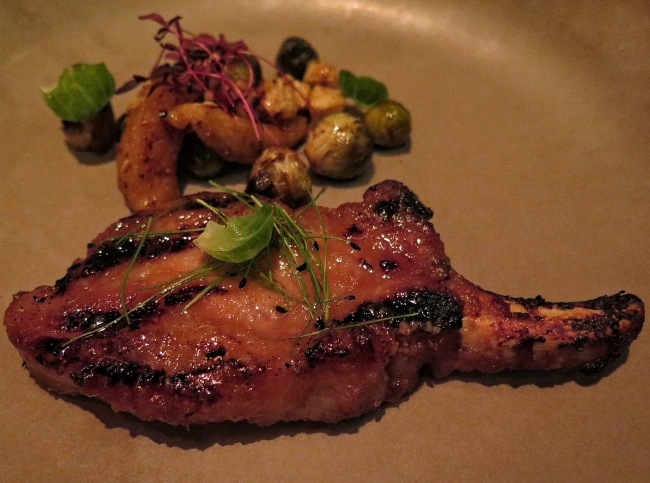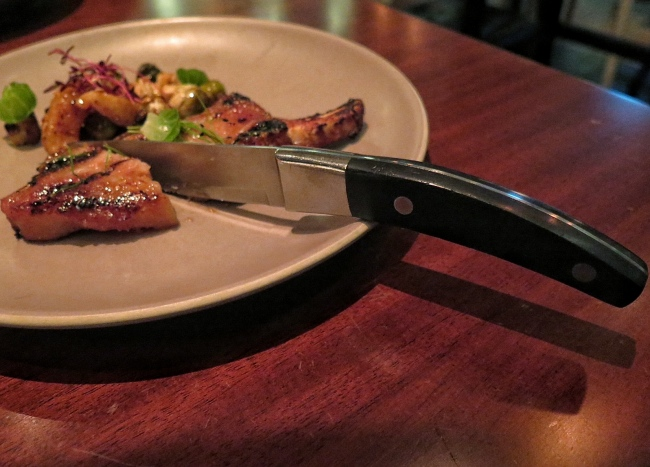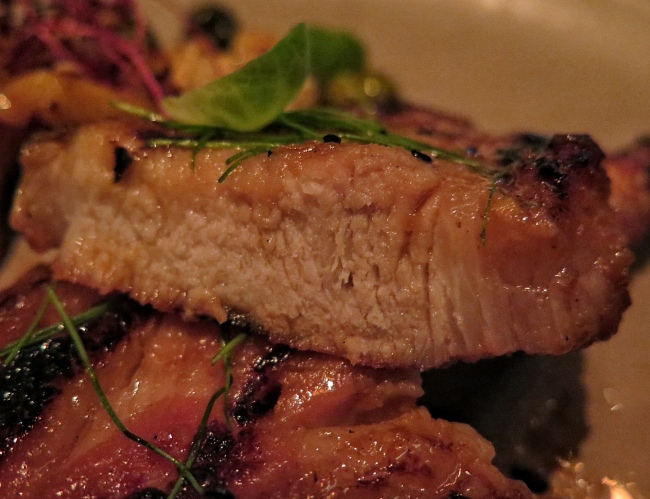 ~ Coconut Poached Suzuki Fish ~
Coconut Poached Suzuki Fish (Japanese sea bass) with spiced kabocha (Japanese pumpkin) and pea tendrils. Love the flavorful, tender and flaky fish exuding light coconut fragrance. The crispy thin with hints of sweetness kabocha goes well with the fish.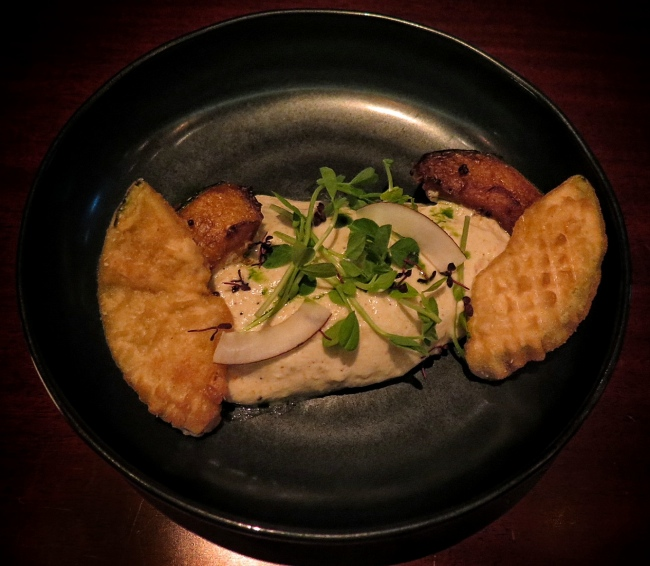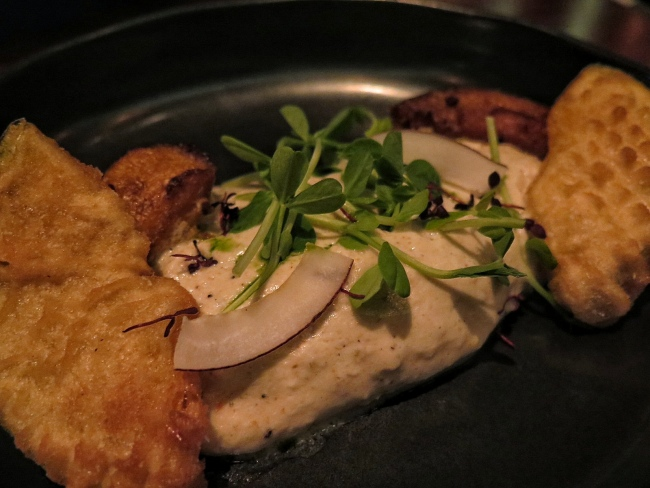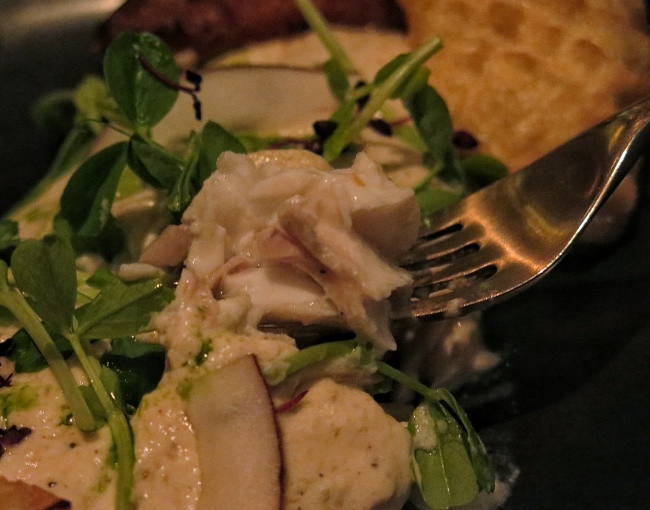 ~ Desserts – Spiced Chocolate Fritter ~
Spiced Chocolate Fritter with persimmon with ginger ice cream. The ginger ice cream melted quickly as we were busy taking pictures with it. Their desserts are unique. Not the usual sweet type of dessert. As I cut through the crispy hard chocolate fritter, the liquid chocolate with spices is revealed. The taste is exotic. It is very special.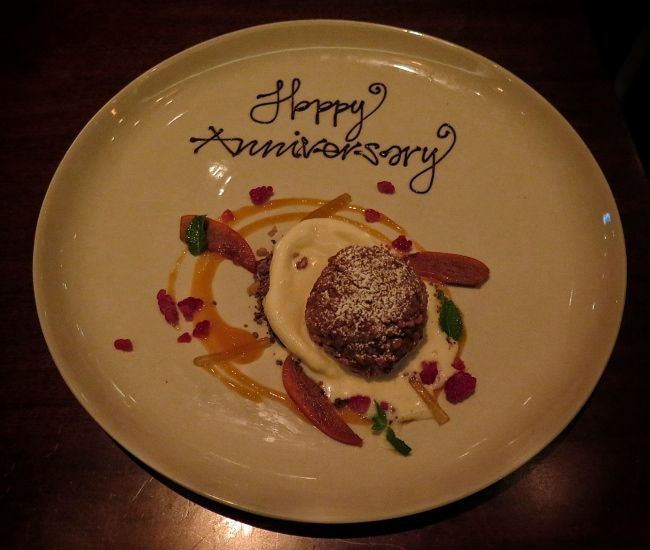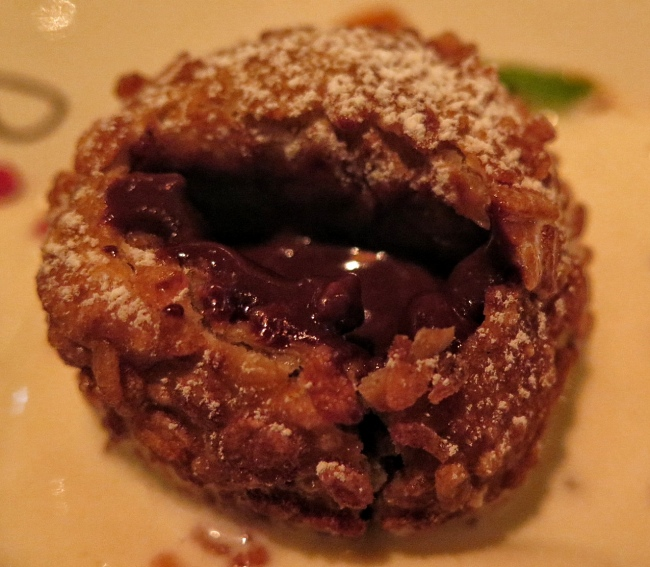 ~ Desserts – Peppercorn Mille Feuille ~
Peppercorn Mille Feuille with cherry and almond ice cream. Mille Feuille. A French pastry with layers of puff pastry. Very light. Interesting Sweetness from the almond ice cream with hints of pepppery.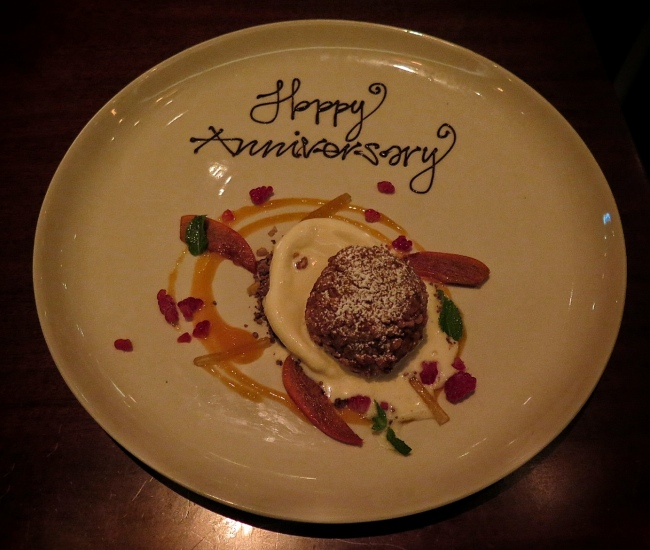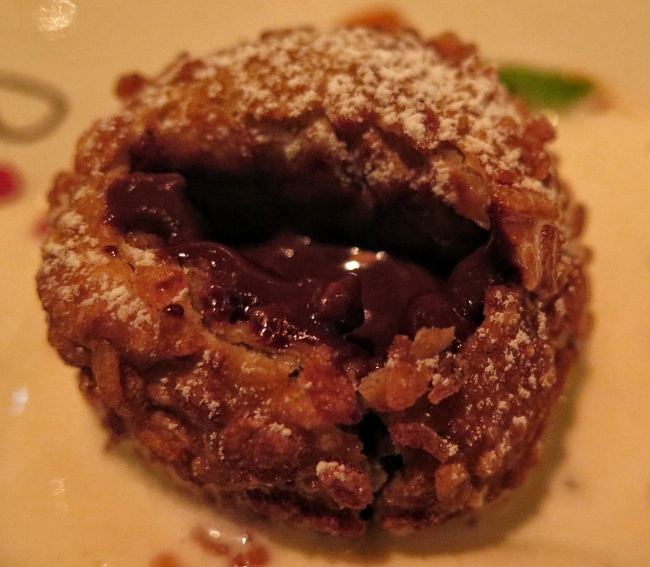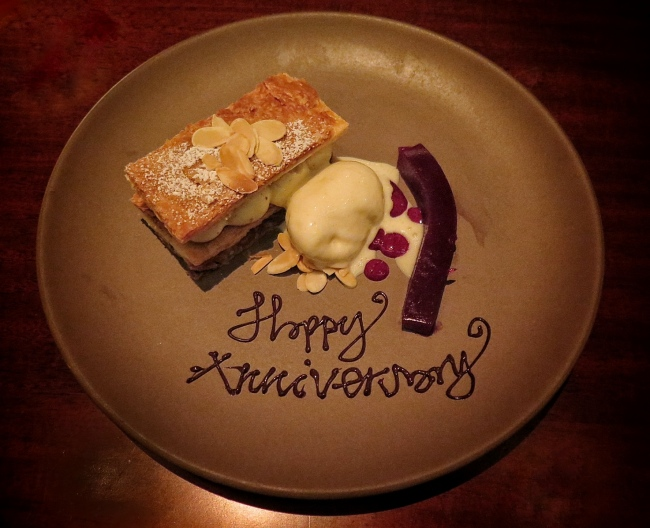 ~ Drinks (Singapore Sling & Fresh Fruit Fix) ~
Singapore Sling (gin, liqueurs, pineapple, lemon). Our All-time favourite uniquely singapore cocktail. Fresh Fruit Fix. (muddled seasonal fruit, fresh lemon, honey) Think the seasonal fruit is raspberry. It is a bit sour but it is acceptable. A very refreshing drink at the end of the meal.
~Conclusion~
Adrift By David Myers ~ Located at popular Marina Bay Sands. Accessible via Bayfront MRT. A cozy, dimly lit ambience. Great for couples and family/ friends gatherings. I will prefer it is slightly brighter so that I can see the dishes clearly. The dim light hides the beauty of the dishes. We ordered 2 restaurant week set dinner. Love the Miso Glazed Pork Chop. Very tender and moist. Memorable dish!
Do take note that they have complimentary self-park coupon with min. spend of S$75 (lunch) and S$150 (dinner). Limited to 1 ticket per table only. Was so sore over this.
We (2 pax) have tried the following restaurant week dinner set at S$58++ for dinner:
– Starters: Chilled King Prawn or Big Eye Tuna Tartare
– Main: Miso Glazed Pork Chop or Coconut Poached Suzuki Fish
– Desserts: Spiced Chocolate Fritter or Peppercorn Mille Feuille
Address
10 Bayfront Avenue, Hotel Lobby Tower 2, Singapore 018956
Contact No.
+65 6688 5657
Email Address
Adrift.Reservations@MarinaBaySands.com
Nearest MRT Station
Bayfront MRT
Website
View Website
Facebook
View Facebook
Instagram
View Instagram
Price Range (per pax)
S$51 – S$100
Opening Hours
Daily: 7:00am – 2:00am
Recommended Dish(s) to try
Miso Glazed Pork Chop
Coconut Poached Suzuki Fish