Zafferano ~ Located at Ocean Financial Centre in Raffles Place. Went during the Singapore Restaurant Week October 2016. The 2nd restaurant I picked for restaurant week. Came across Zafferano a couple of times but always never choose it. I was going to stay at Ascott Raffles Place that weekend. So thought this will finally be a good opportunity as it is just about 5 to 10 minutes walk away.
Zafferano is 43 storeys above bustling Singapore's CBD. Stunning Awesome View. They also source the great produce sourced from all over Italy and offer delicious dishes, amazing service, with a lovely ambience.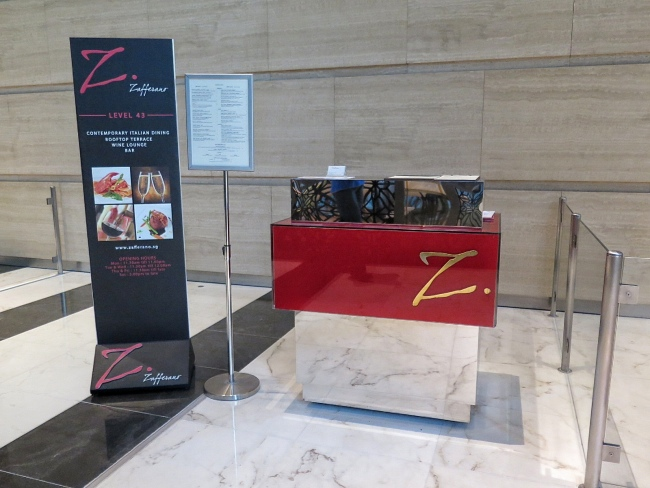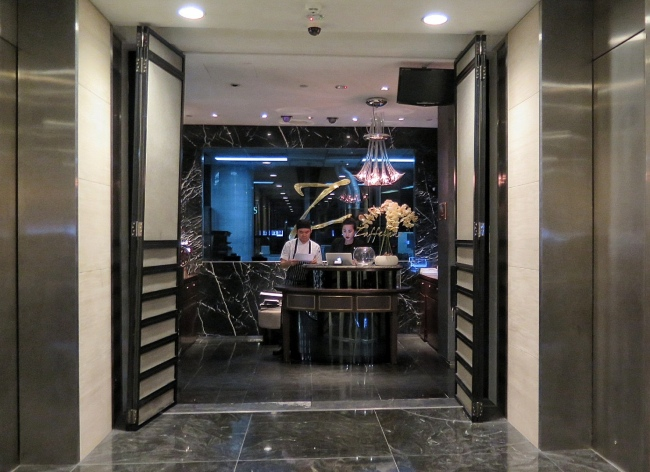 Ambience
As you enter the restaurant, you can watch the chefs at work in their two open kitchen. Love the circular bar! An amazing centrepiece! Definitely catch your attention. It enlivened the whole dining room. The decorations were very sleek and elegant.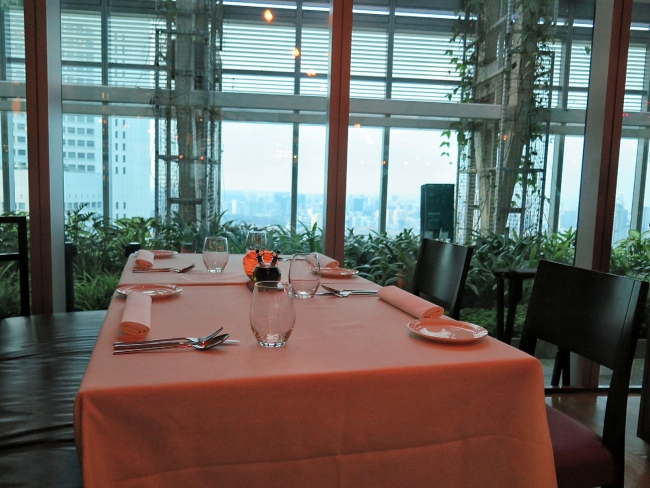 You definitely should not miss their lounge! The stunning view of Marina Bay Sands and Singapore Night Cityscape are so AWESOME! The customers are all trying to take their pictures with the amazing view. Great for friends gatherings! Nice relaxing chillout!~ The lounge have its own bar, stools and sofa seats.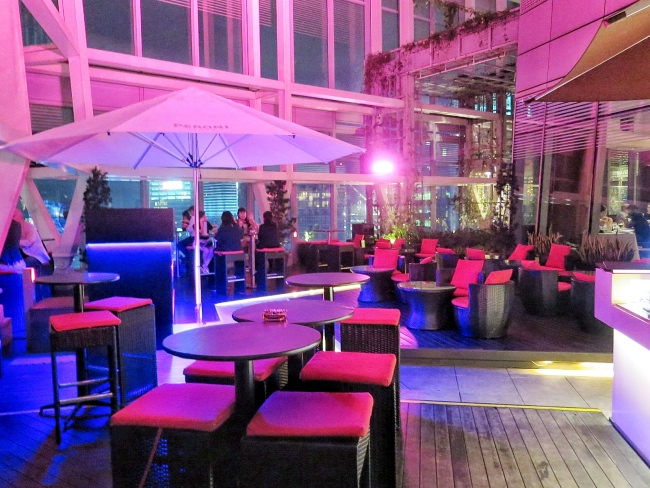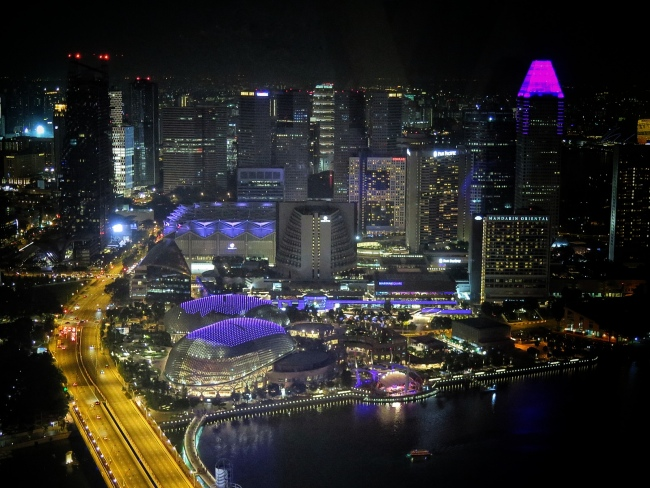 Service
As they were situated at level 43 Ocean Financial Centre, you will need to register at the Zafferano counter at level 1 before they let you take the lift up. The staff were nice to notice to give me a cushion for my back as they notice that I am pregnant. They were also sweet to also give a complimentary dessert for our anniversary celebration.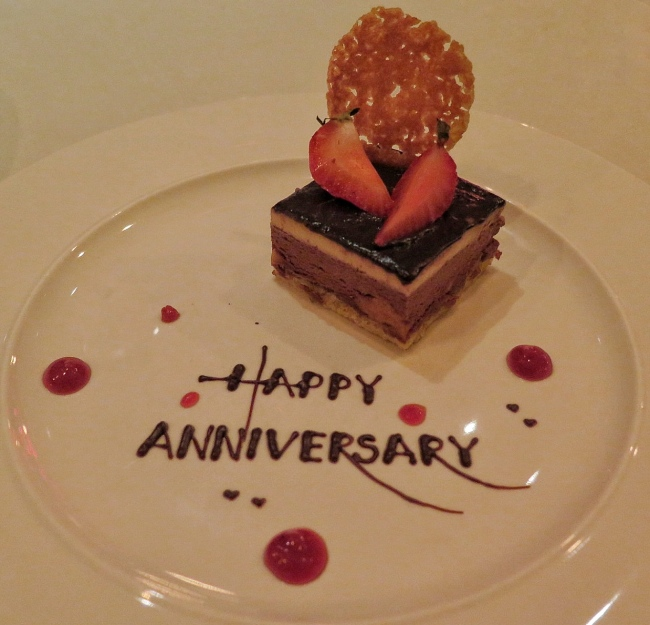 Food
We ordered 2 3-course Restaurant Week Set Dinners (1 appetizers and choice of main course)- S$58.
~ Complimentary Bread ~
We start off with their lovely soft evenly cut bread.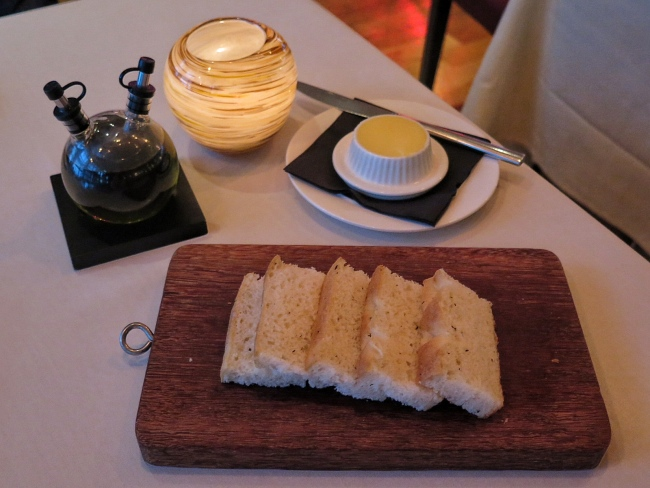 ~ 8 hours Marinated Fjord Trout ~
At first, we thought it was salmon. Actually it is not. Fjord Trout is actually a smaller fish than salmon. It has shorter fibers in the meat compared to salmon. I understand that it is supposed to be leaner meat than salmon and has similar red color. A Refreshing Beautifully Presented dish.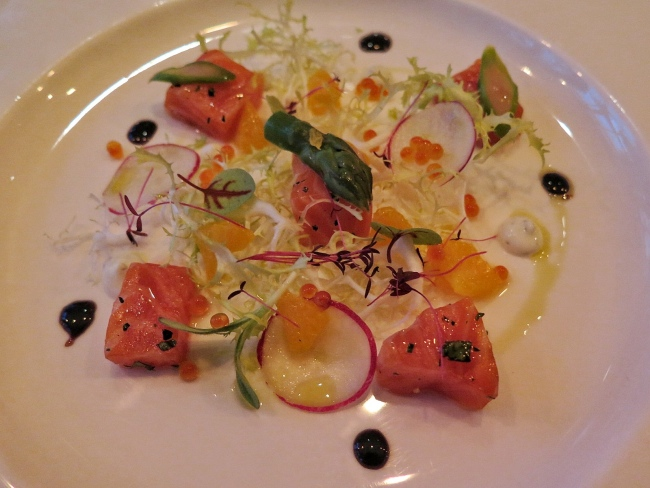 ~ Baby Lobster Bisque ~
We substituted their butternut pumpkin cream soup with Baby Lobster Bisque scented with orange and dill. We had to top up $6 to do that. I love lobster bisque. It was flavorful with succulent lobster chunks.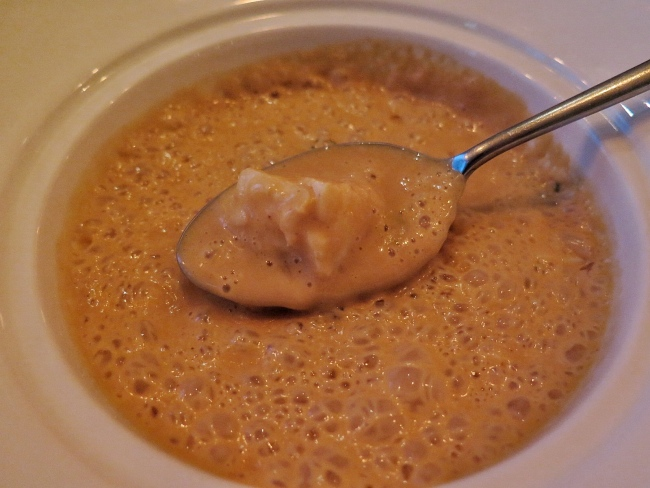 ~ U.S. Beef Striploin ~
We add on pan-fried goose liver for a top of $10. Guility but we really love goose liver. Shall minimise as much as possible! Only for special occasion! We had U.S. Beef Striploin with pan-fried goose liver, balasamic pearl onions, rosemary potatoes and 'salmoriglio' dressing. The beef striploin was tender and juicy. The goose liver was velvety, buttery, and delicate.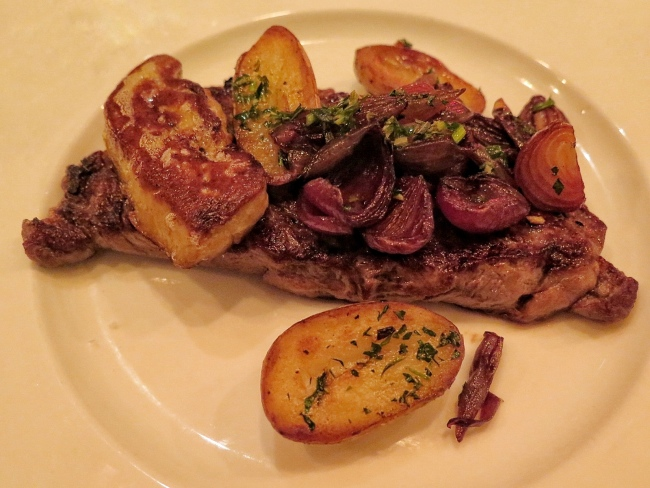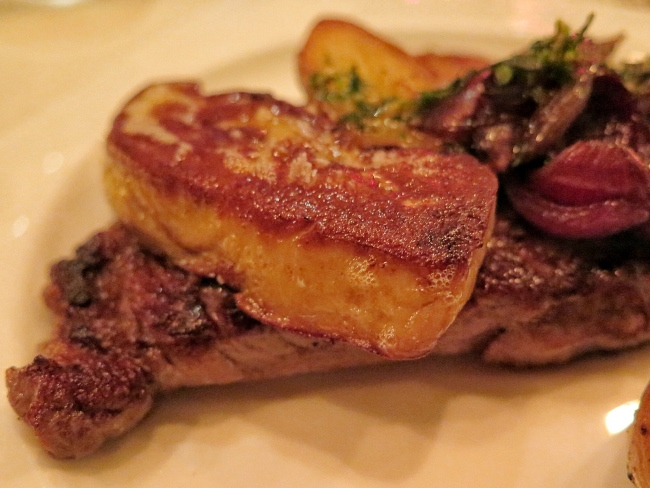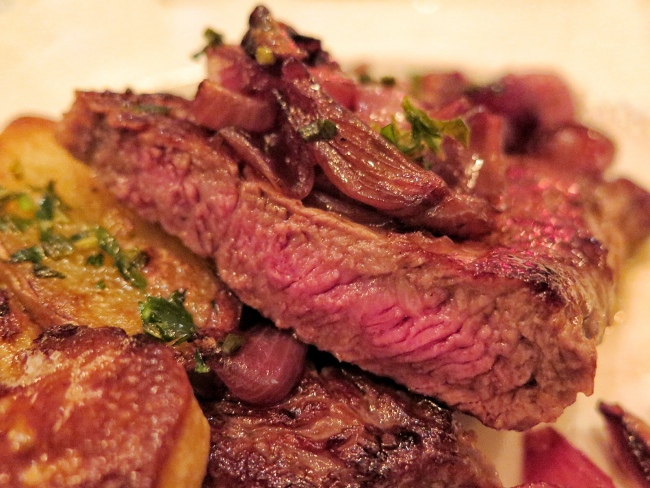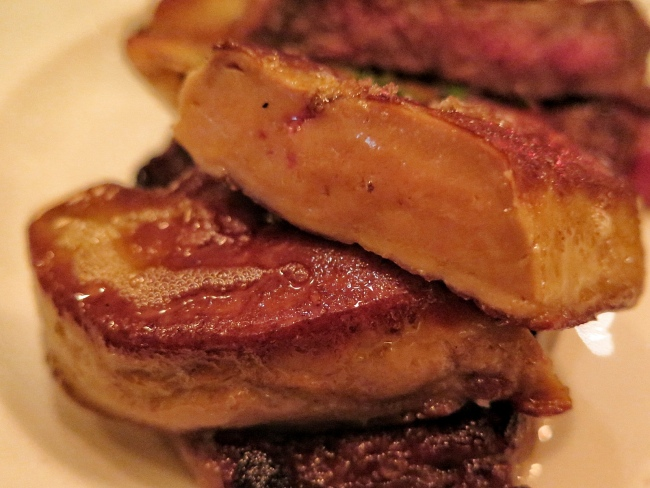 ~ House-Made Casarecce with fresh Tomatoes and Seafood ~
Casarecce – a kind of loosely free-form shape pasta. Interesting Shape. I have never eat such shape before. Interesting Experience. I love tomato base pasta as it is refreshing and leave room for dessert. The pasta with seafood like cod, octopus, scallop and crab. Simple and Delicious.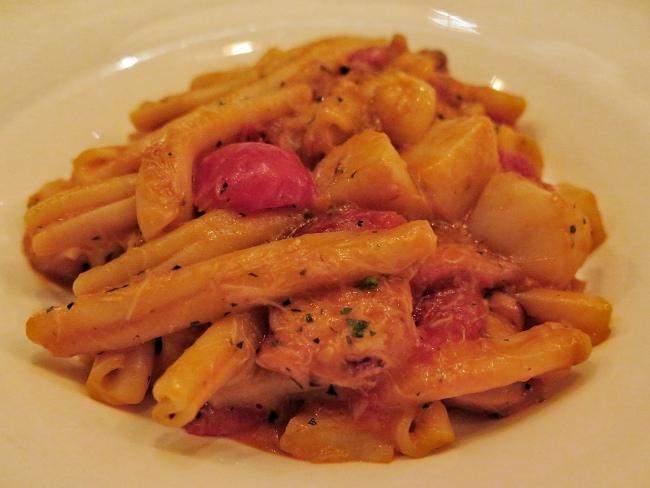 ~ Crispy Almond Wafers ~
Time for Dessert! Crispy Almond Wafers with coffee essence, 'mascarpone' and 70% dark Valrhona chocolate mouse. Complement well with fruits topping. Nice sweet ending to the end of the lovely dinner.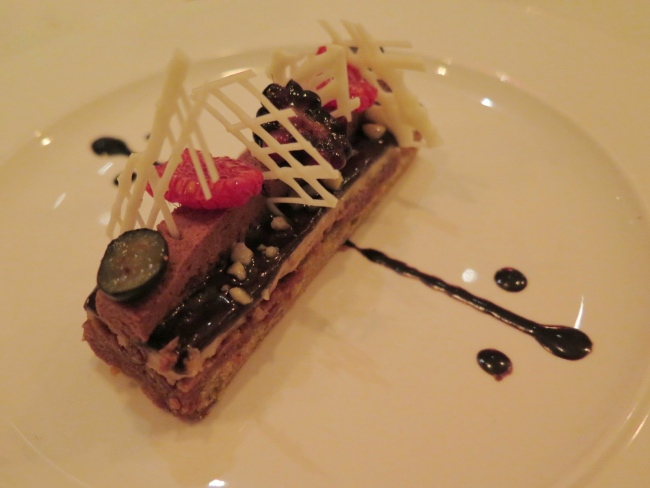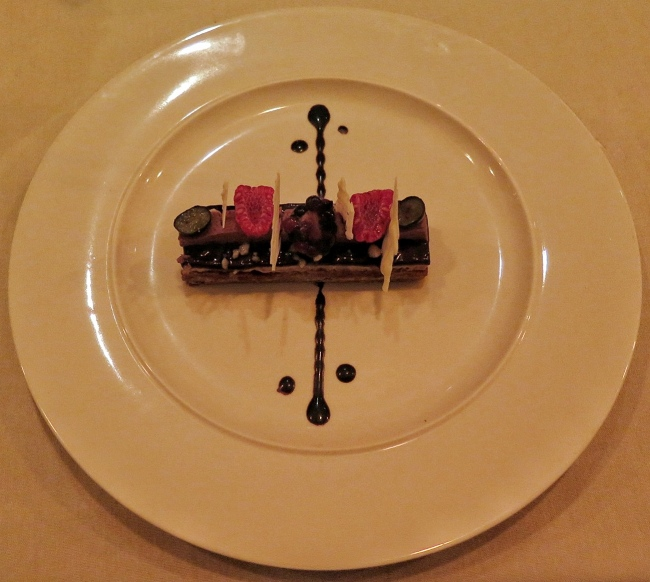 ~Conclusion~
Zafferano ~ Located at 43 storeys above bustling Singapore's CBD – Raffles Place (Collyer Quay) in Ocean Financial Centre. Stunning Awesome View at the Lounge. You can admire the amazing Singapore Cityscape and Marina Bay Sands. Great Service and Delicious Dishes. We ordered 2 Restaurant Week set dinner at S$58. I enjoyed the Flavorful Baby Lobster Bisque and the Tender Juicy U.S. Beef Striploin.
We (2 pax) have tried the following Restaurant Week dinner sets at S$58:
– Starters: 8 hours Marinated Fjord Trout or Baby Lobster Bisque (+$6)
– Main: U.S. Beef Striploin with Goose Liver (+$10) or Casarecce with fresh Tomatoes and Seafood
– Desserts: Crispy Almond Wafers
Address
Ocean Financial Centre, Level 43, 10 Collyer Quay, Singapore 049315
Contact No.
+65 6509 1488
Email Address
info@zafferano.sg
Nearest MRT Station
Raffles Place MRT
Website
View Website
Facebook
View Facebook
Instagram
View Instagram
Price Range (per pax)
S$51 – S$100
Opening Hours
Mon – Wed:11.30am – 3pm, 5.30pm – 11.45pm
Thurs – Sat: 11.30am – 3pm, 5.30pm – 1.00am
Sun: Closed
Recommended Dish(s) to try
US Beef Striploin
Baby Lobster Bisque