Snack First (snackfirst.com) is founded by a fellow blogger Jes (simplyjesme.blogspot.sg) and Lucas. They love munching on nuts and seeds when they were travelling overseas. Thats where they got the inspiration and created Snack First. Snack First offers snacks are delicious yet can give you lots of nutritional benefits. The natural occurring antioxidants and other vitamins found in them can help to delay aging, fight cancer and lost weight. Snack First offers Free Shipping in Singapore!

Many thanks to Snack First for the lovely cookies and nuts.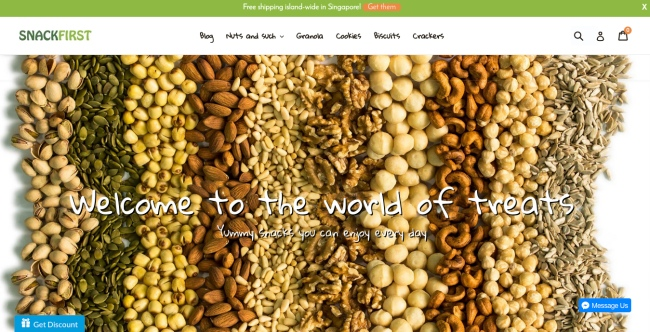 Amazing Almond Cookies (杏仁曲奇饼) Delicious Crunchy Cookies From Malaysia. My favourite! I am an Almond nut lover. They have many nutritional benefits and antioxidants. Love the fragrant crunchy and nutty texture. Heard that it may be able to boost milk supply for mummies . Sound like a delicious way for mummies like me. It is Halal certified with no MSG, Trans-Fat and Preservatives.

They also offer other types of cookies like Chocolate Chip Cookies and Delightful Bangkit Cookies. Sound so Delicious.

Brown eyes Almonds (烤杏仁) Almonds from USA and Roasted in Singapore. The nuts are roasted in Singapore as this will help to prevent early rancidity which enables longer preservation. Delicious rich nutty crunch. Understand that almonds are highly recommended for breastfeeding mothers as it has the high amount of dietary fiber and Calcium. There is also no MSG, trans-fat or preservatives used.
They also offer other delicious nuts like Creamy Macadamia (Baked) and Smiley Cashew (Baked).
Wholesome Original Granola from Indonesia (原味格兰诺拉麦片) When I am in a rush to make breakfast, I love to make myself a healthy and hearty bowl of granola. Quick and Nutritious. Snack First's Wholesome Original Granola is filled with Rolled oats, cinnamon, almonds, pumpkin seeds, sunflower seeds, rice crispies, palm sugar, maple syrup, oil, dried cranberries. A great mix of nuts, seeds and dried fruit. All my favourites. There is no preservatives or artificial ingredients.A great Source of protein and dietary fiber.
They also offer other flavours like Energizing Banana Granola and Addictive Chocolate Granola.
Shiok Wasabi Peanuts Love the mildly spicy with a zesty unami flavour! Super Addictive! Definitely a MUST-TRY for wasabi lovers. It is also Halal certified.
Oishi Japanese Nuts The peanuts are encased in a variety of different hard, crunchy, sweet flour shell. A good mix that offers different flavours and textures. It is also Halal certified.
Sambal Shrimp Rolls (Hae Bi Hiam) Our All-Time Family Favourite Snack! It is so Addictive! Spicy, and Crunchily SHIOK!
~PROMOTION (Till 31 July 2017)~
Use code 'EATDREAMLOVE15' on checkout at Snack First (snackfirst.com) to enjoy 15% off the snacks.
Enjoy your Snacks Shopping~ I am sure your loved ones will love these.
Above information is for reference only. Please always contact Snack First (snackfirst.com) for latest details.