Corner House (Singapore Botanical Garden)~ The CORNER HOUSE is a two-storey Black and White bungalow built in 1910. Located at Singapore Botanical Garden. A Michelin star restaurant. I wanted to go in Dec 2016 for my birthday celebration. However, little Travis pop earlier than expected. Eventually, we went in Dec 2017 instead. Time Flies! Finally we are here!
AMBIENCE
Surrounded by the greenery at Botanic Garden. E J H Corner, The Assistant Director of the Botanic Gardens from 1929 to 1945 was living in the house. It was designated to be a Conserved Building since May 2008. They have 4 different corners (Reading, Claret, Whispering, Verandah). Each corner has its own intimate space.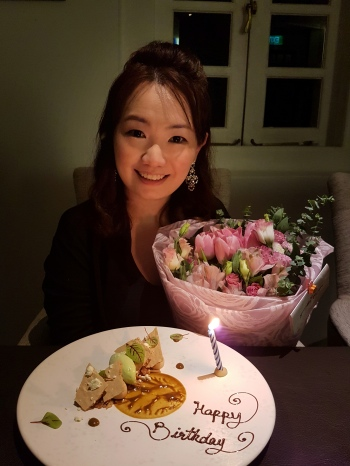 SERVICE
Great service! The service staff is attentive and they are very swift in their serving the dishes. Every dish is presented beautifully. I like that even basic items like butter, they also take special care to present it nicely. The bread was deliciously warm. I couldn't resist temptation when they offer us another round of bread. Polish off all the bread in no time!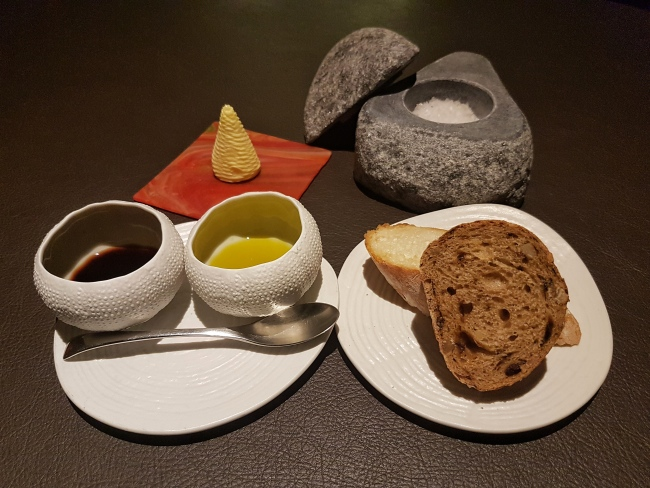 FOOD
We ordered 2 dinner sets (Degustation and Gastronomic) and share between both of us.
AMUSE BOUCHE
The appetisers were so creatively presented. Deliciously Beautiful. The flavours were well balanced and get our appetite up and ready. I like the crispy Fish Cracker with Creme Fraiche & Tobiko the most. Enjoyed the Tobiko bursting in my mouth.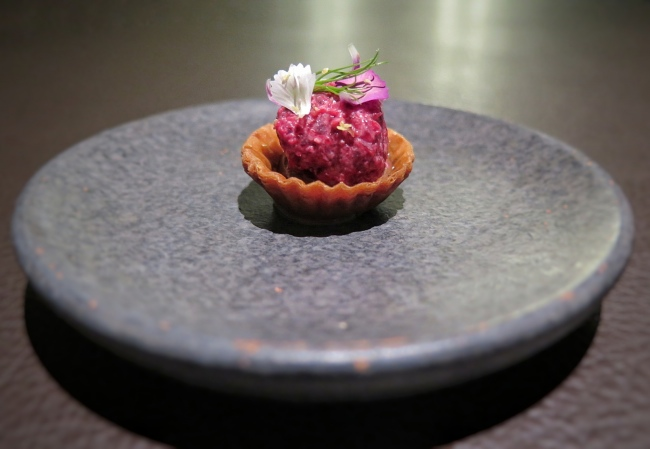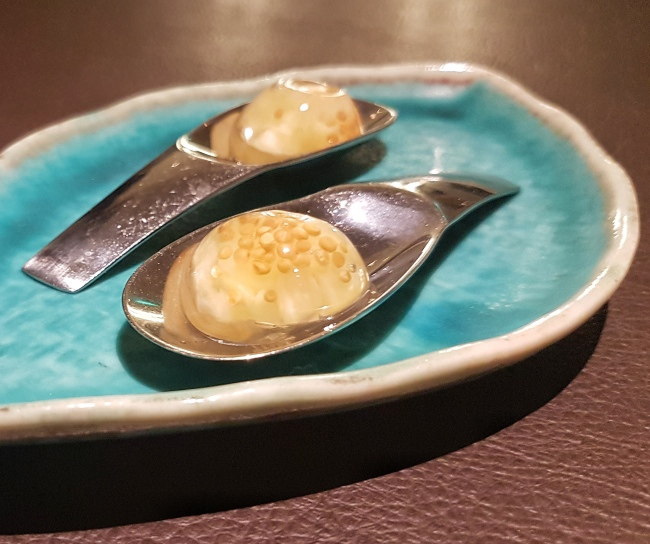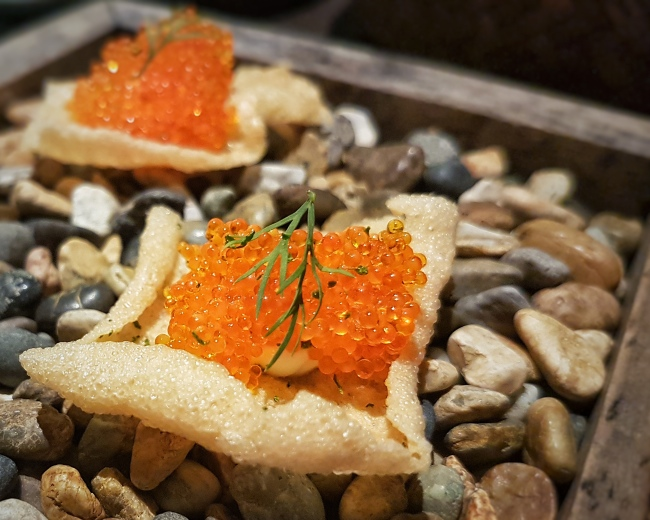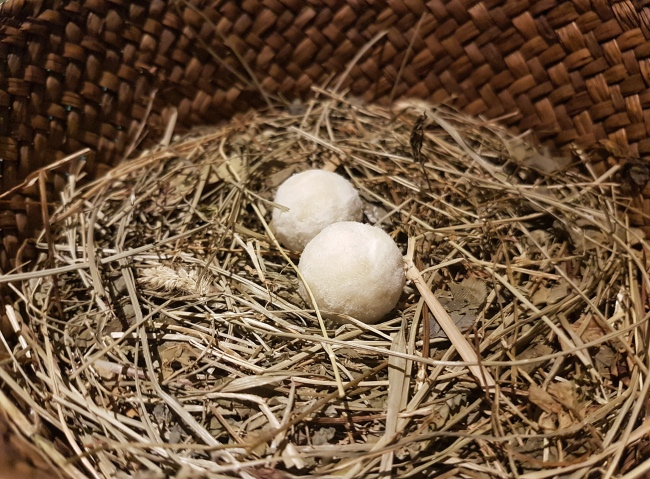 MOZAMBIQUE LANGUOSTINE
Cadoret oyster with yuzu kosho, shiso, hasu-imo, mint, Kristal de Chine caviar. The oyster was very fresh, firm and crunchy with hints of sweetness.They are so beautifully garnished. It is like an art!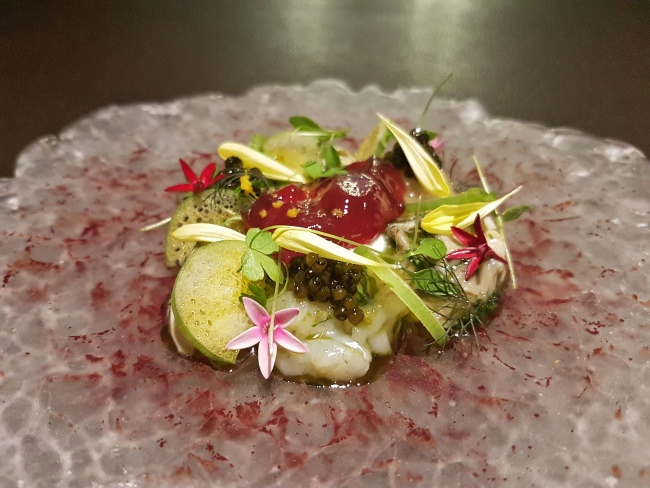 MAINE LOBSTER
– with sweetbread, zucchini, hazelnut and aged Shaoxing. This dish remind me of Lobster bisque. The lobster was surrounded by flavourful foam. The lobster is lightly crispy outside and juicy succulent inside.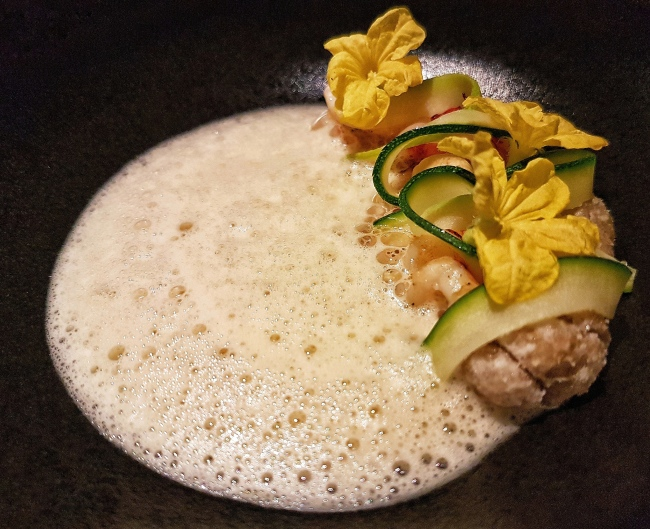 NEW ZEALAND BLUE COD "CRISPY SCALES"
– with chicken wing, maitake, black truffle, haricot coco paimpol. What an interesting dish! A flaky tender fish. The first thing that draw our attention is the FISH SCALES It is my first time eating fish scales! Didn't know fish scales can eat until now. The fish scales was fried till so crispy!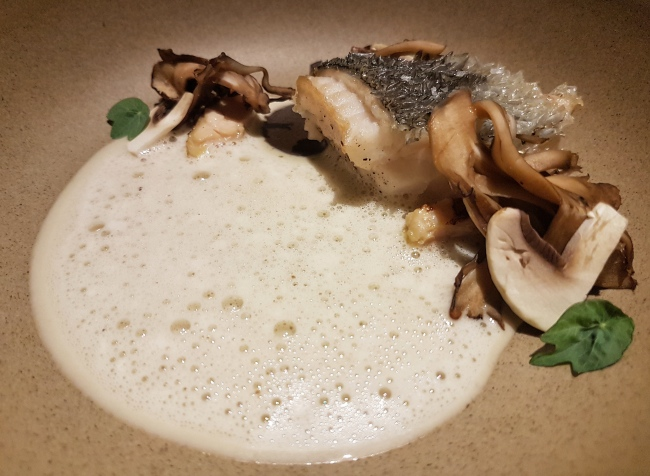 ORGANIC LAMB "RHUG ESTATE"
– with MISO, CASHEW, KYABETSU, LARDO. The lamb was hidden under the KYABETSU (Cabbage). A multi-layered dish. Each layers gives us a different texture and flavour. The lamb slice is filled with tenderness. The cabbage and lamb complement well to each other.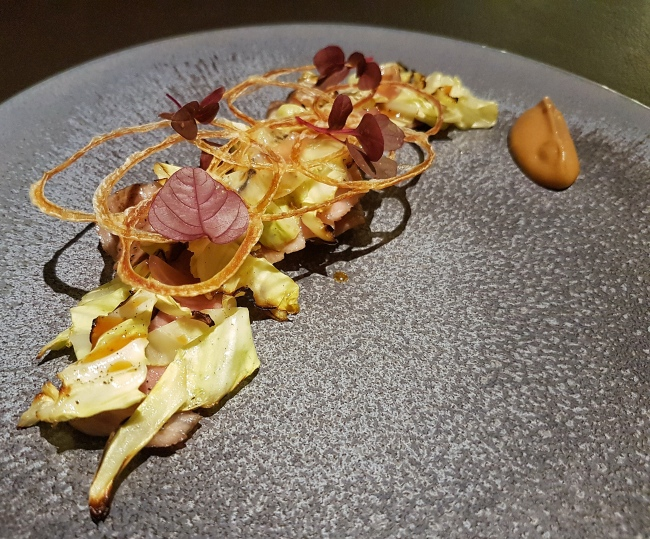 JAPANESE A4 TORIYAMA BEEF
– with horseradish, macadamia, black radish, shallot, soy caramel. AWESOME BEEF! The beef is so well marbled. Every bite is bursting with flavours and the texture is silky. So Tender and Moist!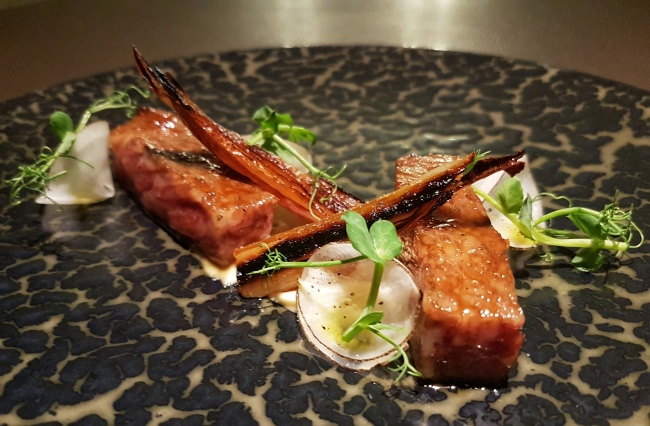 PALATE CLEANSER
– Pretty Palate Cleanser before our dessert. Neutralize our taste buds to get us ready for Dessert.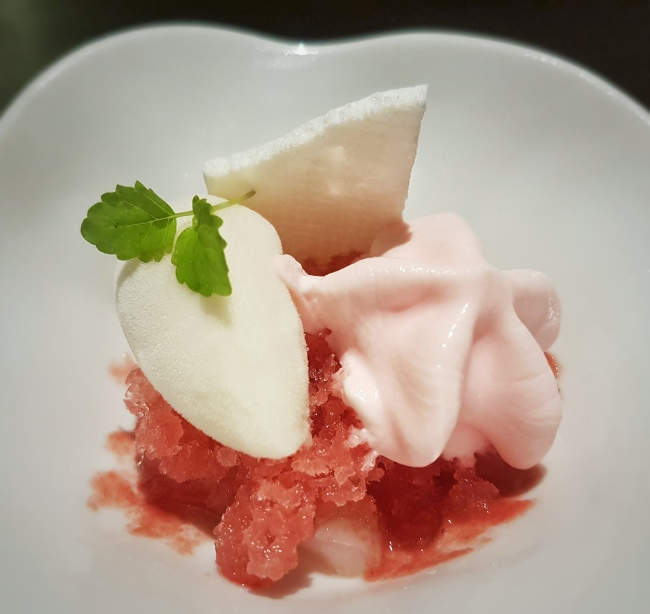 MY FAVOURITE CHILDHOOD FOOD MEMORY
– Peanut Butter, Pandan Kaya and Toasted Bread. So creative. A deconstructed Kaya Toast. So beautifully presented. As it was my birthday celebration, they wrote "Happy Birthday" on the plate with a candle. However, I still prefer my usual kaya toast.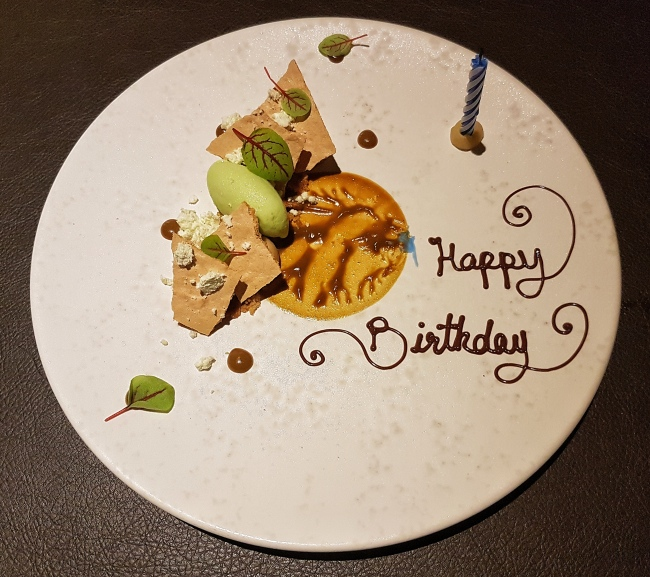 PETIT FOURS
A perfect sweet ending to a lovely meal. Salted Egg Macaron. Love this Macaron! Often, macaron is too sweet for me. This salted egg flavor is just perfect for me. Balance Sweet and Salty flavours. Tiny Glossy Brown Canelé cakes. They are so dainty.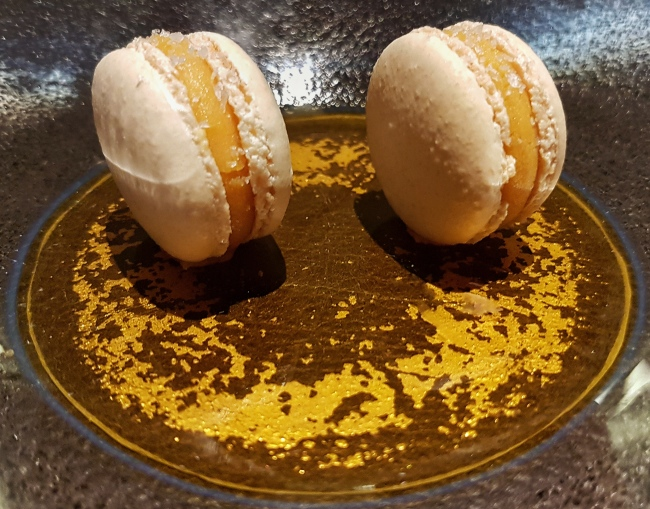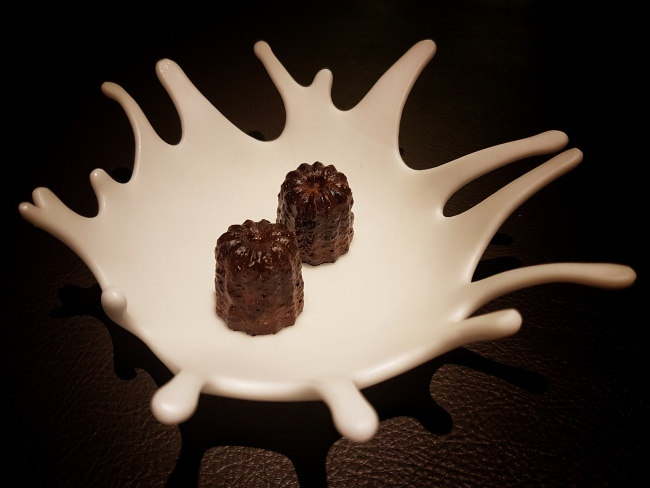 ~CONCLUSION~
Corner House (Singapore Botanical Garden)~ A Michelin star restaurant. Elegant interior surrounded by the luxurious greenery. Great for a romantic night out for special occasions. We ordered 2 dinner sets (Degustation and Gastronomic). We especially enjoy the JAPANESE A4 TORIYAMA BEEF and ORGANIC LAMB "RHUG ESTATE". The lamb and beef were very flavourful and tender.
MENU DEGUSTATION (S$198++)
– AMUSE BOUCHE
– MOZAMBIQUE LANGUOSTINE
– MAINE LOBSTER
– NEW ZEALAND BLUE COD "CRISPY SCALES"
– JAPANESE A4 TORIYAMA BEEF
– MY FAVOURITE CHILDHOOD FOOD MEMORY
– PETIT FOURS
MENU GASTRONOMIC (S$158++)
– AMUSE BOUCHE
– MOZAMBIQUE LANGUOSTINE
– NEW ZEALAND BLUE COD "CRISPY SCALES"
– ORGANIC LAMB "RHUG ESTATE"
– MY FAVOURITE CHILDHOOD FOOD MEMORY
– PETIT FOURS
Address
1 Cluny Road, E J H Corner House
Singapore Botanic Gardens
(Nassim Gate Entrance)
Singapore 259569
Contact No.
+65 6469 1000
Email Address
enquiries@cornerhouse.com.sg
How to get there
Show Map
Nearest MRT Station
Botanic Gardens
Website
View Website
Facebook
View Facebook
Instagram
View Instagram
Price Range (per pax)
Above S$100
Opening Hours
TUES – SAT:
12 pm – 3 pm (Lunch)
6.30 pm – 11 pm (Dinner)
SUN:
11.30 am – 3 pm (Brunch)
6.30 pm – 11 pm (Dinner)
Recommended Dish(s) to try
Menu Degustation